Stone Barn Farm and Log Cabins
An old barn, vintage campers and a love for agriculture all in one place
Just outside of Dexter, population 300, there's an old stone barn with a mural of Dwight D. Eisenhower, Amelia Earhart, Bob Dole and Robert Docking. The mural, painted by the Kansas Barn Alliance in honor of Kansas' 150th birthday in 2011, was the first one painted for the celebration, commemorated by painting a barn in each Kansas county.
Dwight, Amelia and friends recently watched more than 3,000 people enjoy an annual vintage camper show.
The Stone Barn Farm and Log Cabins is owned by Cowley County Farm Bureau members Shannon and Grady Martin. Along with their twin sons, Wyatt and Wade, the couple hosts numerous parties at their 1878 stone barn — including one vintage-camper show in the fall each year.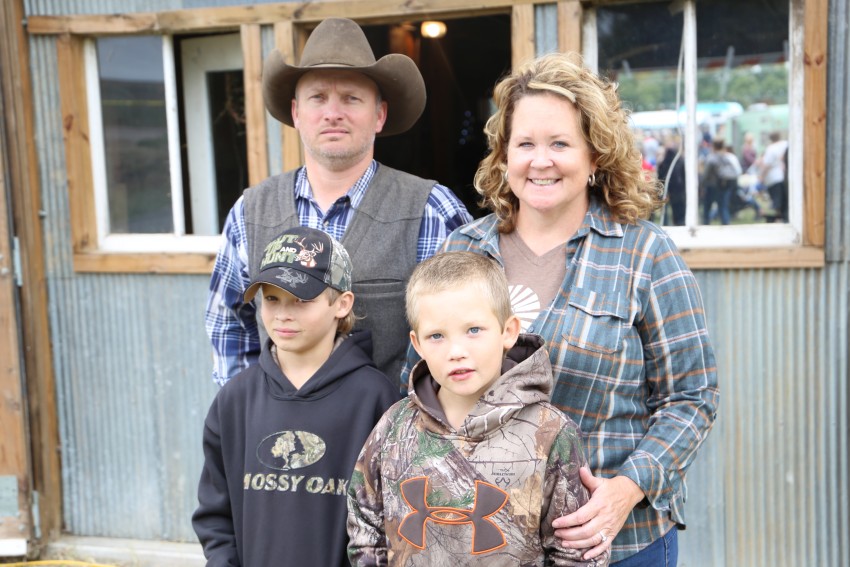 "Three years ago, we started this vintage-camper show," Shannon says. "My family and I love having people come out to our farm to look at super-cool vintage campers, shop, eat some unique foods and hear live entertainment."
Each year, the event has grown. The first year, 300 attendees viewed the '70s and older campers that had been revamped to a pristine, blast-from-the-past condition. The second year brought 1,000 folks, and the third saw 3,000 attendees.
Vendors set up shop around the event grounds selling wood art, yard signs, jewelry and more. There are also items for sale inside the barn, including jams, jellies and antique furniture.
In 2018, the show featured 12 campers from across Kansas and even one from Missouri. Owners of the campers invited attendees to step inside, look at their masterpieces and visit about the work and love they'd put into reviving a piece of the past.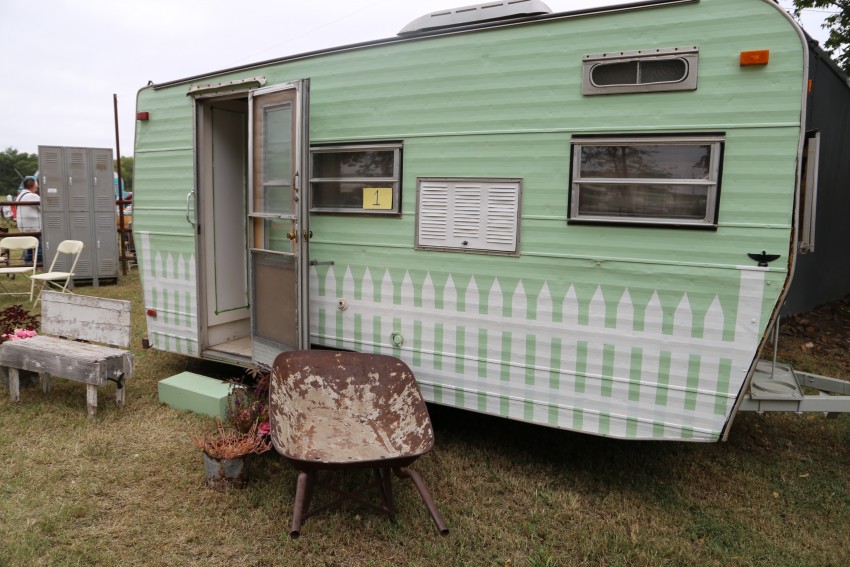 AGRICULTURE AND THE GREAT OUTDOORS
The Martins bought the barn 12 years ago when it and a house just across highway 15 southeast of Wichita was for sale.
"I fell in love with the place," Shannon says. "I love knowing the stones to build the barn were moved here by horse and buggy and the original owners lived in it for two years while the house was being built. The barn is also held together by mortise and tenon joints. It fascinates me there were no nails used in its construction."
The 80 acres surrounding the barn and house is land the Martins use for a commercial cow/calf operation as well as four log cabins they rent out. In addition to the vintage-camper show, the Martins host agriculturebased events to connect people with their food.
"We're so fortunate to be in this location," Shannon says. "It's beautiful here in the Flint Hills and our barn and cabins allow people to come out to the farm. We are farmers and ranchers, so we want people to understand where their food comes from and how we practice safe agricultural practices."
The events held at the Stone Barn Farm are authentic, with real-life agricultural applications.
"I work as the director of the Burford Theater in Arkansas City," Shannon says.
"We're holding a farm-to-table dinner at the barn in the spring where we'll feature our own beef and serve locally made products as a benefit for the theater."
It's events like these Shannon says are important to her.
"Authentic experiences at our farm are my passion," she says. "I recently traveled to Spain where a gentleman didn't understand the cheese we were enjoying came from sheep's milk. I was baffled by that.
"I think about how our food system is so reliant on farmers and ranchers," Shannon continues. "If we can bring people here and help explain our safe practices with our cattle and we raise these crops and that's what feeds us, that is an important connection for people to make. This gentleman didn't understand the connection at all with the sheep's milk. I want to bring people here and help them understand what we do as farmers and ranchers."
While the vintage-camper show event isn't necessarily tied to agriculture, it's an opportunity for people to experience rural life.
"Exhibits like these make you appreciate nature," Shannon says. "I grew up camping. My grandmother, Nannie, was a gypsy soul who loved being outside. My dad grew up with that and ever since I was a little kid, my family would go to Alley Spring in Missouri to camp and canoe. I know a lot of the families who brought campers to this event grew up the same way."
Because of her upbringing, Shannon continues her love for vintage campers today.
"I love old things, I love history and I love camping," she says. "I bought a vintage 1968 Scotty camper for $200 that had rat nests, was molded and had rust everywhere. It's still a work in progress, but I'm excited about what it will become. I also have a custom teardrop camper that is unique. My husband calls it my camper collection."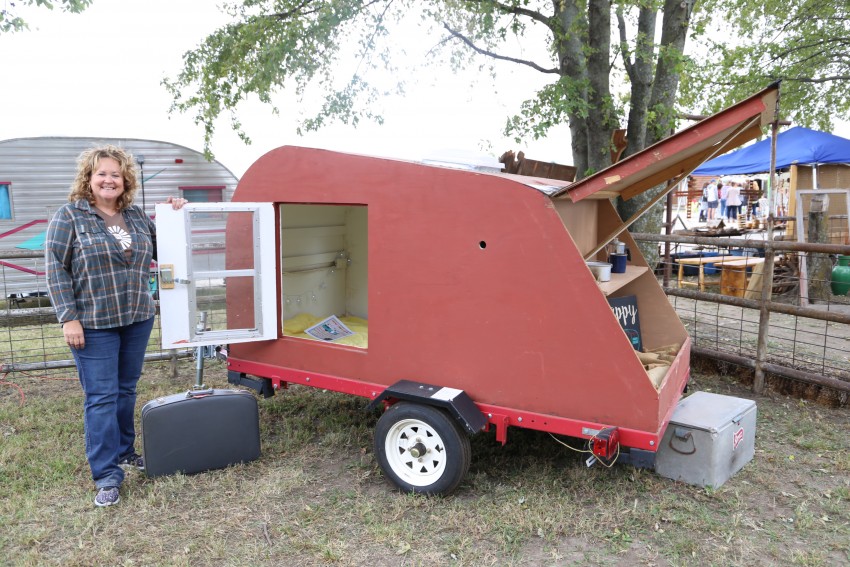 The Stone Barn Farm and the vintage camper show is all about bringing people together, uniting families and appreciating community.
"I love living here," Shannon says. "Our little town is very clean and beautiful. We stay involved in our community through Civic Club, 4-H and Farm Bureau. We're appreciative of the support we get from our neighbors, including our county Farm Bureau, who has partnered with us on events. We're all a family in our little town and I love being a part of getting us all together at our barn."
If you have an interest in an event at the Stone Barn Farm or renting one of the four cabins on the property, you can learn more at their Facebook page.
You can also book the Stone Barn Farm for birthday parties, weddings or family reunions. The cabins are available for nightly rental and are a great location for hunters. Be sure to stay in touch with them on Facebook for this year's vintage-camper show, set for Sept. 28.
To see how one vintage camper was refurbished by a Kansas couple, read the article below!
---