Spring Cleaning your Pantry
Make time this spring to check your spices, nuts, seeds, oil, flours and more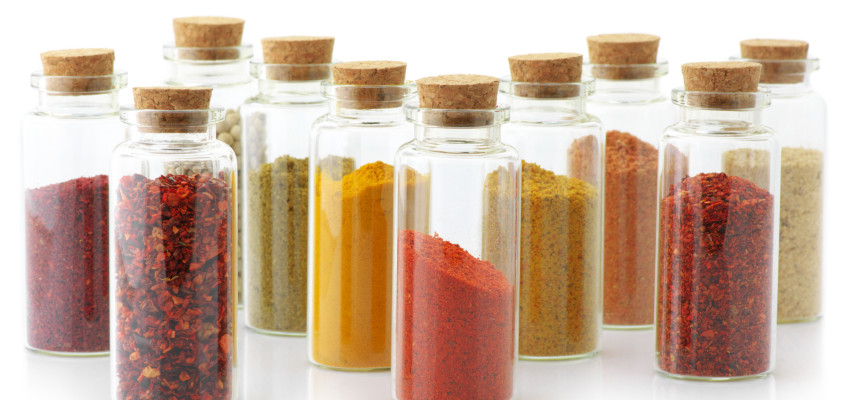 After keeping the windows shut tight all winter, spring is the perfect time to fling open those windows, organize things you meant to get to last year and deep-clean the nooks and crannies. While you're already working on making your house less cluttered and more intentional, include your kitchen.
"This is the perfect time to empty the cupboards and give everything a thorough look," Karen Hanson, dietitian for the Johnson County Department of Health and Environment, says. "Be sure to take inventory of what you have, what you're low on and what you need to restock. Help your future self by having regularly used items on hand for food prep."
How Long Do Pantry Staples Keep?
When you're trying to determine what needs to be tossed and what you can keep, consider the shelf life of different items in your kitchen.
SPICES
"Spices typically have long shelf lives, but they lose their kick over time, especially ground ones," Hanson says. "A good idea is to write the purchase date on your spice jars when you buy them so you'll always know which are freshest and which to use first."
Whole spices and herbs: 1-2 years
Whole seeds: 3 years
Ground spices and herbs: 1 year
Ground roots (e.g., ginger): 1-2 years
NUTS, SEEDS AND OILS
Nuts, seeds and oils can turn rancid with fluctuating temperatures and humid conditions.
"Keep your pantry cool and dark," Hanson suggests. "This will help extend their life. Off-flavor or bittertasting nuts and oils should be thrown out."
Oils: up to 18 months unopened,
1-6 months opened in cool, dark conditions
Dried beans: 1-2 years unopened
Canned beans: 2-3 years or by date on can
Raw nuts (without shell): 4 months
Raw nuts (with shell): 6 months
Peanut and nut butter: 6-9 months unopened, 2-3 months opened (shelf-stable varieties)
Raw seeds (without shell): 2-3 months
Roasted seeds (without shell): 3-4 months
FLOURS AND WHOLE GRAINS
Flours and whole grains need to be stored in airtight containers to avoid absorbing moisture and odors.
"Storing flour and whole grains in the refrigerator can extend shelf life, which can be useful for whole grains that have a shorter shelf life due to the oils found in their bran and germ," Hanson says.
Barley (pearled): 12 months
Brown rice: 6 months
White rice: 2-4 years
Wild rice: 2 years
All-purpose flour: 8 months
Bread flour: 3-6 months
Brown-rice flour: store in the refrigerator due to the high oil content
Corn flour: 1 year
Flaxseed: 2-3 months
Spelt flour: 4-5 months
White-rice flour: indefinitely when properly stored
Whole-wheat flour: 2-3 months in a cool place, 6 months in the refrigerator
SAUCES, CONDIMENTS AND OTHER PANTRY ITEMS
Shelf lives for these products can be long but it's a good idea to check the expiration date on condiments and sauces or canned goods.
Baking soda: 18-24 months
Baking powder: 6 months
Dried bread crumbs: 6 months
Buttermilk powder: 2 years
Oatmeal, grits and hot cereals: 1 year
Chocolate: 6-12 months unopened and stored in a cool, dry place
Corn meal: 6-12 months
Corn starch: 18 months
Dried fruits: 6-12 months
Jams and jellies: 1 year unopened
Ketchup: 1 year unopened
Sweetened condensed milk: 2-3 years
Evaporated milk: 1-2 years
Molasses: 1-2 years
Mustard: 2 years unopened
Olives: 1 year unopened
Pasta (dried): 2 years
Sauces: 1 year
Sugar (brown): 6-12 months
Sugar (confectioners'): 2-3 years
Sugar (granulated): 2-3 years
Vanilla and other extracts: 2 years unopened, 1 year opened
Vinegar: 2 years unopened, 1 year opened
Yeast (packets): 2 years (check expiration date)
Don't Forget the Fridge
We all keep items in the fridge assuming they're fine since they're refrigerated. But be sure to keep a few things in mind as far as placement of items in the fridge.
"Keep eggs, milk and yogurt in the main compartment of the refrigerator for optimal freshness," Hanson says. "The door is the least cold part of the fridge and is best for condiments, pickles, salad dressings and other foods with a high acid content to resist bacterial growth."
The coldest shelf is the middle of the fridge and is best for highly perishable foods like fish, deli meats, eggs and dairy items.
Raw, defrosting meats should be kept on the bottom shelf in a container with sides to contain leakage that may contaminate other foods if dripping occurs.
"The middle and lower shelves are great for leftovers," Hanson says. "Just make sure they're wrapped well and date the leftovers."
The bottom drawers are best for fruits and vegetables so they maintain crispiness in the high humidity drawers.
The United States Department of Agriculture recommends the following for food storage in the fridge or freezer:
IN THE FRIDGE
Fresh meats: 1-2 days
Lunch meats: 3-5 days
Hot dogs: 1 week opened
Salads: 3-5 days
Chicken, fish: 1-2 days
Hard cheese: 3-4 weeks
Milk: 5 days
Yogurt/sour cream: 7-10 days
Leftovers: 3-4 days
IN THE FREEZER
Beef: 3-4 months
Soups/stews: 2-3 months
Chicken: 9-12 months
Cheese: 6-9 months
---