By

Chef Alli

on

January 31, 2019
Homemade Noodles Made Simple
Easy, perfect noodles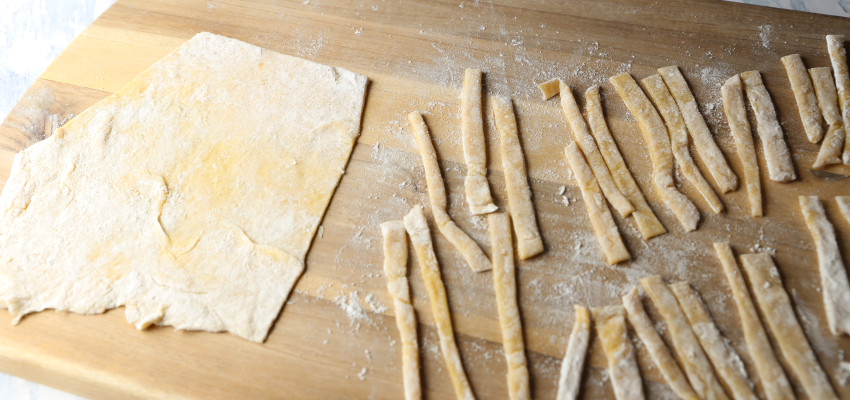 When I was growing up, I often helped my grandmothers make homemade noodles. I can still remember noodles laying everywhere. They covered every single kitchen surface. It was messy. My grandmothers believed if you were going to all the trouble of making noodles, you might as well do it BIG.
They were also believers in letting their noodles dry so they could package them for later use, which meant "noodles everywhere" lasted all day long.
As an adult, I've found myself remembering that noodle experience quite vividly, most times shying away from re-creating all that overwhelming mess. We have enough stress in our lives without adding noodle madness, right? But one afternoon, much to my surprise, I discovered homemade noodles don't have to be the excruciating experience of grandma's day. I found a recipe that claimed you could mix up the dough, roll it right out and promptly drop them into the boiling broth.
That noodle recipe worked out just as it claimed: it made enough dough for just one batch of noodles, mixed up quickly, rolled out easily and cooked up perfectly. I was thrilled. I could make homemade noodles anytime I wanted and in only a few minutes.
Here is my noodle recipe, plus a couple fun dishes for incorporating those homemade noodles: Slow-Cooker Beef Stroganoff Noodle Soup (my sons really love this hearty recipe) and Drunken Italian Noodle Pot that features all the beautiful colors of spring.
Make some noodles and some memories.
---