Slow-Cooker Beef Stroganoff Noodle Soup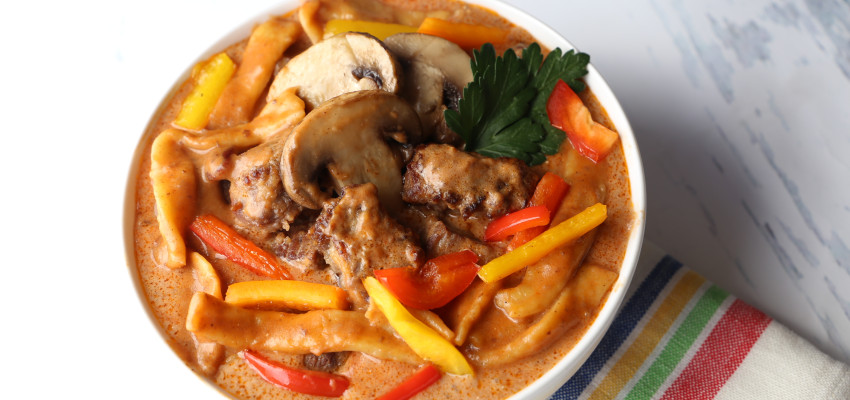 Ingredients
2 lbs. good beef stew meat, 1"–1 1/2" pieces
1/2 cup all-purpose flour
1 tsp. kosher salt
1 tsp. freshly ground black pepper
Canola or vegetable oil, for browning the stew meat
1/3 cup red wine
8 oz. sliced button mushrooms
1 oz. envelope dry onion soup mix
4 cups beef broth
2 Tbsp. tomato paste
1 Tbsp. Worcestershire sauce
2-3 cups uncooked homemade egg noodles
(may substitute with store-bought)
1 cup sour cream
Italian parsley, chopped, for garnish
Yellow and red bell peppers for garnish
Instructions
Place flour, salt and pepper into a shallow bowl; combine. Dredge stew meat in flour mixture, coating each piece on all sides.
Meanwhile, drizzle some oil into a large skillet over medium-high heat. Working in batches, add floured stew meat to the hot oil, browning beef well on all sides, removing it to a plate as you work.
Place the browned stew meat into a greased slow cooker.
Remove most of the oil from the skillet, leaving the drippings. Over medium-high heat, add the red wine to deglaze the skillet. Add the tomato paste and Worcestershire sauce, letting the tomato paste turn from bright red in color to a dull reddish-brown, adding a little broth as you go to keep the tomato paste from sticking to the skillet.
Add mushrooms, onion soup mix and one cup beef broth to the skillet; whisk until well combined. Pour over meat in slow cooker, then add remaining broth.
Cover and cook soup on low for six to seven hours, or until beef is very fork-tender.
Add the noodles to the slow cooker at this point; cover and cook for an additional 25-30 minutes on low until noodles are nicely tender.
In a medium bowl, whisk some of the broth from the slow cooker with the sour cream to temper it; add sour cream mixture to soup in slow cooker, stirring gently to combine.
To serve, ladle the soup into deep soup bowls and garnish with an additional dollop of sour cream, Italian parsley and slices of the yellow and red bell pepper. 
---