Grandma's Creamed Chicken and Biscuits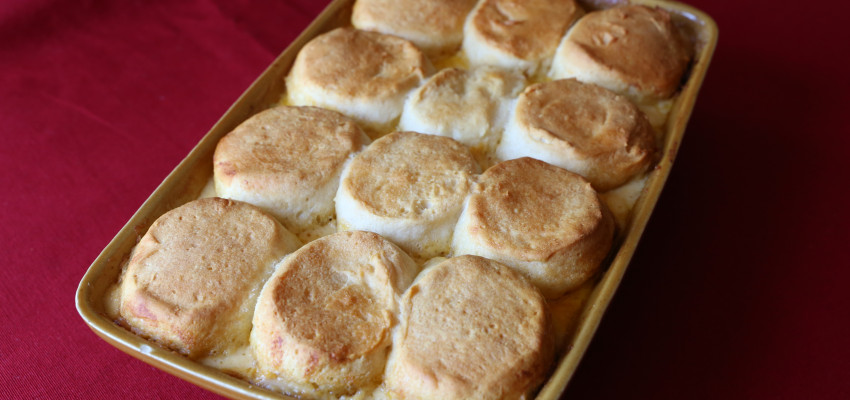 Ingredients
1-2 Tbsp. unsalted butter
1 small onion, diced
1 red bell pepper, seeds and membranes
removed, diced
2-3 cups shredded rotisserie chicken
(or 2 lbs. cooked chicken breasts or thighs)
1 can cream of chicken soup
1/2 cup sour cream
1/4 cup mayonnaise
1 cup milk
½ cup peas
1 1/2 cups shredded cheddar cheese
1 roll refrigerated biscuits
Melted butter, for brushing biscuits
 
Instructions
Preheat oven to 350 degrees F.
In a skillet over medium heat, melt butter; sauté onion and bell pepper in butter until softened and translucent.
In a large mixing bowl, combine onion and bell pepper mixture with chicken, soup, sour cream, mayonnaise, milk and peas.
Place mixture into a greased 11"x7" baking dish; bake uncovered on center rack for 15 minutes.
Remove from oven and sprinkle with cheese. Arrange biscuits in a single layer over the cheese and filling, then gently brush them with a bit of melted butter.
Return casserole to oven and bake until biscuits are golden brown and sauce is bubbly, 15 to 20 minutes longer.
---