By

Kelsey Pagel

on

September 28, 2018
What To Do When You Spot Cattle On the Road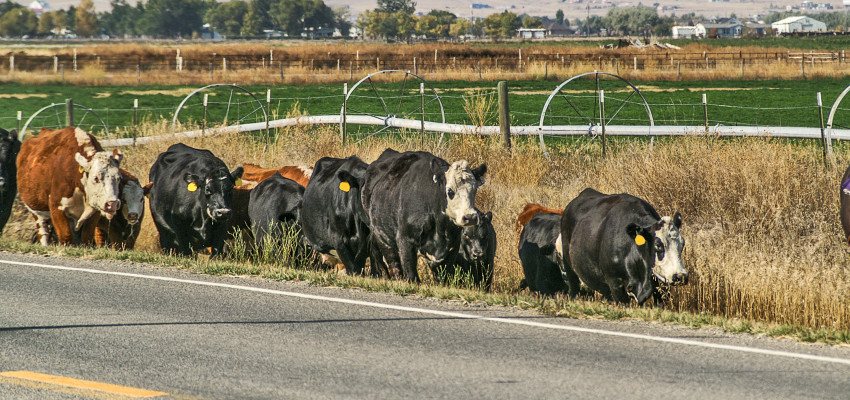 Since my last post I'm happy to say we have received moisture. While we are still way behind our normal precipitation at this point, we are excited about the rain we have received so far.
This time of year, especially in a drought year, the grass is getting short and the livestock think the grass is greener on the other side of the fence. This means they can find holes in the fence and eat their way to the road. We try extremely hard to keep our fences in pristine condition; however, trees sometimes fall on fences, wildlife tear them up and cows push through them to get to different grass.
Whenever we get a call that cattle are out, we drop everything and go that second. About two weeks ago, we received a call that cattle were out. It happened to be the busy traveling time on that road after practice at the local high school was out and a lot of people were traveling home from work. We were two miles from the location where we were working. Matt arrived within three minutes from the time he got the call. In that short amount of time, people were attempting to drive, shoo and herd the cattle through the fence.
While we very much appreciate people looking out for livestock and calling when they are out, we worry about the safety of people and the livestock.
If you're ever out and see cattle on the road, here are a few tips to ensure you and the livestock remain safe.
 If you don't have the owner's number, call the police. Take note of where you are, and they can contact the owner.
Do not get out of your vehicle.  Cattle are used to their caretaker's voice and vehicle. Our cows are very calm around us. We know which cattle are more scared and will work with them in a manner to prevent them from getting spooked. In the incident I mentioned before, people were out of their vehicles trying to herd them in the gate. The cattle were scared and unsure where to go. One of the cows that was really scared got separated from the herd. When I arrived a few minutes later most of the cows were back in the pasture with this one separated and scared. They will defend themselves, just like we would when they feel like they are in danger. Matt and I, and a neighbor that knows cattle, finally got her through to this neighbor's pasture that borders our own. He then called his own cows away and Matt and I got the cow back where she needed to be as quietly as we could to prevent more stress on her.
If you want to stay and make sure they aren't hit, park in a safe place and turn your flashers on, warning others to slow down.
Like I said before, we appreciate any calls about our cattle. We try our best to keep the fences in great shape, but things can happen. When they do, we care about your safety and we care about the safety of our livestock. Follow these few steps to ensure that everyone can walk (or drive) away from the experience safely and the cattle aren't stressed.
You may also like...
---