How do farmers care for cattle in the winter?
Cattlemen go above and beyond to keep their herds healthy and happy during the cold Kansas winters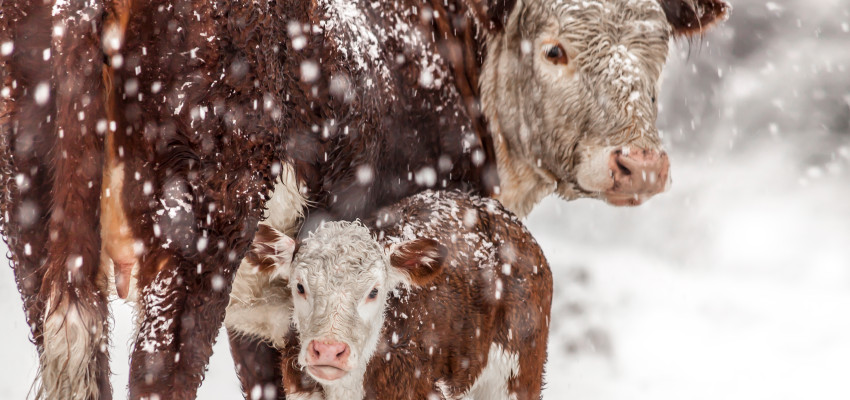 Nestled in the hills of the Saline River Valley, the Berndt family cowherd has weathered Kansas winters with below-zero temperatures and bitter-cold northerly winds since the late 1800s, when Leslie Berndt's great grandfather began raising cattle.
Today, Leslie is the latest caretaker to ensure his 200-head cowherd is ready for the upcoming cold weather. His cattle consist of a mixture of "a little bit of everything" according to Berndt. It begins with a long line of Hereford stock and includes Angus, Gelbvieh and Simmental.
During fall, Leslie is hustling to harvest fall crops of corn, milo and beans. At the same time, the Berndt family begins to separate the calves from the cows. Leslie's father, Kenneth, still helps with the crops and cattle.
"Whether we're through with harvest or not, we start weaning our calves in mid-October," Berndt says.
By mid-November, the last fall crop is harvested and the Berndts begin to build electric fence around the milo stocks. Cows are moved into these fields where they feed on this "excellent" food source until approximately mid-January.
"After six months of summer pasture and milo stocks, our cowherd is in great shape," Berndt says. "They're fat, sassy and headed into the teeth of winter in optimum condition."
While on the milo stocks, the cows don't even look for other feed, the Saline County cattleman says.
There's no need for supplemental feed and if the weather cooperates and remains open, cows can sometimes be left on the stocks into February.
Yes, open winters — when conditions continue to be mild, snow falls infrequently and winds do not whip through the countryside — spell low maintenance for Kansas cattlemen. Still they remain vigilant, checking and counting their cattle daily and, should a health problem arise, treating it immediately.
"We don't encounter too many health issues this time of year," Berndt says. "There are just a few isolated cases."
And while these periods are far from hectic, it still takes time to water cattle daily, supply them with mineral as needed and monitor the herd. It takes Berndt approximately two to three hours to fill his 2,000-gallon water tank. Delivering the water to the stock takes time as well.
It's a ritual, he says, but it also provides an opportunity to keep a close watch on the cows.
With the advent of calving season in mid-February, activities kick into overdrive as the family cares for the momma cows and their newborn calves. By this time, first-time mommas who delivered approximately three months earlier in November are becoming more and more comfortable with caring for their babies.
Still, whether it's the heifers or seasoned momma cows, the Berndts spend all the time needed to ensure their calving numbers remain as high as they can be.
"This is a feverish time for us," Leslie says. "At times, our cows and heifers may have trouble with the birthing process and we're there to help them."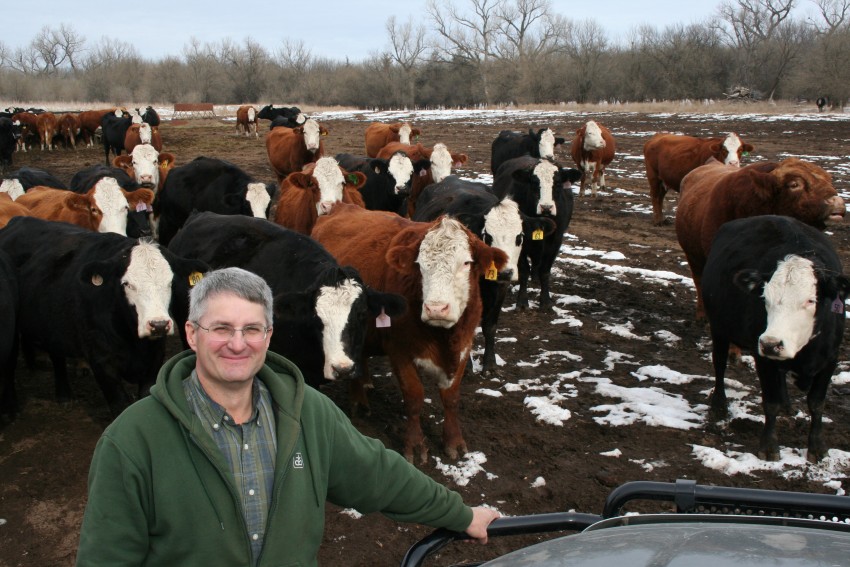 Cows tend to telegraph when they're experiencing difficulty, he says. When they take too long to find a place to lie down to calve, there may be a problem. Experienced cattlemen learn to sense when a cow needs help. During calving season, the Berndts check on their cowherd in both the mornings and evenings.
"We generally try to help the momma along or pull the calf ourselves," Berndt says. "But when we need help, we call in our local vet."
For as long as he's tended cattle, Berndt remains amazed at how well cows who've delivered at least one calf run into few problems giving birth. Mother Nature takes care of its creatures most of the time, he says.
One major exception to that rule occurs during winter, when conditions and forecasts remain unpredictable. Snow storms, blizzards, terrible winds and below-zero temperatures tend to try the mettle of any cow, and for that matter, any cattleman.
It's about this time momma cows may experience calving problems if they're going to, Berndt says. It's also during these cold snaps when his cattle require more to eat.
"We feed them a little extra silage and big round bales to keep their heat generation up," he says. "Those gals are looking for more food when it gets bitter cold like that. Grain in the silage provides much-needed protein."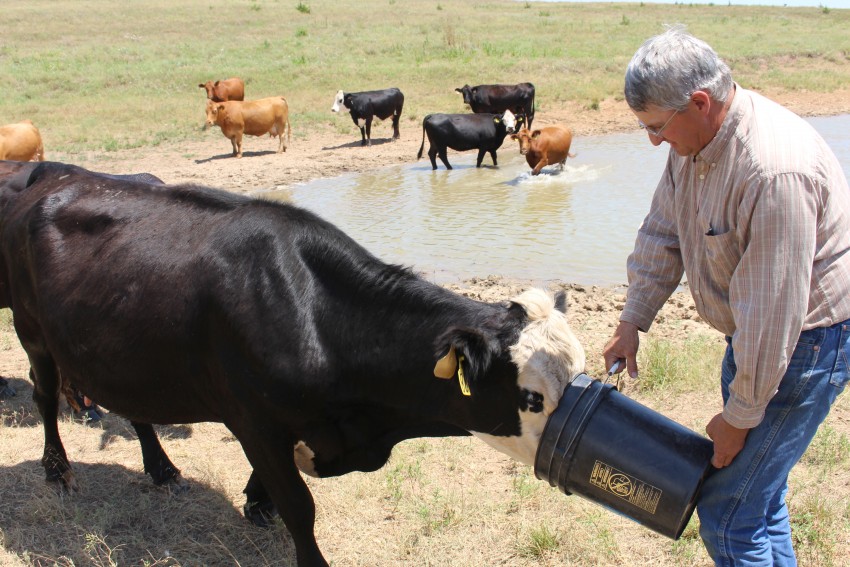 During the calving season, the Berndts spend long hours day and night checking their cowherd. While the cows are acclimated to the cold temperatures, below-zero wind chills will impact their stock in a negative way. If the Berndts hear a winter storm forecasted, cows are herded to the sheltered woods a short distance north of the home place. Here the cowherd is sheltered from the wind and nestled in the hills.
This pasture is heavily wooded and provides complete protection from the elements. The pasture has another invaluable asset — a natural spring stays open and provides water year 'round. This spring flows out of the hillside and runs into a pool in the ground. Cattlemen not blessed with such available water often spend a couple hours each day or two hauling water to their stock.
Still, below-freezing temperatures and the threat of snow and blowing wind remain cause for a vigilant watch over the cowherd. Once winter runs its course, the cycle of life on the Berndt farm and ranch repeats itself.
In the meantime, the Saline County stockman will continue to feed, nurture and care for his momma cows and calves. He takes his stewardship seriously. Berndt remains devoted to safeguarding the land, his livestock, the home place and his family — all while providing food for the people of the world.
Find out how another Kansas rancher takes care of her cattle. 
---
---