By

Chef Alli

on

February 19, 2018
8 Reasons You Need an Electric Pressure Cooker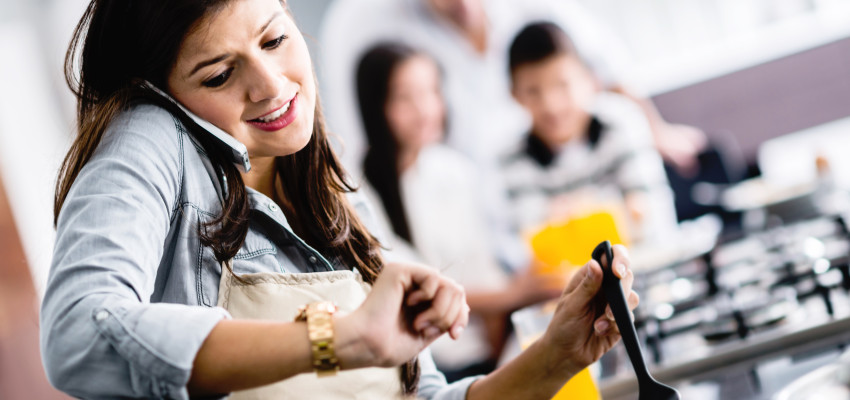 Like most, I was highly skeptical about how great electric pressure cooking is. That was four years ago and I've never looked back. Now I'm a total convert; a huge electric pressure cooking fan.
What's there not to like? Frozen chicken breasts ready in 12 minutes, tender beef and pork roasts cooked in less than an hour, perfect long grain rice in just 11 minutes.  Then, there's bone broth prepared in only 90 minutes instead of days simmering on a back burner. And how about corn-on-the-cob cooked in three minutes, as well as a ham and beans that are ready in just 50 minutes with no bean soaking involved. 
If you're still not sure, here are eight more reasons you need an electric pressure cooker.
1. It's A Huge Saver of Our Most Precious Ingredient: Our Time. 
One of the greatest things I love about electric pressure cooking is how it saves so much time.  On average, I can cut my cooking time in half, and still produce delicious, healthy meals for my guys. Who doesn't want to spend time doing other things rather than all evening in the kitchen making dinner?
2. It Offers Easy Clean Up.
Because you can do multiple tasks in the electric pressure cooker, an entire meal can be created in one pot, making clean up after dinner minimal. My electric pressure cooker pot is Teflon-coated, so it washes up wonderfully with just a swish of soap and my dishcloth.
3. You Can Cook Frozen Foods.
If I happen to forget to put meat in the fridge to thaw throughout the day for dinner, I can still get dinner on the table in quick fashion by cooking from frozen in my pressure cooker. As an example, a frozen, two-pound block of ground beef can be thawed by cooking it under high pressure for just five minutes, then you can proceed with your recipe as directed. 
I don't recommend doing this every time because you can't brown frozen meat. That essentially means you are cheating yourself out of flavor. When it comes to cooking, always remember this: Brown is not a color, it's a flavor. I believe in browning every part of what I'm cooking because it amps up the flavors tremendously.
4. It Rescues Dinner at Home. 
Everybody knows how it feels to get home too late to prepare dinner in a timely manner, thus requiring pizza delivery or a run through the local drive-thru. This is fine occasionally (after all, it's real life out here) but you don't want to make it a habit. Eating at home saves you money and is much healthier.
With an electric pressure cooker, you can pull out a few chicken breasts or pork chops plus some vegetables, and still have a super tasty dinner on the table within 20-30 minutes.
5.  It's Energy Efficient, Cool and Quiet.
One big advantage of an electric pressure cooker is it's a very energy-efficient method of cooking. All the heat is kept inside your pot, a plus during the summer months when we are trying to keep the kitchen cool. Because electric pressure cookers don't have that hissing, rattling valve on top like the pressure cookers of Grandma's day, they are completely quiet when being used.
6. It Gives Fast Food a "Whole" New Meaning.
Cooking in an electric pressure cooker lets us cook foods in a very fast manner, just as it requires us to use real foods such as meats, poultry, vegetables, beans, grains, fruits, etc. In my opinion, the fact that we're eating whole foods and not processed foods when we cook is a huge win, no matter which recipe we're cooking for dinner.
7. It Replaces Multiple Kitchen Appliances.
When I got my first pressure cooker, I was thrilled to learn I could retire both my slow cooker and my rice cooker to the small appliance graveyard. I had never been a huge fan of my slow cooker meals (they were always mush by the time we got home), so it felt great to move away from something I did mostly out of desperation. Plus, the pressure cooker provides me an extra burner for cooking when I'm not using it as a pressure cooker. 
8. It Saves Marriages.
Spouses can run late for dinner, we all know that. My farmer husband has been late to dinner plenty of times and I love how my electric pressure cooker keeps his dinner at a safe, hot temperature when using the "keep warm" setting. No matter when he makes it home, his dinner is warm and ready.
Many people ask which electric pressure cooker I prefer. I always advise everyone to begin with the Cuisinart 6-quart electric pressure cooker. It's very simplistic and easy-to-use right out of the gate, which is a good thing when someone is trying to build confidence in using one as a beginner. 
Pro-Tip: Which Brand Should I Purchase?
The Instant Pot is a great as well, but my experience has been many people (especially new cooks) purchase this one, then wind up getting overwhelmed right away due to all the "bells and whistles" that accompany it. The last thing I want anyone to do is to get overwhelmed and quit. Once you've mastered the Cuisinart and feel confident with electric pressure cooking, it's the perfect time to advance to the Instant Pot. If you are a skilled cook, the Instant Pot may be the perfect pressure cooker for you to begin with, and I love the stainless-steel pot.
You might be interested in:
---