Rosemary-Sage Sausage and Potato Sheet Pan Dinner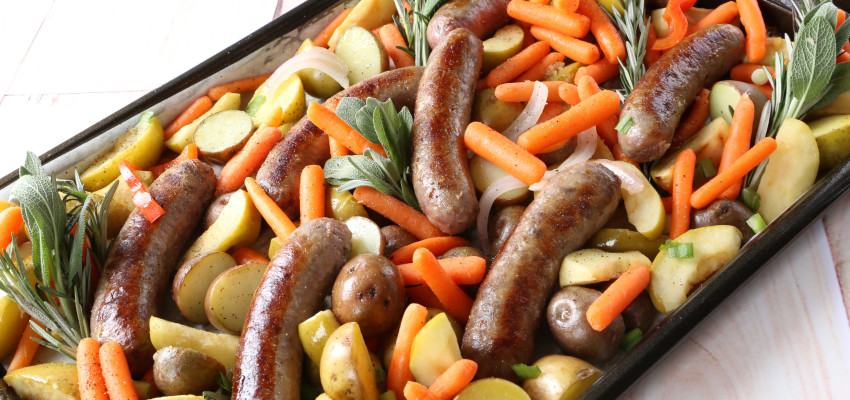 Ingredients
3 Granny Smith apples, cored and sliced, skins-on
1 1/2 lbs. small red potatoes
1/2 lbs. baby carrots
1 large red onion, cut into wedges
2 Tbs. fresh sage leaves, chopped
4 fresh rosemary sprigs
¼ cup honey
3 Tbs. olive oil
salt & pepper to taste
8 pork sausages, such as Johnsonville Italian Pork Sausages
Instructions
Preheat the oven to 400 F.
Place the apples, potatoes, carrots, onions, sage and rosemary onto a foil-lined or parchment-lined rimmed sheet pan; drizzle the honey and olive oil evenly over all, then season with salt and pepper.
Using two silicone spoonulas, carefully toss until everything is evenly coated, then spread evenly over the sheet pan in a single layer.
Make little troughs between the veggies for the sausages and place the sausages within.
Bake, uncovered, for approximately 30 minutes, or until golden brown and cooked throughout. Sausages should be 160 F at the center when tested with an instant-read meat thermometer. Apples and potatoes should be fork-tender.
Serve at once.
---