Asian Garlic-Ginger Chicken Sheet Pan Dinner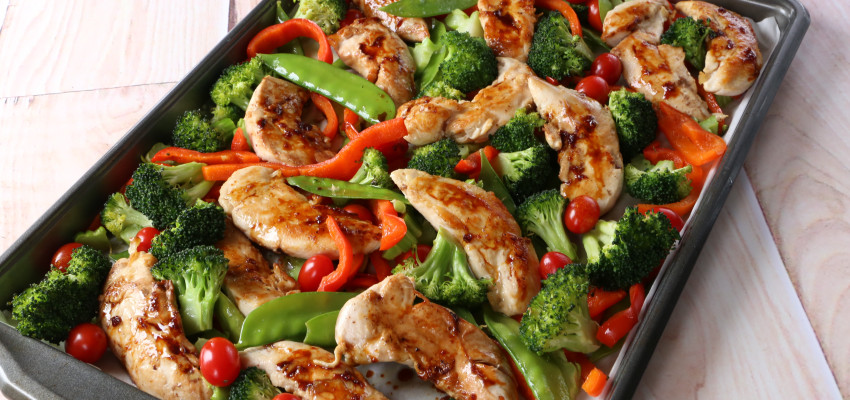 Ingredients
Garlic-Ginger Sauce
¾ cup low sodium soy sauce
1/2 cup water
4 Tbs. rice vinegar
¼ cup good olive oil
1 Tbs. freshly minced ginger root
4 cloves garlic, crushed
1/2 cup honey
Chicken and Broccoli
1 1/2 - 2 lbs. chicken tenders
1 head broccoli, cut into florets
1 red bell pepper, cut into strips
1 cup snow peas
sesame oil
1-2 Tbs. sesame seeds
4 scallions, chopped
cherry tomatoes
Instructions
Preheat the oven to 400 F.
In a saucepan, whisk all sauce ingredients together until smooth, bringing to a simmer over medium heat; cook until reduced and thickened a bit.
Meanwhile, place chicken tenders, broccoli, red pepper strips and snow peas onto a foil-lined or parchment-lined rimmed sheet pan; drizzle 1/2 cup of the prepared sauce over the chicken and veggies. Bake, uncovered, for 10-15 minutes.
Remove sheet pan from oven and garnish with a splash of sesame oil, a good sprinkle of sesame seeds, scallions, and scattered cherry tomatoes. Enjoy as is or serve over rice. Serve extra sauce on the side, as desired.
---