Roasted Pork Tenderloin Salad with Glazed Sweet Potatoes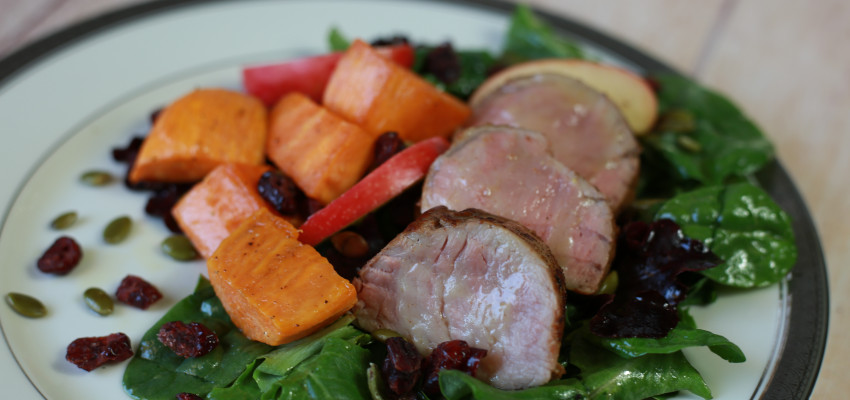 Ingredients
1 fully cooked pork tenderloin*
2 lbs. sweet potatoes, peeled and cut into 1 ½-inch chunks
Olive oil, for roasting the sweet potatoes
6 cups mixed greens
1 Honeycrisp apple, quartered, cored and sliced
¼ cup dried cranberries
2 Tbs. pepitas, may substitute sliced almonds
Dressing
¼ cup good olive oil
1 ½ Tbs. red wine vinegar
1-2 Tbs. honey, depending on how sweet you prefer the dressing
2 tsp. spicy brown mustard
Salt and pepper, to taste
*There are typically two tenderloins in a package, though it's hard to see that through the packaging at the time of purchase. To know for sure, check the weight noted on the package. If it weighs about two pounds, there are two pork tenderloins inside since individual pork tenderloins typically weigh about one pound.
Instructions
Preheat the oven to 425 F. Cover a large, rimmed baking sheet with aluminum foil. Place the sweet potatoes onto the foil and drizzle with a bit of oil, tossing to coat. Roast them for 20 to 25 minutes or until fork-tender and golden brown.
Place the mixed greens into a large bowl. In a dressing cruet or a jar with a tight-fitting lid, combine the oil, vinegar, honey and mustard; shake well; season to taste with salt and pepper, then drizzle over the mixed greens and toss to coat. Divide the dressed greens among four serving plates.  
Slice the tenderloin into medallions, placing a few on top of the dressed greens on each plate; add the roasted sweet potatoes and sliced apples. Garnish with cranberries and pepitas; serve at once.
---