Cherry-Pecan Pork Tenderloin Medallions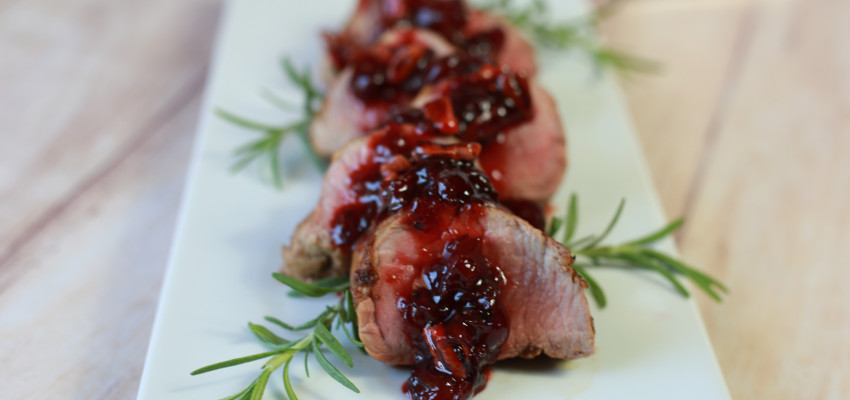 Ingredients
1 pork tenderloin package, approximately 2 lbs.*
Your favorite steak seasoning, to taste
Olive oil, for searing the tenderloins
½ yellow onion, finely diced
1 cup cherry jam or preserves
¼ cup apple juice
¼ cup red wine vinegar
¼ cup chopped toasted pecans
Fresh sprigs of rosemary for garnish, optional
*There are typically two tenderloins in a package, though it's hard to see that through the packaging at the time of purchase. To know for sure, check the weight noted on the package. If it weighs about two pounds, there are two pork tenderloins inside since individual pork tenderloins typically weigh about one pound.
Instructions
Remove the pork tenderloins from refrigeration. Season both with steak seasoning, as desired. Let the tenderloins rest, uncovered, on the counter for 30 minutes before you begin the cooking process. Don't skip this part!
Preheat the oven to 425 F. In a large sauté pan over medium-high heat, add a good swish of olive oil. When the oil is hot, sear the pork tenderloins, one at a time, on all sides until dark golden brown. Place the seared tenderloins onto a foil-lined baking sheet, two to three inches apart. Roast uncovered for 15 to 20 minutes, or until the tenderloins are 140 F in the center according to an instant-read meat thermometer. Remove the tenderloins from the oven and tent with foil; let rest for three to five minutes before slicing to serve.
Meanwhile, prepare the cherry-pecan sauce using the same sauté pan that was used to sear the tenderloins. Sauté the onions in the pork drippings over medium heat until softened and translucent, approximately three to four minutes. Stir in the cherry jam, apple juice and vinegar; simmer until the sauce thickens, stirring occasionally; remove from the heat and stir in the pecans.
Set aside one pork tenderloin for use in another recipe. Slice the other into thick medallions and place onto a serving platter; spoon the warm cherry-pecan sauce over the top and garnish with rosemary as desired. Serve at once.
---