Power Salad with Lemon Chia Seed Dressing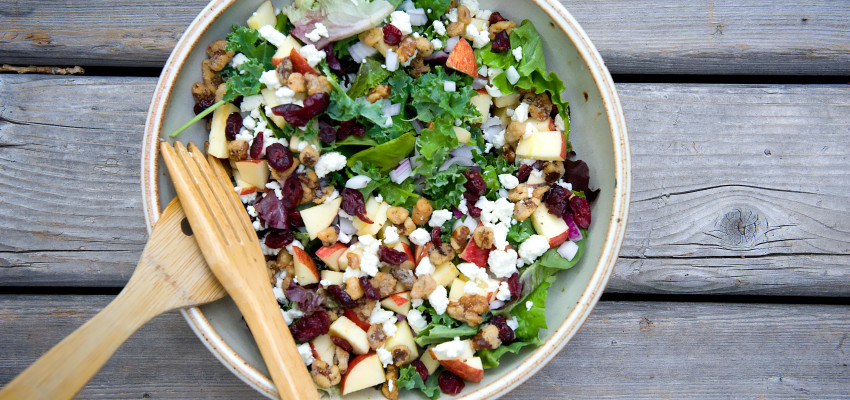 Ingredients
Prep Time: 15 minutes     Cook Time: 30 minutes     Total Time: 45 minutes
For the Salad:
 4 cups packed spinach
 1 large sweet potato, peeled, chopped into ½ inch cubes and roasted
 1 cup cooked quinoa
 1 (15 oz.) can chickpeas, rinsed and drained
 1/2 cup almonds, whole or chopped
 1 large Gala or Fuji apple, diced
 1 cup chopped red cabbage
 1 large avocado, sliced
For the Lemon Chia Seed Dressing:
 1/4 cup olive oil
 2 tablespoons fresh lemon juice
 2 tablespoons golden or white balsamic vinegar
 2 teaspoons honey or agave nectar (use agave for vegan)
 2 teaspoons chia seeds
 Pinch of salt and freshly ground black pepper, to taste
Instructions
 1. In a large bowl, combine spinach, roasted sweet potatoes, quinoa, chickpeas, almonds, apples, red cabbage and avocado.
2. For the dressing, combine olive oil, lemon juice, balsamic vinegar, honey or agave and chia seeds in a small bowl or jar. Whisk until well combined. Season with salt and black pepper, to taste.
3. Drizzle the dressing on the salad and toss well to coat. Serve.
Note-to roast the sweet potatoes, preheat oven to 400 degrees F. Place chopped sweet potatoes on a large baking sheet, drizzle with one tablespoon of olive oil and season with salt and black pepper. Roast until tender, about 30 minutes, stirring occasionally. This salad is very adaptable. Feel free to add your favorite veggies and fruits to the mix.
You might also enjoy
---