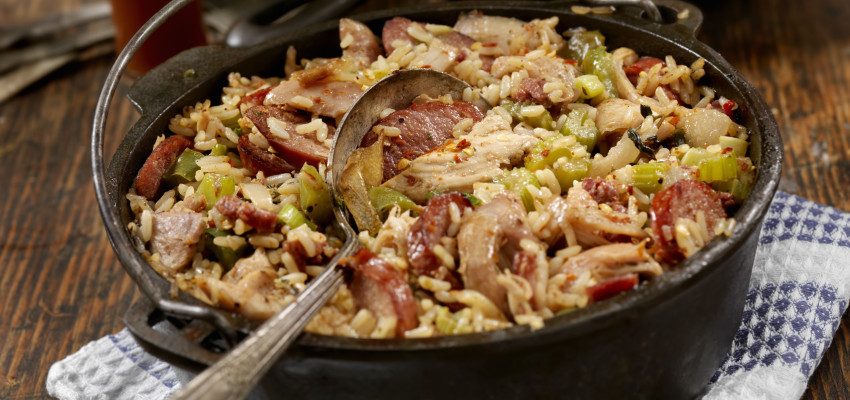 Ingredients
2 Tbs. olive oil
8 oz. smoked or andouille sausage, sliced into 1/4-inch thick coins 
8 oz. boneless skinless chicken thighs, cut into 1 inch pieces
8 oz. raw shrimp, peeled and deveined
1 tsp. Tony Chachere's Original Creole Seasoning (or more to taste if you like spicy!) 
1 tsp. dried thyme leaves
1 tsp. smoked paprika 
1 bay leaf 
2-3 good dashes Tabasco Pepper Sauce 
2 tsp. Worcestershire sauce 
1 medium yellow onion, diced 
4 garlic cloves, crushed 
1 green bell pepper, seeds and membranes removed, diced 
1 red bell pepper, seeds and membranes removed, diced
3 celery ribs, sliced
1 cup jasmine rice (I prefer the texture of this rice instead of long grain rice) 
2 cups canned diced tomatoes, undrained
3 cups chicken broth 
3 Tbs. fresh Italian parsley, chopped
Kosher salt and freshly ground black pepper, to taste 
Instructions
Add oil to Instant Pot set to sauté setting; when the oil is hot, add the chicken. Sauté chicken until lightly browned and cooked throughout, then add the sliced sausage and sauté a bit longer. Stir in the shrimp, cooking just until shrimp turn from gray to pink in color. Using a slotted spoon, remove the meat from the Instant Pot, leaving the drippings in the pot, transfer the meat to a bowl; reserve and keep warm. 
Add the onions, garlic, bell peppers, celery, creole seasoning, thyme, paprika and bay leaf to the Instant Pot; sauté vegetables for 4-5 minutes, just until the veggies are slightly softened.
Stir in rice, tomatoes, broth, Tabasco Pepper Sauce and Worcestershire sauce. Lock the Instant Pot lid into place; select manual cook time for six minutes on High Pressure setting, bringing the Instant Pot to full pressure. 
When the timer sounds, remove the pressure by using the quick release method, then carefully remove lid. Remove the bay leaf, then stir in the parsley and reserved cooked meat. Close Instant Pot lid, letting jambalaya stand and rest for five minutes before serving. Season to taste with salt and pepper. 
You may also like...
---