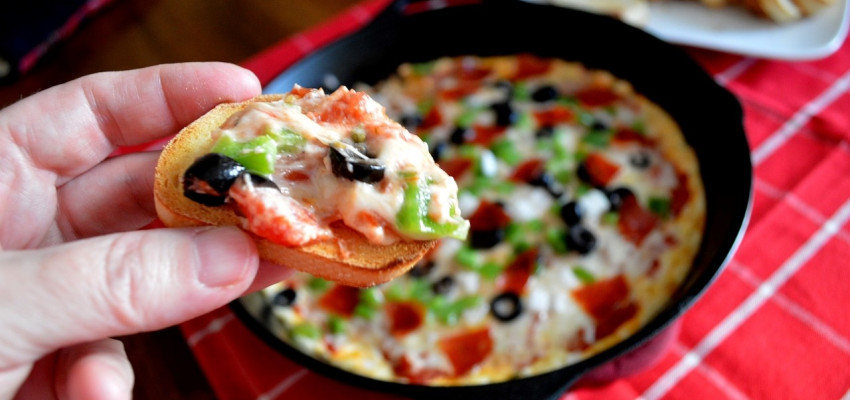 Ingredients
1 14.5-ounce can petite diced tomatoes, drained
1 teaspoon dried oregano
1 teaspoon kosher salt
1 8-ounce block of cream cheese at room temperature
1 teaspoon dried Italian seasoning
1/4 teaspoon black pepper
1/4 teaspoon red pepper flakes (optional)
1 cup grated mozzarella cheese
3/4 cup grated Parmesan cheese
Olive oil
Pizza toppings of choice
1 baguette, sliced and toasted
Instructions
This is one of my favorite dishes to serve to guests because I LOVE pizza. Plus, it's easy to make. Top it with your favorite pizza add-ons to fit your taste. Mine are green peppers, onions, black olives and pepperoni. I serve this with toasted baguette slices.
Preheat the oven to 350 degrees F. In a small bowl, add the drained diced tomatoes, oregano and salt. Stir to combine and set aside.
In a large bowl, stir the cream cheese to smooth. Add the Italian seasoning, black pepper, red pepper flakes (if using), 1/2 the mozzarella and 1/2 the Parmesan. Stir together until well combined.
Grease 10-inch cast iron skillet with olive oil. Spread the cream cheese mixture in the bottom to an even layer. Spread the diced tomatoes on top of the cream cheese, leaving behind any extra liquid. Sprinkle the remaining cheese on top, and then add your favorite pizza toppings.
Bake for 15 to 20 minutes, until the middle is hot and bubbly. Serve with toasted baguette slices.
---