Easy Glazed Pork Loin Roast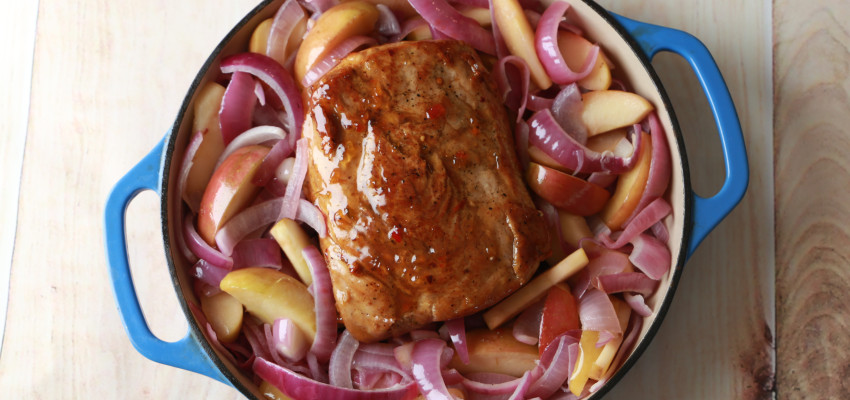 Ingredients
Easy Pork Loin Roast
1 boneless pork loin roast (4-5 lbs.) 
1 tsp. kosher salt 
1 tsp. freshly ground black pepper 
olive oil for searing the pork roast 
1/2 cup apple cider or apple juice 
2 red apples, cored and cut into 8 slices 
2 red onions, sliced
Glaze
1 cup apricot or peach jam 
1 Tbs. spicy brown mustard 
2 tsp. red wine vinegar
Instructions
Preheat the oven to 425 F. 
Season the pork loin with salt and pepper, using your fingertips to get the spices into all sides. 
In a large, deep skillet or Dutch oven over medium-high heat, add a good swish of olive oil. When hot, gently lay the seasoned pork loin roast into the hot oil; sear the roast on all sides until a deep golden brown. Remove the roast to a platter. 
Add apple cider to skillet, whisking and deglazing the pan to bring up all the browned particles from searing the pork roast; return the roast to the pan. 
Place the roast into the preheated oven, uncovered, on the center rack; roast for 20 minutes. Meanwhile, combine the glaze ingredients in a small saucepan and warm until heated throughout. 
Remove the pork loin roast from the oven; place the sliced apples and onions around the pork roast. Spread the prepared glaze over the top. 
Return the roast uncovered to the oven, reducing the temperature to 350 F. Continue to cook the roast for an additional 35 to 40 minutes, basting with the apple juice every 10 minutes or so. 
Cook the roast until it reaches 130 to 135 F in the center with an instant-read meat thermometer. 
Remove the roast from the oven and tent with foil. Let rest for 10 minutes, allowing it to relax and come up an additional five to 10 degrees in internal temperature to a finished temperature of 140 to 145 F — just perfect for pork roast! 
To serve, slice the pork roast across the grain into 3/4-inch slices, arranging them on a platter. Top the pork slices with apples and onions; drizzle with pan juices.
You may also enjoy:
---