Cheesy Gnocchi Pork Skillet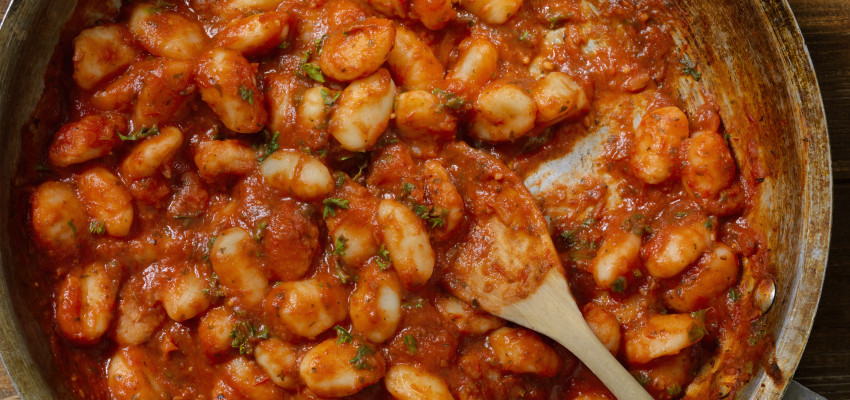 Ingredients
1 lb. freshly made or packaged gnocchi (typically found in the pasta aisle at your local grocer)
1-2 Tbs. good olive oil
2-3 cloves garlic, minced 
3/4 lb. Italian sausage
4 oz. mini pepperonis
14 oz. can petite diced tomatoes
8 oz. can roasted garlic tomato sauce 
1 1/2 tsp. Italian seasoning 
kosher salt and freshly ground black pepper, to taste
1/2 cup heavy cream
8 oz. block mozzarella cheese, grated 
1-2 Tbs. fresh Italian parsley and fresh basil, as garnish 
Instructions
In a large, heavy skillet over medium high heat, add a good swish of olive oil; when oil is nicely hot, add gnocchi to pan and let it sit for a minute or two to become golden brown on the bottom.  Flip gnocchi over and cook until this side is golden brown; remove gnocchi from the pan and reserve.  
Add Italian sausage to the skillet and cook until no pink remains and sausage is fully cooked throughout; drain any fats.  Add the diced tomatoes, tomato sauce, garlic, and Italian seasoning to the sausage in the skillet; bring to a nice simmer.
Return the reserved gnocchi to the skillet.  Stir in the cream and pepperoni (reserve a few pepperoni, if possible) and simmer a few minutes more.  Top with mozzarella cheese and place under a preheated broiler for just a few minutes until golden brown on top.  Sprinkle with fresh parsley and basil, along with a few mini pepperoni for garnish.  
---