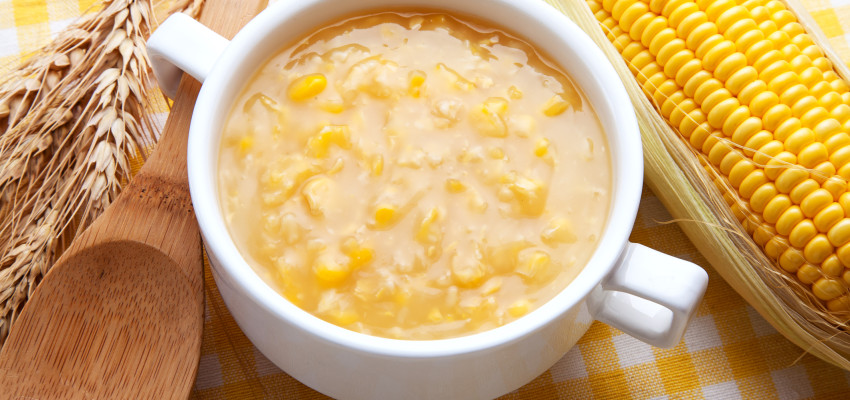 Ingredients
8 ears of corn, roasted, and kernels removed, or 7 cups of frozen corn (see note below)
2 yellow onions, diced
8 cloves garlic, minced
1 tablespoon fresh parsley, minced
2 tablespoons vegetable oil
1/4 cup red wine vinegar
4 cups chicken stock
2 pints heavy cream
1/4 cup sugar
Salt and fresh ground pepper, to taste
Instructions
In a large soup pot, heat vegetable oil and add onion and garlic. Deglaze with red wine vinegar. Reduce for two minutes. Add chicken stock, sugar and half of corn. Simmer 30 minutes.
Puree the mixture in a blender or food processor and return to the pot. (Be careful not to fill blender too full so you don't spray hot molten liquid out of the top.) Add heavy cream and remaining corn. Simmer 10 additional minutes. Add salt and pepper, to taste.
Note: Since fresh corn season was over when I made this, I used frozen corn kernels. There is approximately 3/4 cup of kernels on every ear of corn, so you can use approximately 7 cups of kernels for this dish. To roast them, I put the kernels in the pan with the vegetable oil and sautéed them until they started to brown. Then I added the onion and garlic to sauté until tender.
Note 2: I've made this in a slow cooker. I placed the frozen corn kernels, diced onion, garlic and chicken broth into the slow cooker, set on low, and let cook for eight hours. Then I removed about half of the corn kernels, and then blended the rest until smooth. Add back the kernels and the remaining ingredients. Allow to cook until the soup is hot.
---