Cedar-Planked Lemon Honey Salmon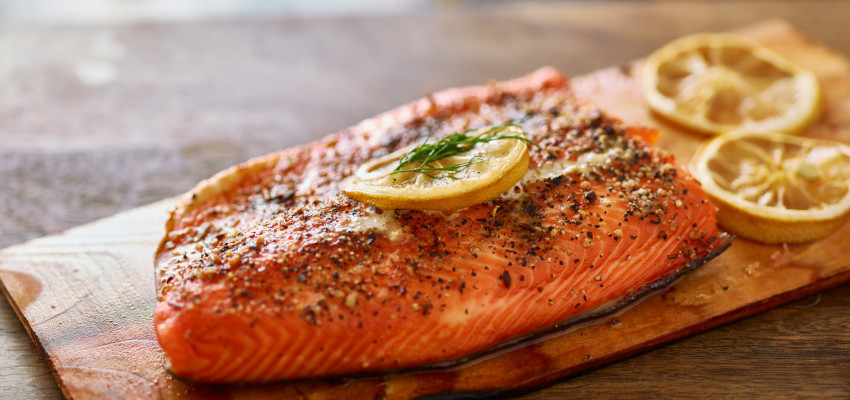 Ingredients
1 Tbs. fresh lemon zest
2 tsp. chopped fresh thyme
1 tsp. granulated sugar
¼ tsp. black pepper
½ tsp. kosher salt
2 skin-on salmon fillets, each weighing 1 ½ - 2 lbs., pin bones removed
2 Tbs. olive oil
2 Tbs. honey
2 Tbs. soy sauce
Instructions
Soak large cedar plank (15" x 7") in water for at least one to two hours, or overnight.  
In a small bowl, combine lemon zest, thyme, sugar, pepper and salt. Rub each fillet on both sides with olive oil, then place each one skin-side-down onto a soaked plank.  Sprinkle the prepared lemon zest mixture over the top of each fillet, gently rubbing it into the flesh. 
Prepare a gas or charcoal grill fire for indirect cooking using high heat. 
For a charcoal grill, bank the hot coals to opposite sides of the grill, arranging the planks over the cooler part of the grill.
For a gas grill, heat all burners on high, then turn off all but one of the burners just before cooking the salmon.
Be sure to position the fillets so that the thickest part of the salmon is closest to the charcoal on each side.
Cover the grill and cook salmon until the thickest part of the fish registers 135 degrees F. internally. Insert the instant-read thermometer into the fillet from the side to temp it (approximately 25-30 minutes). 
If your planks smoke a bit during the grilling process, this is great. This aroma is what will flavor your salmon. Let the salmon rest on the planks, covered with foil, for five minutes before serving. 
Meanwhile, combine the honey with the soy sauce. Cut the salmon crosswise into portions and transfer to serving plates. Brush each fillet with the prepared honey mixture and serve at once. Cool any leftover salmon and wrap tightly with plastic wrap; store in the fridge for up to three days.  
You might also enjoy
---