Alma's Refrigerator Bran Muffins with Pecan Crumble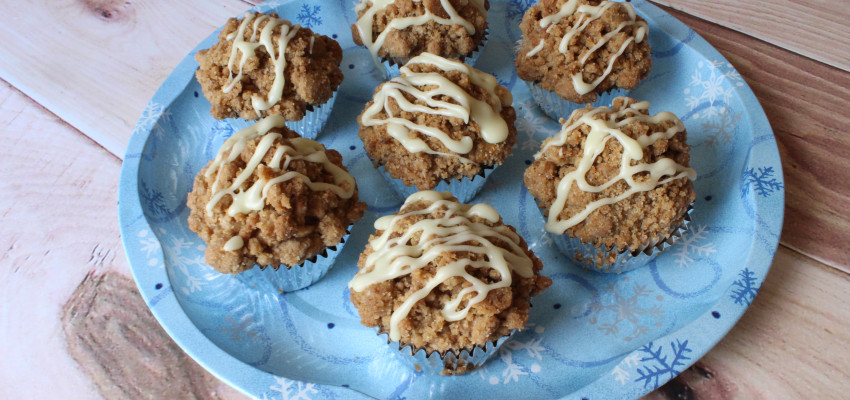 Ingredients
Everything my neighbor, Alma June, bakes is just the best, hands down. We adore her pecan pie, and the girl makes a mean pecan Kringle as well. Alma introduced me to this muffin recipe last year when she gave me a jar of the batter to use on Christmas morning. I fancied it up a bit for the holidays by adding the pecan crumble topping.
This muffin recipe is so wonderful to give as a jar gift. Mix up the recipe as directed, then place batter into quart-size Mason jars, leaving about 1" headspace before adding the lid. The batter will keep in the fridge for weeks, allowing your recipients to bake fresh muffins any morning they'd like. Just use a pretty ribbon to tie a card to the jar that includes the baking instructions, along with the recipe for the crumble topping.
MUFFINS
15 oz. box Raisin Bran cereal
5 cups all-purpose flour
5 tsp. baking soda
2 tsp. kosher salt
3 cups granulated sugar
1 cup unsalted butter, melted
4 cups buttermilk
4 eggs
CRUMBLE TOPPING
1 ⅓ cups granulated sugar
1 ⅓ cups packed dark brown sugar
2 tsp. cinnamon
1 tsp. kosher salt
2 cups unsalted butter, melted
5 cups all-purpose flour
1 cup toasted pecans or walnuts,
chopped
Instructions
Create crumble topping by combining all ingredients in a medium bowl; stir just until mixture is moistened, then spread topping out over parchment or wax paper until ready to use.
To make muffins, combine dry ingredients in a large mixing bowl. In a separate bowl, whisk buttermilk and eggs together; add to flour mixture, along with melted butter, stirring just until mixture is combined. Don't over-mix.
To bake, preheat oven to 400 degrees F. Meanwhile, fill 12 greased muffin tin cups two-thirds full of batter; sprinkle crumb topping over the batter, pressing it down a bit with your fingertips. Bake muffins uncovered for five minutes on center rack of oven. Reduce oven temperature to 350 degrees F. and bake muffins an additional 10-12 minutes, or until golden brown and top springs back when gently touched. Drizzle muffins with a powdered sugar glaze, if desired.
Store remaining muffin batter in a sealed container in the fridge until you are ready to bake more muffins. Store remaining crumble topping in a separate container in the fridge. Muffin batter and crumble topping will keep for two to three weeks in the refrigerator. Muffins can also be baked without the crumble topping, if you prefer.
You might also enjoy
---