Meet Kansas Farm Bureau President Joe Newland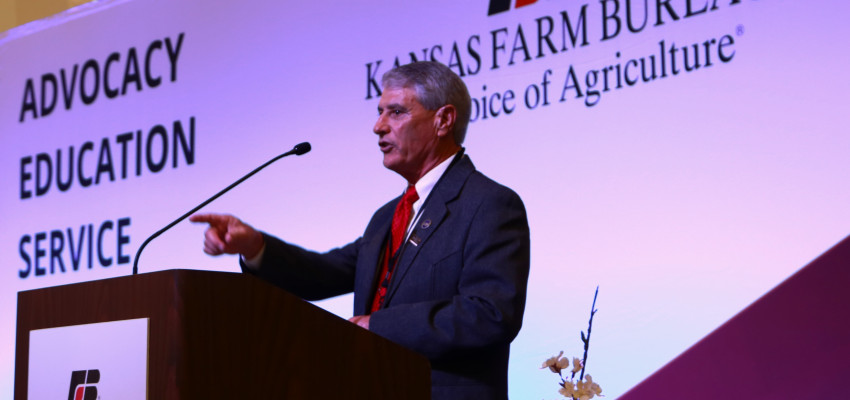 There's a humble aura about Joe Newland – the kind you feel when you're around someone who is a great leader but isn't arrogant about it. He's kind, he listens, he cares. He's someone you can depend on to get the job done – and done well. For Newland, being elected Kansas Farm Bureau (KFB) president in December 2022 was something he says was a team effort. He gives credit to his family – his four children, Justin, Wade, Tyler and Jackie, and his wife of 48 years, Dana. But he also credits his older brother, Jim.
Jim joined the Air Force as a warhead, working on missiles. Newland was 12 when Jim died in a car accident just before he was to fight for his country in Vietnam. Jim died at 19.
"I think of him every day," Newland says of Jim with a hitch in his voice. "He loved agriculture and helped me develop my love for agriculture. It's people like him who you remember and hope they're looking over you, helping guide you."
Jim's guidance helped Newland, who grew up in a family of eight kids, find his way into agriculture and into his leadership positions, which started in his local community of Neodesha in Wilson County.
GETTING THROUGH
"My dad had owned and operated businesses off the farm – a milk delivery business and an over-the-road trucking business, but had some acres he rented to other people," Newland says. "When I got in high school, I worked for the people renting our land and got to know the operation. I took over some of that land and rented some of my own eventually. I only went to Kansas State University for one year because my dad's health was bad, so I went home to help and pursue farming and ranching full time."
High school was also when Newland found who would eventually become his wife by way of a rom-com worthy introduction – bumping into each other.
"I had moved to Neodesha when I was in 5th grade," Dana says. "Joe and I didn't get acquainted until my junior year in high school – Joe was a senior. He had a class next to my locker and we bumped into each other. He asked me to the prom that year and came back to my prom the following year. One of our first dates was when he took me to watch him play Legion Baseball out of town."
 The high school sweethearts got married, and together they had three boys to raise through a difficult time for agriculture. Jackie came along a little later.
The 1980s were hard on farmers and ranchers, but the Newland family worked through high input costs for farmers and ranchers, plus 18 percent interest rates.
"It was hard to make anything work in the '80s," Newland says. "Dana and I were both working off the farm to keep things together while raising three boys. There were times we were working days and nights."
That kind of work ethic not only gets you through a farm crisis, it also takes you places, and for Newland, it started with community service. He served on his school board for 16 years, a local bank board for 25 years and agricultural boards like the Farm Service Agency and of course, the county Farm Bureau board.
"He has always been willing to serve on boards and is generous with his time and talent in our community and school," Dana says. "He is willing to help wherever he can. From bringing a semi to town to haul kids for a parade to overseeing the renovation of our church, Joe has a servant heart and loves advocating for agriculture and his community."
"There's not been a single year of marriage that I haven't served on a board of some kind," Newland says of his civic-minded type of leadership.
STEPPED-UP LEADERSHIP
The logical progression from local boards to state-level boards was an opportunity Newland saw as a natural next step. Newland served on the KFB board of directors, representing KFB's Third District (Allen, Bourbon, Cherokee, Crawford, Labette, Linn, Montgomery, Neosho, Wilson and Woodson counties) from 2011-2019.
"State-level committees and being on the board of directors exposed me to a whole lot more, and that's what I've enjoyed about Farm Bureau," he says. "I really loved having insight into the diversity of agriculture in our state."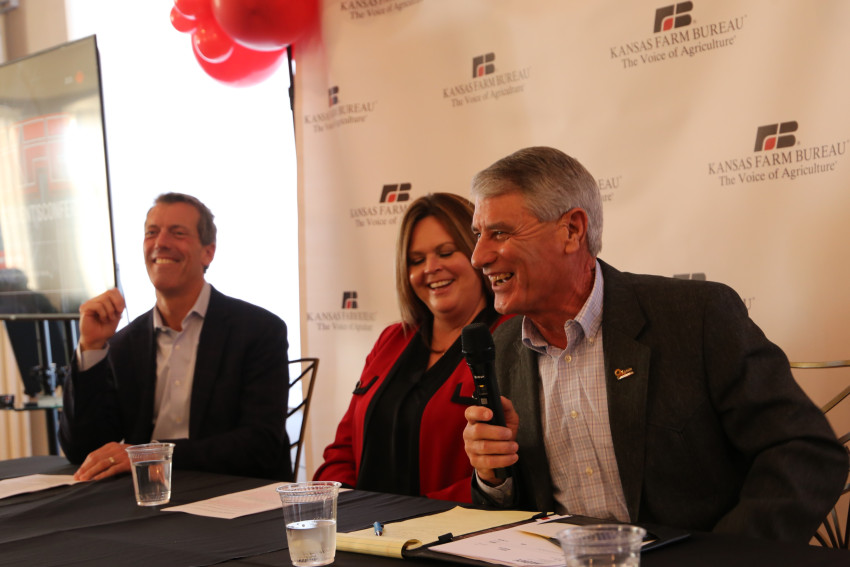 JOE IN THE HOUSE
A new opportunity was presented to Newland – one you can tell makes his eyes shine a little brighter when he talks about it – in 2019, when he was selected to fill a vacancy in the 13th District of the Kansas House of Representatives and was reelected in 2020 and 2022 before stepping down to lead KFB.
"Not very many people have that opportunity to serve in the legislature," Newland says. "If you don't get goosebumps walking into our capitol building, you shouldn't be there. I know politics can be divisive at times, but the people are wonderful. You may not agree on every issue, but when you get a thank you card from someone who you sat down to talk through an issue with, that makes it special. It's true when I was in the legislature, and it's true today – I'm committed to working with people on both sides of aisle."
Having that experience in the Kansas legislature helps him make connections in his current role as KFB president a little easier.
"Being an advocacy organization, it's nice that I have already developed friendships and positive rapports with our state legislators to help us protect the livelihood of Kansas farmers and ranchers," Newland says. "I can just pick up the phone and have meaningful conversations about Farm Bureau policy because I already have those connection points in Topeka."
BACK TO THE BUREAU
After working for three legislative sessions, Newland heard the news Rich Felts would be retiring in December 2022 after serving as president of Kansas Farm Bureau since 2014. With Newland's love of agriculture and leadership qualifications, he knew he wanted to pursue the position.
"I knew following in Rich's footsteps wouldn't be easy," Newland says. "He was a terrific leader, and I aspire to be like him – a good listener and a great teammate."
After campaigning with a focus on developing youth in agriculture, improving the state's water policies and working as a team to move the organization forward, Newland was elected by voting members at the 2022 KFB annual meeting in December.
"It's such an honor to lead Kansas Farm Bureau," Newland says. "No matter if you're a voting member from Morton County or an associate member from Doniphan County, I look forward to connecting with members from all walks of life, in every Kansas county."
Newland understands the importance of the partnership with Farm Bureau Financial Services (FBFS); in fact, that's why he and Dana initially joined as members – for insurance.
"Going back to when Dana and I had just gotten married, we needed insurance for our farm and our way of life," Newland remembers. "Although we joined because we needed insurance, it didn't take long for us to realize Farm Bureau has so much more to offer."
But Newland doesn't negate the importance of the insurance side of the company, noting its integral role in membership.
"Farm Bureau Financial Services is the heartbeat of membership," Newland says. "If we don't work together, we can't truly improve the lives of our members. We're fortunate to have a great working relationship with the folks at FBFS, and I look forward to continuing to develop and maintain positive conversations."
START 'EM YOUNG
One of the premier programs at Kansas Farm Bureau the Newlands found value in is the Young Farmers and Ranchers (YF&R) program. YF&R is a group of 18- to 35-year-olds who are hard-working agriculture professionals dedicated to developing their leadership skills and empowering others to become actively involved in agriculture. The group of like-minded individuals with a love of agriculture share similar triumphs and tribulations – and that's one reason the Newlands loved YF&R.
"One of the first things we got involved with was our county YF&R group," Newland says. "There were a lot of young members who were struggling through the '80s, so it was encouraging to have each other for support. I love what our young farmers and ranchers can do – they have a lot of passion."
LISTEN WELL
That theme of supporting your fellow man and your neighbor in need continues to this day at KFB. Mental health is at the forefront of efforts for all audiences, and farmers and ranchers are not left out of the conversation.
There's a lot of work being done in this area, including by KFB to improve the lives and the mental health of its members. Newland is encouraged by the lessening stigma – and when he's the type of leader who wants to listen to members – it's a step in the right direction for everyone.
"What better way to ease tensions than to visit with people who are going through the same struggles," Newland says. "It makes you want to encourage and push each other forward. Farm Bureau can help us reconnect and communicate better with each other. Learning how to listen and being open to the conversation, especially around mental health, is more than half of solving a problem."
THE FUTURE
In addition to helping facilitate more conversations (and listening), Newland is excited for where the organization can go. There have been a plethora of new projects and programs within the last couple of years facilitated by KFB, and Newland sees the opportunities within them.
"Our partnership with Rick McNary on Shop Kansas Farms is going to open a lot of doors for KFB and farmers and ranchers," Newland says. "To see my neighbors benefit from this program – both the consumer and the producer side – makes me excited for the future. The specialty crop market like wineries, fruits and vegetables is something I'd like to see expand within our organization and this is a great step to starting that expansion."
There are some misconceptions about Kansas Farm Bureau and about the food industry, but Newland is confident KFB will continue to make connections with those in and out of agriculture. After all, we're all grocery buyers.
"Look at your food," Newland suggests. "If you're interested in your food supply – how it's produced and how it's cared for and how safe it is – get involved with KFB. This organization can do more for you than you can ever imagine if you get involved. Take your interests and explore. This organization will take you everywhere."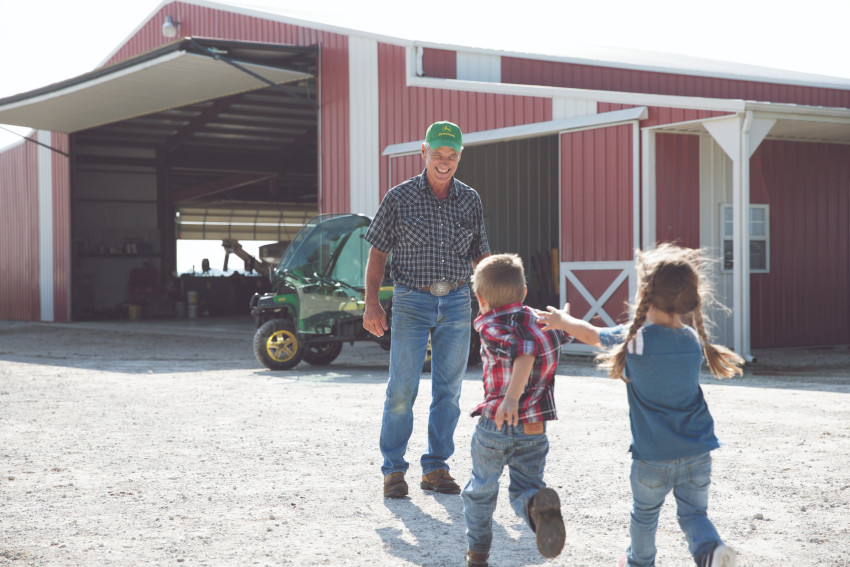 ALL IN
Now that Newland's at the helm, his sons Justin and Wade, who work on the family farm, will have a few more chores. Although Tyler and Jackie aren't on the farm, they're still working in agriculture – Tyler as a parts manager for a John Deere dealership and Jackie is an associate attorney and lobbyist for the Kansas Livestock Association.
"I guess we did something right," Newland said of raising his and Dana's children. "They're still involved in agriculture, so maybe my love of the industry rubbed off on them some."
When Newland finds some time to relax, he's watching one of his favorite TV shows.
"Once his day is done, you will usually find him kicked back in his recliner watching Gunsmoke," Dana says.
With Newland's kids grown and having a bit of fun with his 11 grandchildren, Newland is ready to listen to Farm Bureau members in Kansas – to their ideas, challenges and how Kansas Farm Bureau can grow as a team.
"We've got a great organization," Newland says. "I want to make sure we're doing things right as a team to improve what we've built and move the organization forward."
We just know Jim is looking over his little brother, beaming with pride.
Get to Know Joe!
Joe Newland, president of Kansas Farm Bureau, isn't just a leader. He's a fun-loving family man and always has a smile on his face. We asked Joe a series of questions to help you get to know the real Joe.
What's your favorite cut of beef?
Ribeye, definitely. Nice and grilled.
Where would you max out your credit card?
John Deere
Are you a morning person or a night owl?
A little bit of both – comes with the farming lifestyle. I'm usually up by 5 a.m. and don't go to bed until around 11 p.m.
If you could have dinner with anyone, dead or alive, who would it be?
George Washington because he was the first president and I want to know his mindset. What do you do when you're in a position like that and you've got an entire country to lead? The ability to think forward at that time in our history would be fascinating.
Who is your biggest hero?
My brother, Jim.
If you weren't farming and ranching, what would your dream job be?
I can't think of anything else I'd want to do – farming and ranching is my dream job – and it was all inspired by my dad and my brother, Jim.
---