Promoting and celebrating pollinators in Kansas
Places to go and ways you can help pollinators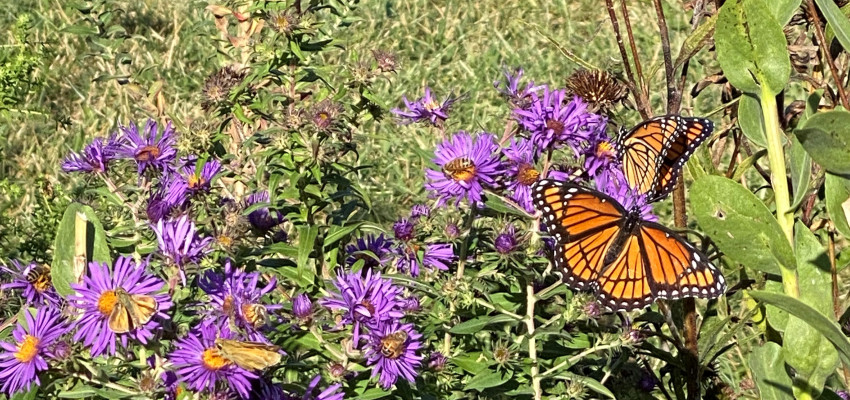 One out of every three bites of food we eat is because of pollinators — the buzzy and busy insects and animals that pollinate and fertilize plants. In fact, almost 80 percent of the 1,400 crops grown around the world require pollination. And some of the foods we enjoy most like almonds, apples, pears, coffee beans and cocoa beans are very dependent on pollinators.
What do you imagine a pollinator looks like? If you're like me, a plump little bumblebee comes to mind first, but there are many types of pollinators. They do include our friend the bumblebee and other bees, but wasps, moths, butterflies, birds, flies, ants and bats (yes, bats!) are also pollinators.
Some pollinators (like bees) collect pollen on purpose while others do it all by accident. Pollen sticks to them while they are drinking or feeding on nectar on flower blooms and is then moved from flower to flower.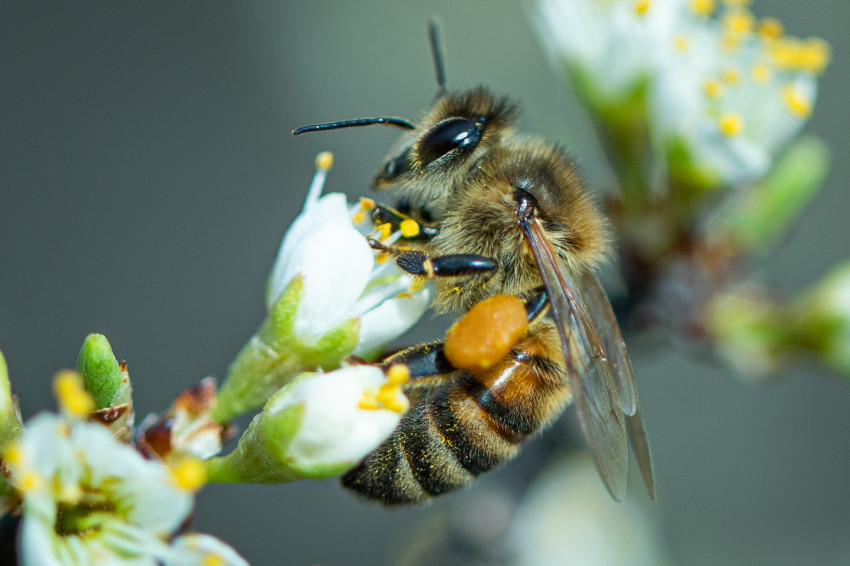 POLLINATOR PRAIRIE
If you'd like to see a pollinator garden in action, visit the Pollinator Prairie at 320 S. Blake St. in Olathe. The garden sits on an area that housed a chemical recycling, storage, repackaging and distribution facility from 1951 to 1989. In 1994,
the U.S. Environmental Protection Agency (EPA) placed the site on its National Priorities List, a compilation of hazardous waste sites eligible for long-term remedial investigation and cleanup financed under the federal Superfund program.
Today, the area has been cleaned up and consists mostly of native plants that provide sources of food, shelter and safe areas for breeding pollinators like bees, birds, butterflies and monarch butterflies. Besides creating a healthy and beautiful area for local residents, the garden's other goals include showing them what a thriving pollinator garden looks like.
"People think of gardens as having to be very landscaped," says Mariruth Gruis, an environmental engineer and extension master naturalist (EMN) who's been involved with this site since 2000. "Native plants don't have to be very precise. We want to use our demonstration gardens to show people how they can use small spaces to provide big benefit to pollinators. You can bring wild and beautiful plants to your space without it having to be a very manicured look."
Every year volunteers host two events at the Pollinator Prairie to celebrate pollinators and educate the public. In June they host Wonders of Discovery, a free family-friendly event that celebrates Pollinator Week (June 19-25), and in the fall, they host Hasta Luego Monarchs that celebrates the monarch butterflies' trip to Mexico for
the winter.
"I really love the education part of it," Gruis says. "When we get kids and they begin learning and they're really excited about it, I realize it becomes a cascading network of how we're getting the word out about pollinators and sharing it more and more."
For the most up-to-date information on events and dates, visit their Facebook page at www.facebook.com/PollinatorPrairie.

DYCK ARBORETUM
Another great resource in Kansas is Dyck Arboretum of the Plains in Hesston, a not-for-profit public garden owned by Hesston College that sits on 30 acres. It's one of the largest native plant gardens in the region, featuring more than 1,000 varieties of native and adaptable trees, shrubs, wildflowers and grasses. Katie Schmidt serves as the arboretum's ground manager and horticulturist, and she says their goal is to promote native plants.
"Most neighborhoods have lawns and non-native plants," she says. "We like to help people transition to something more pollinator-friendly and more native to Kansas so they can create diversity in their residential plots."
Every spring and fall the Dyck Arboretum hosts FloraKansas: Native Plant Days, which serve as fundraisers and opportunities for people to purchase plants. The spring event was held in April this year and the fall event will be Sept. 8-10. Schmidt says fall is a perfect time to plant native plants.
"I've had way better success planting in the fall because the weather is milder," she says. "Most plants will die because of the heat, so planting in the fall helps you avoid that."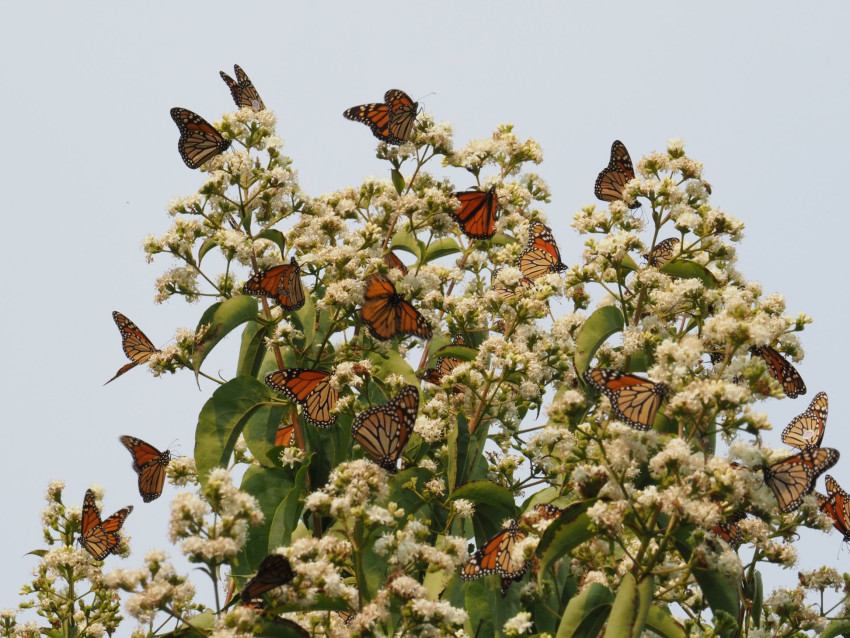 Schmidt has three tips for anyone just starting to poke their toes into planting for pollinators:
1. Start small.
Most of us are taught how to care for lawns and annuals and not native plants. There's a learning curve, so start small with a back corner of your yard. When that is up and established, move on to another section. It will be easier to manage the watering and weeding.
2. Treat it like an experiment.
Things are going to die, and plants will need to be replaced because you're learning about new ones. Schmidt says even as a professional, she still kills a lot of plants, so don't be discouraged.
3. Use your resources.
Schmidt encourages everyone to check out their website, dyckarboretum.org, and look at their blogs and social media clips. The more you learn, the more you'll understand the science of why pollinators prefer native plants.
"I've seen people go from hesitant first-time gardeners to total plant nerds," she says. "We love to see that transformation."
SUPPORTING MONARCHS
Matthew McKernan, Kansas State University Research and Extension horticulture agent in Sedgwick County, has another tip for anyone getting started with pollinator gardens.
"People need to understand it's not always going to look pristine," he says. "You want larvae to eat the leaves so you can get new butterflies. Expect some holes in leaves from time to time or plants to get partially eaten while they support our ecosystem."
McKernan also encourages gardeners to look for a variety of plants that will bloom from spring through fall because this strategy will create an attractive landscape and provide a continuous food source for pollinators, since something will always be in bloom.
If you aren't sure where to start, he encourages you to just try something.
"Even if it's just a few plants here and there — maybe it's a food source for a monarch — all of that is going to benefit pollinators," he says.
Speaking of monarch butterflies, these beauties fly through Kansas when they migrate. In the spring, they leave Mexico and make their way north into the Great Lakes region by way of the Southern Plains (that's us!), and by late fall, they head back down to Mexico.
McKernan says monarch caterpillars only eat milkweed, so if you're hoping to support monarchs, planting milkweed is one way to do it.
If you have questions about native plants or pollinators, contact your local Kansas State University Research and Extension agent. You can find your agent by visiting www.ksre.k-state.edu/about/statewide-locations.html.
SUPPORTING POLLINATORS ON THE FARM
Royce and Sharon Schmidt have 40 acres of farmland in Harvey County that's been in the family for three generations. The couple has made a concerted effort to turn the land back to prairie after Sharon became concerned when the fruit trees in their orchard weren't producing fruit.
She did some research and found the website monarchwatch.org. Monarch Watch is a nonprofit program based at the University of Kansas that focuses on the habitat and migration of monarch butterflies. Sharon combed through the resources on the site and the couple got to work implementing changes on their farmland.
The changes didn't happen overnight — it took five years for native grasses to get established — but she encourages anyone interested in trying to support pollinators to give it a try. They reseeded most of their acreage to native grass and their neighbor cuts it for hay. They leave five acres unmowed and two acres are set aside as a pollinator garden. Their work has paid off with an uptick in pollinator activity and fruit production.
"We have a creek that runs through our property and when I walk through, I can see a buzz of things," she says. "The number of butterflies, bees, different moths and even birds is incredible. Even on the small scale we're doing it, it made a huge difference."
FAVORITES FROM THE EXPERTS
Want to know which are the best pollinator plants for Kansas? These experts pick their favorites so you can make your list when you're planning your pollinator garden.
Matthew McKernan
Horticultural agent for K-State Research and Extension in Sedgwick County
Favorite pollinator: Swallowtail butterflies because they're bright yellow and black and make a statement as they fly across the garden.
Favorite pollinator plant: Coneflowers and black-eyed Susans because they support adults and larvae of pollinators. Plus, they bloom for large periods of time, so you get several months of enjoyment during the summer.
Julie Rounds
Extension Master Naturalist, volunteer at Pollinator Prairie
Favorite pollinator: Leafcutter bees because they're so tiny and they're working so hard. It's fun watching them.
Favorite pollinator plant: Asters in the fall because they're pretty and lacy, and they're so important for the monarchs for fuel to make it to Mexico.
Mariruth Gruis
Extension Master Naturalist, volunteer at Pollinator Prairie
Favorite pollinator: Sphinx moth because it's beautiful.
Favorite pollinator plant: Sunflowers because they provide the biggest benefit for the buck and do a lot for bees, butterflies, moths and birds.

Grounds
Katie Schmidt
Manager/Horticulturist at Dyck Arboretum of the Plains
Favorite pollinator: Wasps because they are great pollinators, and many are also predators. When you see them in the garden, they're either pollinating or eating pests like aphids. Just don't put your face right next to their nest.
Favorite pollinator plant: Purple prairie clover, named the 2023 Kansas Wildflower of the Year by the Kansas Native Plant Society. It blooms at the perfect time when summer is just starting, and it gives pollinators so much nectar and pollen in one place. It's also the best cut flower because it lasts long in the vase and smells so good.
Sharon Schmidt
Owner of a pollinator garden
Favorite pollinator: I love bees of all kinds. They're amazing creatures because of how they live and work together in a community.
Favorite pollinator plant: It's difficult for me to pick a favorite native plant but I really love the wild roses that grow along some country roads. One year, my mom and I even dug up some from the roadside and transplanted them to our yards. They bloom in delicate pink each spring!
Get even more pollinator information
To learn more about creating a monarch waystation, visit www.monarchwatch.org. You can even register your own monarch habitat as an official waystation. American Farm Bureau Foundation for Agriculture (AFBFA) created an up-close experience of a bee farm using 360-degree camera technology. The interactive module at bit.ly/afbf_bees showcases the importance of bees to agriculture.
YOU MAY ALSO ENJOY:
---
---