Family farmers document wheat harvests in Kansas
Recordings document a decade of wheat harvest for the LaRosh family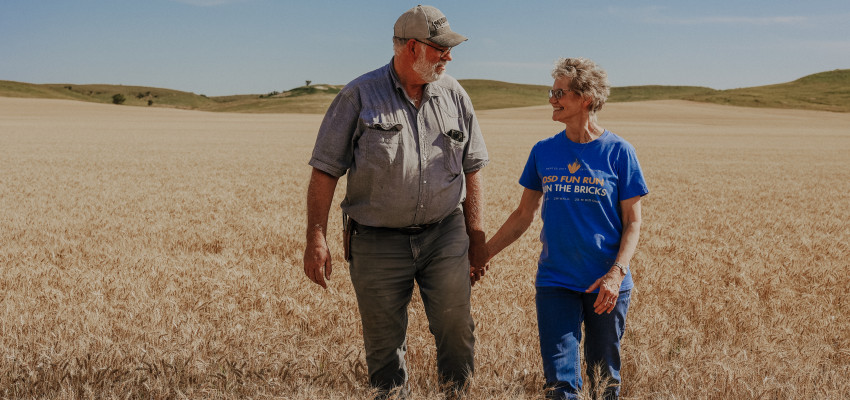 Jhan LaRosh considers wheat harvest his annual vacation even though it never takes him more than a few miles from his home in Osborne County in northcentral Kansas. And those wheat harvests have become a means for LaRosh and his family to literally show the world what it means to produce the food we all depend upon.
Despite the significant amount of time LaRosh spends in a combine during harvest, cutting wheat is a family gathering, not a solitary endeavor.
For instance, LaRosh was "on vacation" in mid-June 2022 in the cab of his John Deere combine. His daughter was in the cab of another while his brother was running the grain cart that shuttled wheat between the harvesters and semitruck. The three stayed in constant communication over radios, with important messages relayed about as often as jokes about the crop.
"I don't think it's going to be a real good wheat crop," LaRosh recalls saying while cutting his second field of the season. "It was too dry all winter."
"This is the gamble a farmer takes," he says. "I never wanted to be flush with cash. Farming is a lifestyle. A high-roller lifestyle."
A LIFELONG CALLING TO BE A FARMER
LaRosh knew early he wanted to become a farmer. He was intrigued with farm machinery and was running equipment over the ground long before he was capable of operating the open-cab tractors of the 1960s.
"I always knew I wanted to farm," he says, noting he settled on his occupation as a first grader. "You couldn't have gotten this out of my blood."
LaRosh was so set on becoming a farmer, he bought his first piece of ground — which includes where he lives today — when he was in high school, rather than agree with his father's desire that he attend Kansas State University. It took a lot of paperwork and a friend's dad to vouch for him, but LaRosh managed to secure a loan on the property at 18, in part because the property had a dairy barn and he pledged to milk cows to generate enough cash to pay the mortgage. Running the dairy was not his dream job.
"I worked that dairy for 30 years," LaRosh says. "It felt like going from one prison to another because school was a prison for me. I wanted to be on the farm, and the dairy was just the means to allow that. I made it work."
After securing his first piece of property, LaRosh continued acquiring parcels, noting he didn't rent any farm ground for a long time.
"I'm still buying land," LaRosh says. "It's what I do. I don't golf. I don't go to sporting events. I farm."
A GOOD RISK
Today LaRosh says his bank considers him a "good risk," a big improvement over the paperwork and personal connection he needed to secure his first loan in 1978. But that loan also won his loyalty, and he's stuck with that same bank in the decades that followed.
"We've had an awfully good relationship with our bankers," he says. "If you make your payments on time, you'll never have any trouble with a banker."
That's not to say there weren't times when making the payments was tough. LaRosh says the 1980s were very difficult, with interest rates soaring to the mid-teens on land purchases. The dairy provided a steady stream of revenue, and LaRosh sometimes had to prioritize operating it to keep the lights on.
AN ADDICTIVE CAREER
Just as farming is his career, it's also LaRosh's favorite hobby. When rainy days limit the work on the farm, LaRosh and his son, Kenton, will go look at machinery. Sometimes they just browse, but other times the desire to add a new piece of equipment is strong enough to make a call to the bank.
The winter months are filled with trips to farm shows to see more machinery and learn about the latest developments in technology. But even on a quiet evening at home, LaRosh doesn't let darkness deprive him of views from inside a tractor…of farms he'll never see in real life.
"I get on my iPad and watch other farmers all over the world on YouTube, just to see what's going on," he says. "You might say it's an addiction."
An "addiction" that has led to good things for his family.
HARVEST STAR
About a decade ago, LaRosh's farm-specific interests converged into a new adventure when his son-in-law, Doug Armknecht, made a four-minute video during the 2012 wheat harvest and posted it to YouTube. The clip is a series of quick cuts at ground level, showing both mundane and spectacular views of harvest — from combines crisscrossing a field at midday to images of dusk and pinkish-purple sunsets.
The following year's harvest video opens with a combine approaching the camera as the theme from "Jaws" plays. The music reaches its climax just as the cutting bar passes over the lens, taking its "bite." Other clips were longer, with harvest as the focus but with more perspective on the people involved as well.
A few years later, Armknecht created "Beauty and Bounty," which covers a full year in less than three minutes. LaRosh narrates the film in his cheery tenor, noting that the view from the drone isn't one he normally gets to enjoy.
"Even for us farmers who've been in the business all of our lives, we never get to see those views unless the drone is up in the air," he says on the video.
Armknecht's "Beauty and Bounty," featuring LaRosh's narration, received the grand prize at the InterDrone Film Festival and was the official selection of the New York City Drone Film Festival in 2017.
The farmer who spent countless hours watching others farm became a star himself simply by doing the only thing he's ever wanted to do.
DOCUMENTING HISTORY
The videos have garnered LaRosh plenty of attention, including questions at farm shows about whether he's really the one in those harvest clips. But he's discovered the real treasure is that each one goes beyond simply recording wheat harvest. They've become markers in the family's life.
"We're documenting family history," he says. "When I get put in a rest home — God forbid! — I can watch these things and see how the kids have grown."
"I love the beauty of the wheat fields and being able to help my family out," she says. "I definitely didn't appreciate it growing up. The older I've gotten, the more I've enjoyed it."
FUTURE FARMERS
Aside from family and farming, faith is the third pillar in LaRosh's life. While he may have known he wanted to be a farmer since the first grade, he understands not everyone chooses a career path while at recess.
"You're put on Earth to do something," he says. "I feel like you should do what you were put here to do. I've got a pretty easy feeling this is what I should be doing."
LaRosh says his father always wanted to pass the farm on to family members, and that's his goal, too. And harvest is a good time to see if they have the spark needed to make it a career.
"They've got to want to do it," he says. "Otherwise, it will never work out. There are other jobs out there that are easier, but if you really like this, let's go!"
"Wheat harvest has always been the time of year the family works together to bring it in," LaRosh says. "It's summertime and I get to have my family here to help."
Wheat harvest — also known as the LaRosh family vacation. 
To watch LaRosh farming videos, check out their YouTube channel.
YOU MAY ALSO ENJOY:
---