Meet the Basinger Ranch Family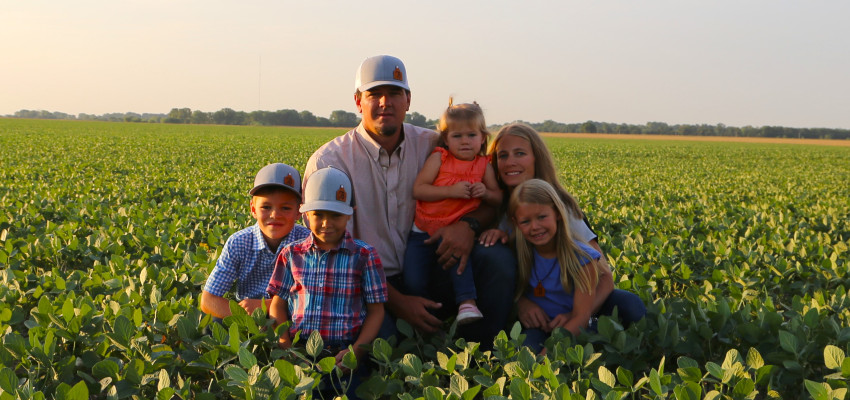 Chad Basinger is a rancher in Kansas who loves what he does and says he wouldn't want to do anything else. Learn more about his ranch family.
I own and operate Basinger Land & Cattle in Reno and Kingman counties along with my wife, Cassondra, and our four kids. We primarily farm wheat, milo and soybeans as cash crops and grow a variety of cover crops for grazing, weed control and seed production. We have a cow/calf operation that's a base of Angus/ Red Angus cross cows that calve in March and April. We also have a backgrounding operation where we purchase cattle to either feed, run on cover crops or run on Flint Hills grass in the summer. Cassondra and I have also started Basinger's LLC, where we market beef that was born and raised on our farm directly to consumers. We sell a variety of products, from wholes, halves and quarters to individual cuts, summer sausage, snack sticks, beef jerky and gift boxes.
What three things matter most to you as a farmer/rancher?
Faith: We feel you need to have a strong faith to be in this line of work — spiritual faith as well as faith in what you're doing. We need to believe that when we plant a seed in the ground, it will provide a harvest for us.
Family: Our family's support is important, from our parents' support of what we do to their help from time to time with making meals, babysitting or driving equipment. We also feel this is a great place to raise our kids with its opportunities to teach them a great work ethic and life skills.
Relationships: Relationships are key, whether they're with our landlords, bankers or suppliers. We also value our relationships with the community we live in — people we rub shoulders with and sell products to. It's all about relationships.
What does your operation typically do in the spring?
Spring is always an enjoyable time of year with new life happening, from watching the wheat green up and grow to checking cows during calving. When not working with the cattle, our time is usually spent servicing equipment for the busy planting and harvesting season ahead.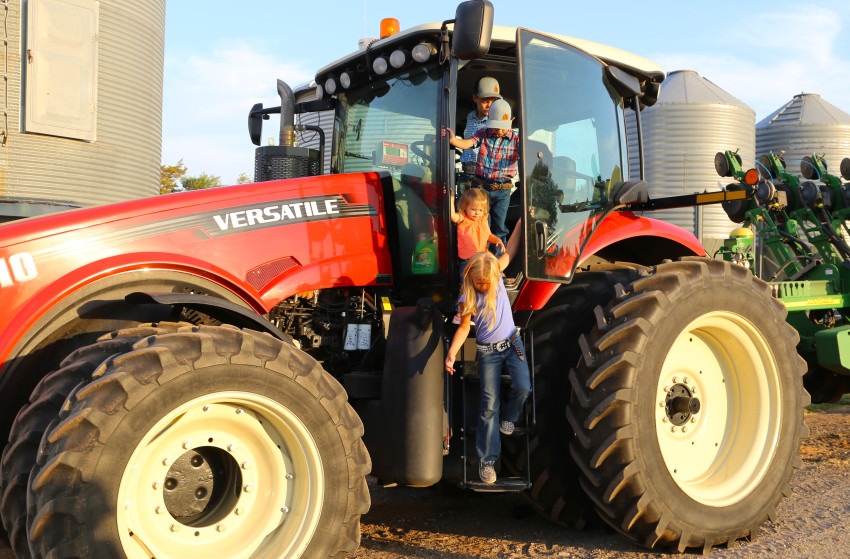 What does sustainability mean to you?
Being sustainable means that something can continue. We look at sustainability on a per-acre basis and we make sure we treat and operate the land with care and respect so it can continue to provide for future generations. If we take care of our operation, our kids can continue to build and grow the operation we started. 
Where do you see the future of your operation going?
We see ourselves continuing to grow our operation and finding ways to improve our soil health, financial health and community health. Our future will hopefully involve our kids' desire to be involved in the operation and expand the entities we've started. 
What is the hardest and best part of your job as a rancher?
As a farmer/rancher, I have to wear many hats and adjust my schedule and make decisions on the fly. One of the hardest parts that we need to work on is marketing; whether in the commodity market or direct-to-consumer market.  
What does a typical day/week/month look like for you?
Most days start out with someone feeding calves and, depending on the time of year, one of us might head to the field to service equipment to get ready to plant or harvest, or someone will be sitting in the sprayer to cover some acres either with fertilizer or herbicide.  Our kids are getting to the age where they are getting involved in different activities so a lot of nights or Saturday mornings are spent at church activities or at ball games.  After the chores are done on Sundays, you will find us in church and then enjoying a good meal with friends or family.  
What's one thing you've changed on your operation since you started?
One of the biggest changes is how we farm. When we started farming, we tilled the land. Now we've switched to no-till while injecting cover crops and regenerative practices to the operation to care for our soil and create the best scenario so the farm can remain sustainable.  
What's a question you would have for grocery buyers?
We are curious about the consumers' attitudes about their food. What is the most important thing they want to know about the food they purchase, cook and feed their family?
What would you do if you weren't a rancher?
This is what I wanted to do from a very young age, so I wouldn't want to do anything else! I enjoy the challenges and decisions that need to be made and that no two days are the same. As a farmer and rancher, I wear many hats — and I love putting each one on every day to care for the land, to make respectful and caring decisions for our animals and to provide food, fuel and fiber for the nation and world. 
---