By

Chef Alli

on

January 27, 2023
Easy Ways to Show People You Love Them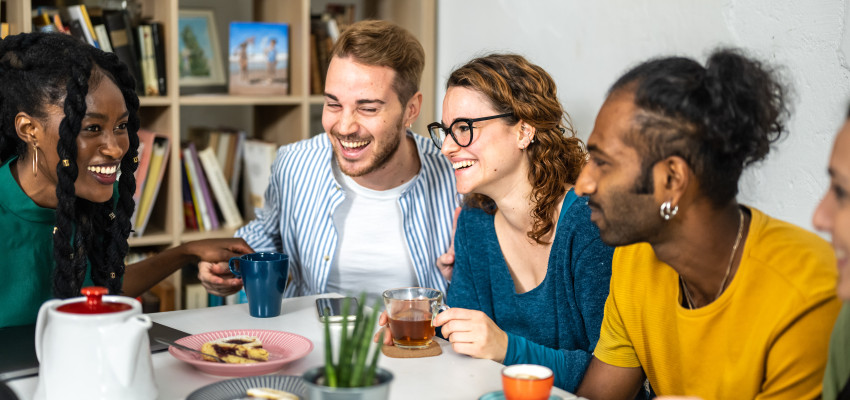 I show love and affection for my people by cooking for them. It just makes me so happy to feed them. But, alas, not everyone's love language is food. 
As I've thought about and practiced acts of service over the years, here are a few other ways I've learned to love my people. 
Ask questions and listen to the ones you love
Ask all the questions — the tough ones, the hypothetical ones, the silly ones — then listen for the details. 
Their answers help you learn the full story about people you love -- the sadness they feel because they weren't allowed to freely express their emotions as a child or how they had to wear hand-me-down green socks that wouldn't stay up for a grade school basketball game. 
Sometimes we don't know because we don't ask. Once we gather more info, it can help us show love in the ways that matter most to them.  
Write a note
In a world of electronic messaging, a handwritten note is a coveted treasure. It doesn't have to be a thank you. A note that says, "Hey, just thinking of you" or "I'm grateful for you" is a wonderful surprise. Don't forget the fun stickers on the exterior of the envelope! 
Check in on the people you love
When traumatic experiences happen, initially people come to show their support. We know we're supposed to, and we know inherently it's the right thing to do. 
Sadly, the hard part comes later when everyone goes home, back to their everyday lives, the cards and food cease and the absence and silence sets in. That is the time to make yourself available. Don't worry that you don't know what to say. It's usually better to say absolutely nothing and just be there, letting that person know they are not a burden and you have not forgotten their grief. 
Marking their difficult day as a recurring date on your calendar to say, "I know this is a hard day, I'm thinking of you," speaks volumes.
Pay it Forward
Let's be honest, sometimes paying for things just helps. I'm not talking about being extravagant or showing off but by connecting with the wait staff to give your card info before dinner even begins. Or, by getting a gift card for groceries when you know the food budget is tight. If you've got the extra funds, why not put them to good use to lighten the load for someone else? I remember appreciating that when I had a young family and lots of bills. 
Learn to speak their love language 
My love language is acts of service, followed closely by words of affirmation. When my husband keeps my car full of gas and sends a text message that says, "Looking forward to our weekend," my love tank is overflowing! I could not ask for more. 
But I know that's not the case for everyone. Your significant other might prefer one-on-one quality time, like watching the big game together from the couch or putting a puzzle together.  Or maybe your sister feels loved when there's physical touch involved, say in the form of a gigantic hug every time you see her. 
Each of us has our own specific and unique love language, so never assume your mother-tongue is what makes others in your life feel loved. Learn their language and talk, talk, talk! 
For more information on learning about specific love languages for your people, read "The 5 Love Languages" by Gary Chapman. 
Tell them you love them
All the time and in every sort of way. Smother them with love and hugs and kisses because one day they'll be gone (or you will) and I promise we will never regret telling them we adored them.
Watch and learn, then offer
Working in restaurants as a teenager and growing up in a family retail business taught me a lot about anticipating other people's needs. 
Anticipating our loved ones' needs requires we pay attention to what they do and how they handle situations. 
Once we have gathered that intel, we can offer them support ahead of time without them having to ask, "Hey, can I feed the dogs while you guys go to KC for the weekend?" or "I'm already in town and I know your week has gone whack. Can I pick up your Walmart grocery order?"
Nobody likes to feel abandoned in this world. When we offer our help, we make it known to our people that they are not alone. 
Be present
Let's put our phones and tablets away and be present. Let's play games and look each other in the eyes. Let's converse. Let's ask questions and really listen to the answers. Let's pay respect to those in our very presence by putting down our devices to say, "You are here, and you are important." 
Be their biggest fan
When we take pleasure in the life events and victories of our people, it endears them to us. Show up at their events without even being invited. Be the first to buy their fundraiser candles. Send a funny "way to go" meme for that B+ scored on a hard test. Be their cheerleader. 
Bake
If all else fails, bake a cake, frost it, smother it in sprinkles and deliver it to their door with a big hug. 
---