By

Chef Alli

on

December 10, 2021
11 Things Young Cooks Were Surprised to Learn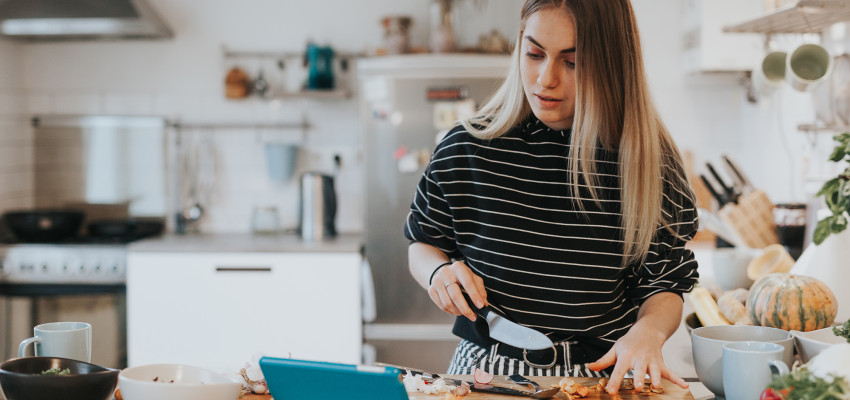 Sometimes doing things ourselves is the only way we learn. No amount of talking or teaching from others can make an impact like when we succeed or fail on our own. This applies to when we are learning to cook. It's important to remember that as long as we choose to learn something from our kitchen blunders, they will never be considered a failure. 
I've been doing a little research by asking my favorite young cooks some questions. I was curious. The things they shared are unique to each of their lifestyles. I loved hearing what these young cooks had to say. Here's what they shared:  
1.  "Because we eat a lot of mac and cheese at our house, I keep buffalo sauce and a smoky mustard on hand. A good squirt of each of these takes boxed mac and cheese to a whole new level. The kids eat the plain stuff and we amp up the remainder for mom and dad." 
2.  "After working part-time in a Chinese restaurant, I learned fried rice always has lots of one certain ingredient: butter! Butter is what sets restaurant fried rice apart. Now I do it at home and my family loves it." 
3.  "I thought Rachel Ray was bonkers when she said a smidge of fish sauce or anchovy paste adds great flavor and depth to dressings and sauces. Turns out, she's right. I also love how these are condiments that last a long time in the fridge." 
4.  "My college roommate's grandmother proved to me how much cocoa powder and cinnamon can amplify the power of chilies and tomatoes when added to Mexican or Tex-Mex dishes. Also, she always added a pinch of brown sugar and a bit of smoked chipotle paste." 
5.  "I never fully understood why experienced cooks say, "A recipe is never set in stone; it's just a guide." But now I get it. After not always having the exact ingredients on hand for a recipe, I've learned which substitutions I can make." 
6.  "Broth is better! I never use water for cooking grains, beans or potatoes. Instead, I use veggie or chicken broth. Whenever I make mashed potatoes, I add broth to my potatoes (instead of milk or cream) to make them the perfect consistency."  
7.  "It's really been surprising to learn about cooking with different fats and how they work best depending on the cooking method. It's taken me some time to figure them all out. Canola and vegetable oils are neutral in flavor and good for sautéing. Bacon fat and butter burn easily but add flavor. Peanut oil worked well when we decided to deep-fat fry our Thanksgiving turkey one year. I've learned how good a mellow olive oil is for sautéing veggies and making vinaigrettes." 
8.  "I now keep two types of butter on hand - one for cooking, and one for eating. Salted butter is for eating. It's a must for warm, thick slices of bread. Unsalted butter is what you need for cooking. Because we never know how much sodium comes from other ingredients in a recipe, it's best if the butter you are using is unsalted." 
9.  "I never realized blocks of hard cheeses keep longer in the fridge. Asiago, Parmesan-Reggiano, Gruyere, and Manchego are my top four. If you shred the Parmesan yourself, you find out it adds way more flavor than what's in that little green container!" 
10.  "After hearing my aunt talk about how great a summer herb garden is, I finally did it. I actually used and even enjoyed adding the herbs to my recipes. I liked keeping the fresh herbs in a vase of water in my kitchen - they smell so good. Because the herbs are so fresh at the time of picking, I was amazed at how long they stayed fresh. I also learned the herbs I grow can be hung and dried and then used as spices, too." 
11.  "Why did I never realize how important taste-testing is before I serve the dish? That way, there's still time to adjust the seasonings if they need it." 
If you're a young, new cook (or even an experienced one), I'd love to hear what you've learned since getting into the kitchen to get your groove on! Click here to email me.  
---