Kansas lavender growers showcase innovation of farmers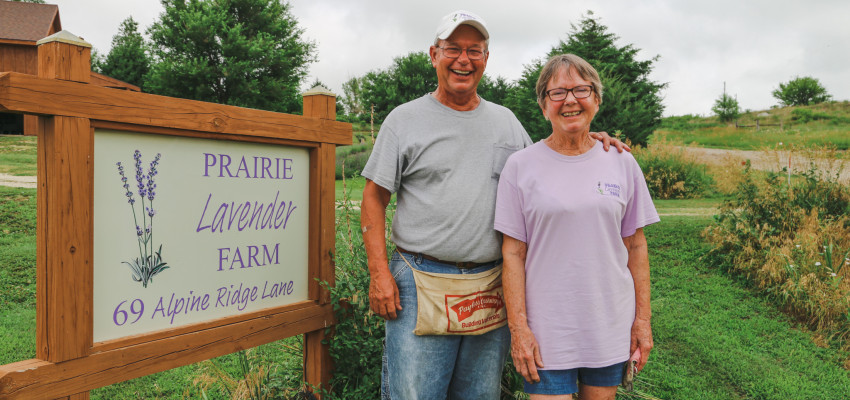 "Lavender latte, please."
Lavender flavors have been gaining popularity, especially among coffee drinkers. The herb is believed to help reduce stress and anxiety, so it's no surprise the purple petals saw an uptick in popularity with home recipes during summer 2020 – a time we all needed whatever it took to calm us. Since 2014, lavender has grown 138 percent in new products. From lavender lemonades to baked items like lavender sugar cookies, this herb from the mint family is gaining traction in edible and non-edible options.
Kansas isn't known for its lavender. Many varieties struggle with our winters, not dissimilar to some people. But at the Prairie Lavender Farm in Bennington, they're growing varieties hardy enough to tolerate November through sometimes April.
"We grow 15 varieties here, but there are more than 450," Mike Neustrom, owner of Prairie Lavender Farm, says. "A lot of varieties don't like our winter weather, but the ones we have go dormant and thankfully tolerate Kansas winters."

SETTING THE STAGE
Mike was raised in Nebraska, but his dad was a pastor and moved to a church in Salina Mike's senior year of high school. He met Dianne that year, who would one day become his wife.
"Our lockers were next to each other," Mike says.
Mike joined the Navy and left for Vietnam. Between his military tours, he and Dianne were married. He served his country for 21 years, retiring in 1988. Mike then served as the director of OCCK, Inc., an organization headquartered in Salina that helps Kansans with short- or long-term disabilities live independently and gain employment.
Fast forward to 2002, and Mike and Dianne started a new venture.
"After I retired from my last job at OCCK, Dianne and I stopped at a little farmers market on the side of the road," Mike says. "A guy was selling herbs and had lavender there. So, on a whim, I bought and planted them, with no idea what I was going to do with lavender."
Mike's sister invited him to attend the first Southwest Lavender Conference in Austin where he met lavender growers and decided, "How hard can this be?" and got to work making a successful lavender operation.
FROM NEWBIE TO MANUFACTURER
When the lavender Mike planted was ready to be harvested, he learned quickly how time and labor-intensive it is. After the lavender is harvested by hand, it's dried upside down for a few days. The buds need to come off the stems and that took a lot of people and a lot of time.
"We'd have people working all day to get buds off stems," he says. "I thought, 'There has to be a better way.'"
When Mike learned there weren't many other options in processing the buds, he invented one. The machine Mike created gently strips the lavender buds from the stems, then separates the buds from any leftover broken stems and leaves.
"We don't waste that though," Mike says. "The stems and leaves are still used in the distilling process since there's oil there."
Even the full stems not caught in the machine are used as fire starters or can be used in gardens as a natural insect repellent. Nothing is wasted.
The machine he invented is being manufactured and used across the world.
"I didn't want to be in the manufacturing business; I just wanted one for me," he jokes. "But then others saw what I made and said, 'Well, I want one.' Now there are machines coast-to-coast from California to Virginia and even in Canada, Mexico and Australia."
NOT A SCIENCE GUY
After the buds are through the machine, they're taken to be distilled to make two products: essential oil and lavender hydrosol. The process requires some knowledge of science, a subject Mike says wasn't his strongest.
"I wasn't particularly good at science," Mike says. "But my brother-in-law was a chemist. He passed away three years ago, so I've lost him as a reference, but I'm thankful for all the guidance he provided to get me where I am now."
The distilling process involves steam to pull oil from the buds – which creates the top brownish-colored portion in the jar.
"We get the essential oil on top, and the rest is lavender hydrosol. This is 99.5 percent distilled water that was pulled from the buds by steam. We use the hydrosol for cuts, burns, bug bites and can be used right away. The oil portion is aged in amber bottles for six months to a year. It's like wine – when it first comes out of the still, it's way too potent and raw to use. It has to have time to mellow out."
With his English varieties, Mike says he gets maybe 10 to 12 ounces of oil and five gallons of lavender hydrosol from 50 pounds, or 50 gallons of buds. His hybrid varieties get 22 to 26 ounces of oil with the same amount of hydrosol.
The distilling process takes about 2.25 hours to run a batch.
PRODUCTS IN PLACE
Prairie Lavender Farms has an on-farm shop with products like lavender lip balm, culinary lavender, their popular soothe pain gel, room spray, body lotion and more. They also offer their products at several locations throughout Kansas.
"Every single lavender farm does things differently and finds different ways of selling their products," Mike says. "I've learned to ask, 'What did you decide not to do?' Because they've tried it all. There's so much you can do with lavender, it's all just how innovative you want to be."
PAUSED IN THE PANDEMIC
The pandemic caused the farm to have to cancel its annual lavender festival in 2020 and 2021, an event that brought up to 2,500 people at times.
"It got to be like Disneyland around here," Dianne says.
"I think we're going to change trajectories and stick with u-pick opportunities now," Mike says. "Even though the festival brought us money, it's not about that for us. We just love what we do."
Like many farmers in Kansas and rural America, the future of the lavender farm is a question mark waiting to find its answer. The Neustroms have two daughters who are grown and building successful careers in Seattle and Minneapolis, and Mike and Dianne don't want to move.
"We'll probably have to close the farm unless we can find a farm manager," Mike says.
Dianne, taking note of a touch of sadness in Mike's tone, jokes, "Or adopt someone."
LAVENDER LOCALE
Prairie Lavender Farm is now the oldest lavender farm in Kansas, operating its 19th season in 2021. Their 4,600 lavender plants boast some amazing scents, views and products right in the heartland.
If you're looking to make yourself a lavender latte at home, Prairie Lavender Farm sells culinary lavender that can be used to make a syrup. Visit their shop in Bennington or online at www.prairielavenderfarm.com.
---