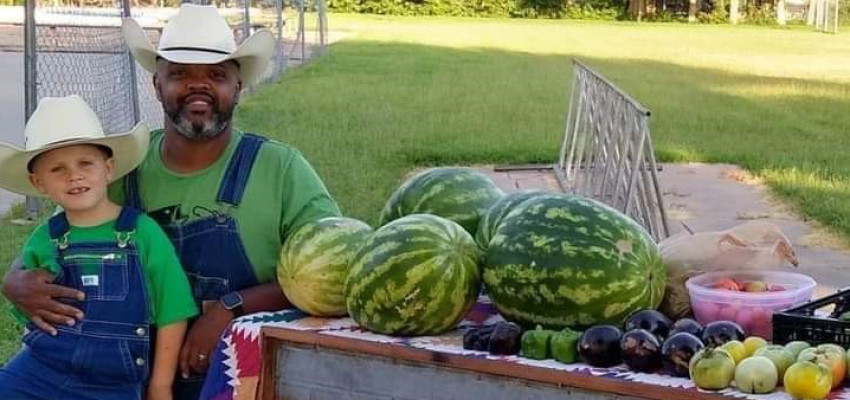 C.T. Taylor had no plans to become a farmer until his small family moved onto nine acres south of Larned.
"Farming was never something I even thought about," C.T. says. "But we moved out there and had the space and gardens so I thought I might as well try. I discovered I love working with my hands in the ground and growing things. Now my dream is to grow vegetables year-round."
C.T. knows what it takes to make his dreams come true. It was a dream to play college football that landed the Florida native in Kansas nearly 30 years ago. 
"I always wanted to play college football," C.T. says. "But my high school coach told me I wasn't good enough. However, the recruiter from Kansas Wesleyan in Salina thought differently and he offered me an opportunity to play there."
It was during his college years where C.T.'s appreciation grew for Kansas. Small colleges, like Kansas Wesleyan, are unique in creating a sense of community, lessons he draws on for growing his garden. After college, C.T. decided to stay in Kansas where he met, and married, Tonya Robl, an Ellsworth native.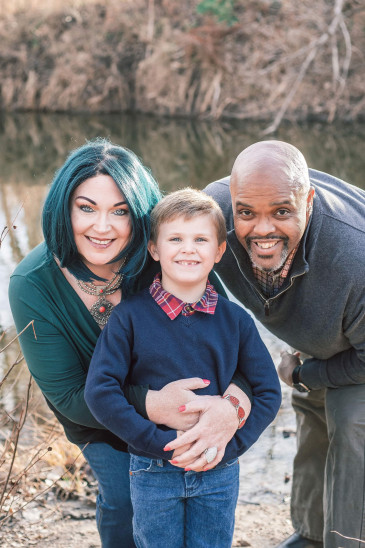 "I love the slower pace of life in rural Kansas," C.T. says. "You don't have to worry about people, it's safe and comfortable and people are always willing to help you."
Through time and new job opportunities, C.T. and Tonya ended up in Larned. Shortly after arriving, their family grew to three.
"We adopted our son, Grayson, at birth," C.T. says. "He was just a few minutes old when we held him for the first time. Tonya grew up in the country and kept telling me we were not raising a kid in town. From where I grew up in Florida, Larned didn't seem like a very big town. Then when I got back from being a counselor at Royal Kid's Camp one week, Tonya said, 'Get in the shower, change your clothes, we're going to go look at a house in the country.'"
"I was bored while he was gone and I started looking for property," Tonya says. "I wanted Grayson to have the chance to live with the freedom of going outside to explore without worrying about traffic.
"I had no idea C.T. would be so taken with gardening," Tonya says. "After we were first married, we lived in Ellsworth and I wanted to redo the landscape and he wasn't having any of it. He wasn't a bit interested in plants, so I never thought of him having a green thumb. But after we moved in here, I'd find him playing around in the garden. It's led him on a path of self-discovery."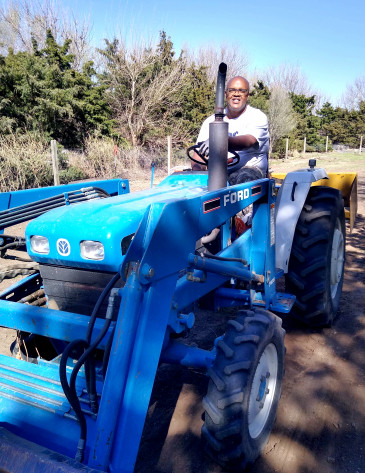 Although Tonya leaves the gardening part up to C.T., one of the biggest benefits to her is the time he and Grayson spend together in the garden and in the kitchen.
"We bought Grayson a wheelbarrow just his size for his fifth birthday," Tonya says. "C.T. is so good about teaching him. They have a competition during the farmers market season about who picks the most, and biggest, vegetables out of the garden. They are like best friends; they're pretty cute to watch."
Drawing from the lessons he learned about community support while in college, C.T. draws upon the resources of family and community to learn and grow.
"C.T. is the most outgoing and generous person I've ever met," Tonya jokes.  "He's the kind of guy who goes to Wal-Mart just to meet new people. But it's that kind of friendliness and generosity that makes people so willing to help him. When he and my Dad get together, you can't get them to talk about anything else except the garden."
"Tonya's dad owned Robl Farm Supply, Inc. in Ellsworth," C.T. says. "He's extremely knowledgeable about agriculture, plus his business knowledge really helps me planfor the future. He and Tonya help keep me stable, so I don't run crazy on this deal."
Currently, C.T.'s outlet for selling produce is in Larned at the Hillside farmers market, which is located at Hillside Envisions, a former elementary school repurposed into a community center.
C.T. is currently doubling the size of his garden to 45 feet by 150 feet. Although currently constrained with growing during two seasons in Kansas, his newest dream is to grow year-round.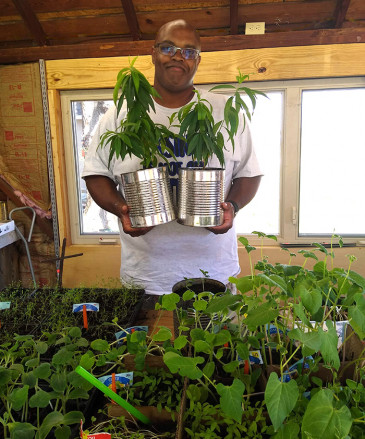 "One of the reasons to make the garden as large as I can is because I've been paying attention to the issue of food deserts in Kansas."
A food desert is defined by being more than one mile from a supermarket in urban areas and more than 10 miles from a grocery store in rural areas. Many small towns have lost grocery stores, which is a major concern, especially for the elderly population who might not be able to travel long distances.
"I've been looking at a couple of different options that involve a closed loop environment," C.T. says. "One is hydroponics done in shipping containers. You can set them up with racks to grow vertically and get a regular, daily output of veggies year-round."
"Another system is aquaponics. It combines the hydroponics with aquaculture, which grows fish at the same time. The problem with both of these systems is that it costs a lot of money to get into."
His biggest dream is to become successful enough he can give away fresh produce to food banks. Having been homeless for a period in his life, he values the struggle of people who often work two jobs but still can't make ends meet and depend on local food pantries to help.
"I was given help by a community when I needed it to get back on my feet," C.T. says. "Now it's time for me to give back.
Judging by his ability to make his dreams come true, it's easy to assume this dream will come to fruition as well. Along the way, he's teaching their 5-year-old son to dream, too.
Perhaps the best garden he grows is in that of his son's heart.
You might also enjoy
---