Robots on the Farm: Modernizing the Food Industry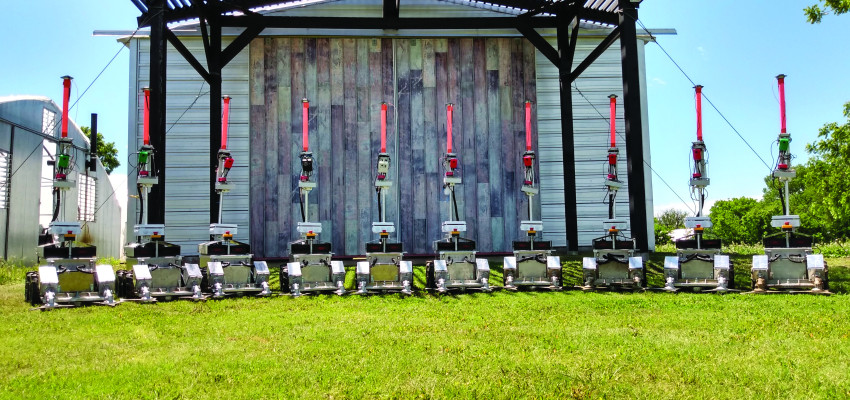 Clint Brauer from Cheney is working to re-shape food. His operation, MG Honor Farms in south-central Kansas, is a mecca of vegetables and herbs. For nearly a decade, MG Honor Farms has grown food for local consumers. Brauer, along with high school students and other part-time help, has completed most of the work himself.
"We are branded on vegetables and herbs and grass-fed lamb that is rotationally grazed," Brauer says. "Now we plan to expand this to our broadacre farm operation."
This summer, Brauer launched a new wave of farm labor to help him. On May 22, 10 robots joined his farm. The robots repeatedly cut weeds such as pigweed and mare's tail near ground level, within an inch of soybeans, milo, cotton, sunflowers and corn.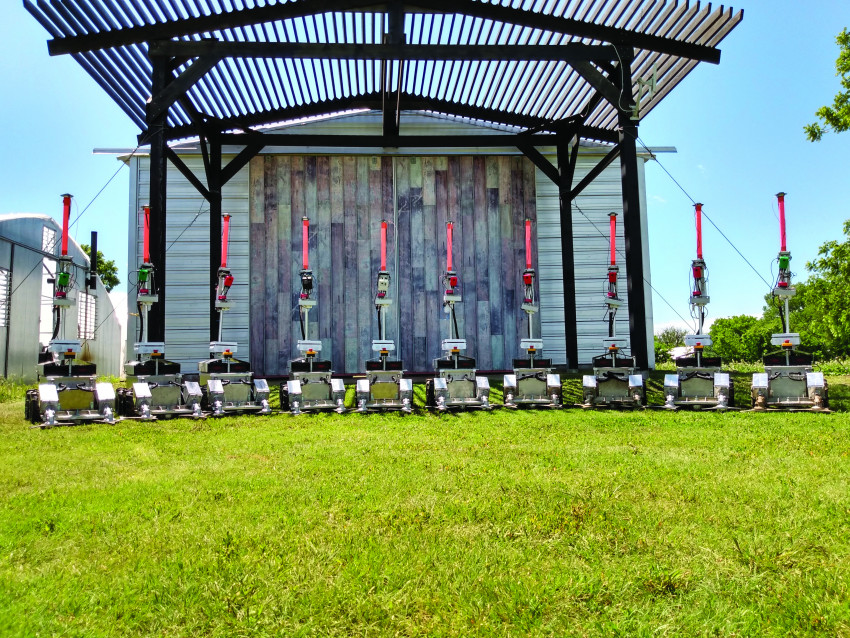 The vision of using robots to carry out no-till and regenerative farming is made possible by Brauer's professional background in technology. He grew up near Cheney, worked for Sony in California and returned to his Kansas roots in 2010. Now, Brauer says, his worlds have combined to re-shape food for hungry consumers.
"I have a friend, Steven Gentner, who writes machine vision software," Brauer says. "He is a brilliant engineer and after I explained to him how farms worked, I asked, 'Can robots be used to control weeds between rows of crops, without damaging the crops?' Steven said, 'Yes.'"
Next, Greenfield Robotics was born.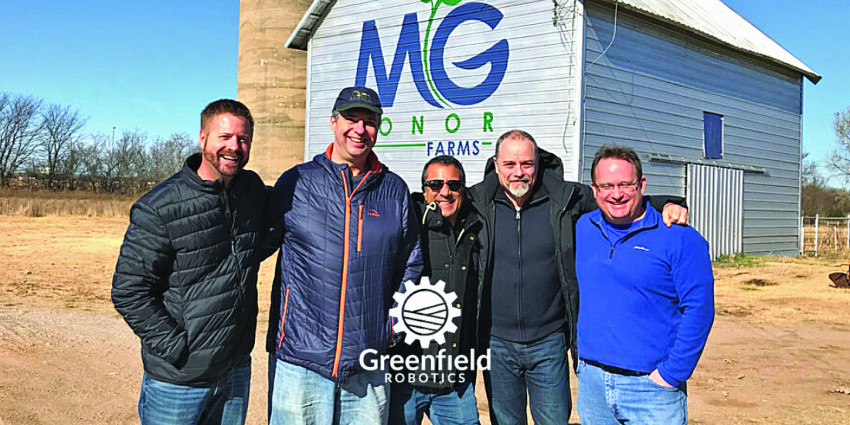 BOTS MEAN BUSINESS
After testing with existing farm tools, Brauer began working on his prototype three years ago with engineer Carol Sutter, another technology guru from California, testing a design to remotely control robots to cut down pigweed.
In 2019, the Greenfield team settled on a design and put four robots to work killing weeds on 25 acres of soybeans. Next, the team developed an internet system to stream live video at the edge of the field and control the robots using a PC.
The robots were able to maintain these 25 acres, but the team concluded the remote-control robot needed a person to constantly walk behind it or steer using a computer from the edge of the field, which was labor intensive and subject to errors.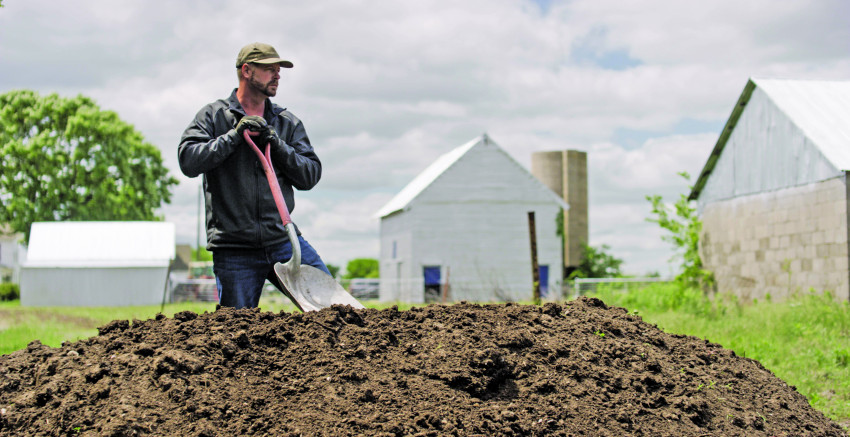 All last winter, Gentner and Sutter wrote machine vision software to control 10 robots at one time and partnered with Eck Fabrication in Kingman to improve the hardware.
Brauer, Gentner and Sutter added to the team Nanden Kalle, an accomplished product and business development pro, and Jay Samit, a strategist who has been creating and advising successful companies since the '80s.
The team worked out details in one of the MG Honor Farms greenhouses to test how the software will perform in the actual field this season.
"This will either work or go down in flames, but we are pretty confident as the season goes on, the bots will get the job done," Brauer says. "The bots will use machine vision to steer themselves in rows, in a field, where the path was established through drone and satellite imagery."
Greenfield Robotics plans to maintain 400 to 600 acres of corn, soybeans, cotton, sunflowers and milo (or grain sorghum) across 10 farms this summer, as part of a paid beta trial.
Brauer recognizes there may be a need this year to use herbicides for "burndown," which is a way to kill weeds and grasses in row crops, to complement the robots. But he hopes that robots can control broadleaf weeds better than herbicides because they mow the rows repeatedly. The robots weigh between 100 and 140 pounds, so after a big rainstorm, they can still get the job done without bogging down in the field.
The team plans to expand in 2021 and add a new form of weed control that eliminates grasses in addition to broadleaf weeds.
"When we started developing robots, my vision was just to kill pigweed," Brauer says. "We think, given the robotics systems we are currently developing, tractors may not be needed on our cropland as soon as this next year. And we believe these systems will lower weather-related risks, give back farmers control over their costs, boost productivity and re-align farmers and consumers."
FROM ROADSIDE TO ROBOTS
MG Honor Farms has evolved from humble beginnings 10 years ago. Brauer began growing vegetables on a few acres just outside his grandmother's farmhouse. His market was local only, including restaurants in Wichita and roadside stand customers. But the lessons learned were hard ones, Brauer says, as Wichita was not a terrific market for local foods, making income a struggle.
"I also learned the Kansas climate is not consistent enough to grow some veggies at a local level," he says. "We couldn't grow at a price point people could comprehend."
Eventually MG Honor Farms built multiple greenhouses near Cheney, and Brauer worked with his cousin on a hydroponic business in Topeka, where they grew various greens such as lettuces, arugula and kale for large customers like HyVee Stores in Kansas City. The Topeka business is currently not operating, but Brauer learned a ton about consumer interests while spending more than 30 weekends in Kansas City demonstrating and speaking firsthand with prospective buyers in stores.
During the COVID-19 pandemic, Brauer says he has recognized the demand for food fresh from the farm. Farm traffic picked up at MG Honor Farms as families wanted to pick their own produce.
HEALTHY FOOD BEFORE AND AFTER
Just before the pandemic, MG Honor Farms launched a new program. Customers now help grow their own vegetables through a subscription program. Visitors not only get to take vegetables home, but they also learn how to grow them.
Brauer decided to launch this program so Wichita-area consumers could learn how to grow food, herbs and flowers, share ideas about new products to create with those crops, get some exercise and take time away from their "garden" and let others keep it going.
"As we sold into grocery stores and to pet food companies, I just wanted to make food less risky," Brauer says.
Both the Greenfield Robotics and MG Honor Farms teams joined Brauer, he says, because they believe in producing food in a safe, special way. It's not about the money, but rather for people's health and ecology.
Brauer says if his grandmother, Margaret, could see her former farmstead now she would get a good laugh at how many segments of the farming and growing industry Brauer has become involved in.
"The timing couldn't be better for what we're doing," he says. "The whole country is waking up and asking how our food supply becomes resilient and how it gets from the farm to the consumer." 
To learn more about MG Honor Farms, visit their Facebook page at www.facebook.com/MGHonorFarms.
---