Building kitchens to build businesses
Bruce's Bullseye Farms is expanding and helping others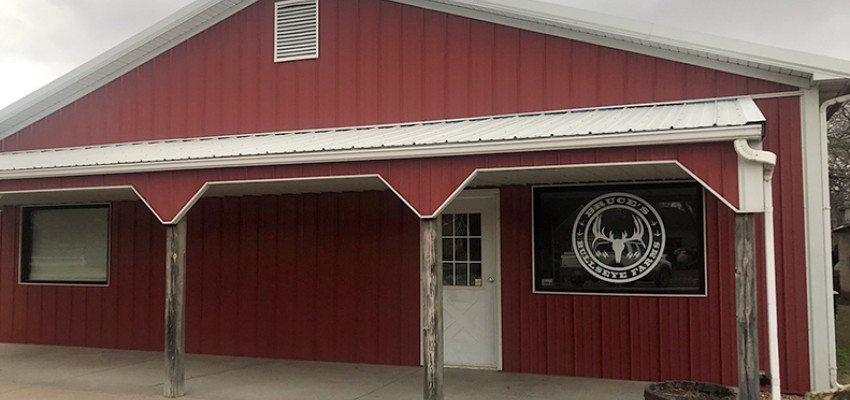 Have you wanted to start your own business but don't know what you would sell or how to start? Laurie Bruce had the same question and found the answer on the shelf in her pantry.
"I always wanted to work for myself," Laurie says. "But I didn't know what I could  offer that would give me the chance to have my own business."
When a local pumpkin patch owner invited Laurie to sell her jams and jellies, she was pleasantly surprised with the results.
 "After that first market, I was shocked that people wanted to buy my stuff."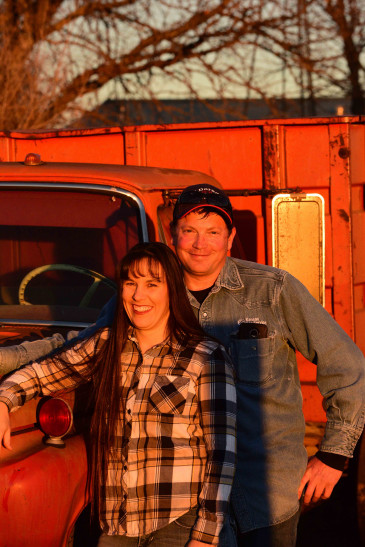 I first wrote about Laurie and her husband, Joel, in 2019. The couple started their first-generation farm near Augusta in 2016. For first-time farmers, the cost of land and equipment required to make a living through farming crops and raising cattle makes it difficult to get started. Their intent in beginning the farm was to grow as much of their own food as possible for self-reliance.
"We have slowly added land and now we have 11 cows, but it's not enough for us to make a living," Laurie says. "But as we started doing jams and jellies, we realized there might be an opportunity."
The Bruces represent a growing number of entrepreneurs who are finding business opportunities in value-added products. Rather than the conventional way of farming by selling crops or livestock, they are finding a niche using farm-grown products for other purposes.
When they began their business, Bruce's Bullseye Farms, they were careful to research what they could and could not produce in their kitchen at home.
"We learned about cottage kitchen laws and which products you can make out of your home kitchen," Laurie says. "In Kansas we can do jams, jellies and quick breads but nothing with milk or cream cheese. We can't do salsas either. We also have to be careful how it is labeled. Kansas State University has a farmers market guide that is very helpful."
Marketing the products
"Before the pandemic, our outlets were craft shows, festivals and pop ups," Laurie says. "Then almost overnight, everything got canceled when the pandemic hit. It was a good thing I worked full time; it was very discouraging initially."
Although the disruption of her normal market outlets was suspended, Laurie adapted to the challenge and began to offer her products online.
"I had heard how much websites cost and thought, 'I'll do it myself,'" Laurie says. "So I spent the time and made a website. We had a few sales each week and about 500 Facebook followers. I advertised on the Shop Kansas Farms Facebook group and sales went way up. We grew our Facebook following to 1,400 overnight. We got so busy, I had to set up tables in the hallway to store things on."
With the increased business and customer base, the Bruces have grown their business so much that they recently purchased a commercial building in Leon to expand their offerings.
"As it is right now, there is no separation from our home and the business," Laurie says. "I want a distinction; this is my home, that is my business. We looked at quite a few buildings in the area and thought about building on our farm, but then we'd have to rezone it for commercial. We finally found the building in Leon just 12 minutes from our house."
Expanding their business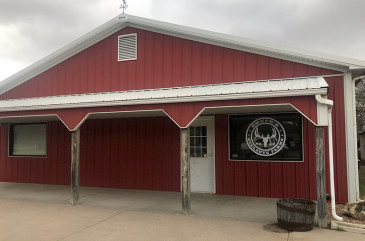 For many entrepreneurs like the Bruces, the key to expanding their value-added product line requires the use of a USDA certified commercial kitchen. The building will undergo renovations to install the kitchen and should be ready for use by the fall of 2021.
"In order to can vegetables, make salsas or any kind of product using dairy, you have to do it in a commercial kitchen," Laurie says. "This gives us the opportunity to grow our business unlike before."
In addition to using the facility for their own business, the Bruces intend to lease it out for others who want to create their own value-added products.
"The hard part about starting a new farm is the lack of knowledge and support," Laurie says. "But we were so blessed to get connected with Tiya Tonn and the Butler County Farm Bureau and that has made the difference. Tiya asked me to help her with the Farm to Fork Tour one year and the connections I made with other farmers helped so much. People were so willing to help us.
"Laurie was working on her master's degree and needed a project," Tiya says. "She decided our Farm to Fork would be a good idea and began shadowing me. We spent a lot of time in the office and on the road. I drew on my experience in retail beef and Farm Bureau experience and helped her make the right connections."
Building a support network
Like many Farm Bureau county coordinators, their purpose is to be a resource for networking, education and inspiration for the public to connect better to agriculture. If they don't know the answers, they, like Tiya, are quick to point you in the direction of people who do. There is perhaps no better group in our nation who can connect people in a community like farmers and ranchers.
"Laurie and I met as strangers," Tiya says. "And we ended up as friends who invite each other to family gatherings and have become a family. It's been so fun to watch her begin her business and grow it to the point of buying a building and putting in that commercial kitchen. I have a lot of people who want to make all sorts of mixes and salsas, but don't have a commercial kitchen they can lease affordably. Now, I can send them to Joel and Laurie's when they get it up and running. They have such a good heart for helping others."
For those who have an entrepreneurial spirit, the current emphasis on creating or enhancing local food systems provides new opportunities to build a business. At its core, a food system comprises three elements:
Production: the growing of the food.
Processing: making that food edible for human consumption.
Distribution: all that is required to get that food from the farm to the consumer's plate.
For the Bruces, they have engaged in all three elements, while others focus on just one or two. Regardless, business opportunities abound in each of these three areas.
"Owning your own business is hard work, but when it's your own, it's so much more fun than punching a clock," Laurie says. "You may be like me and find the answer to your dream is already sitting on the shelf in your pantry."
You might also enjoy
---
---