By

Rick McNary

on

February 1, 2021
Kansas FFA Student Makes Chicken Coops
Kansas FFA Star in Agribusiness winner creates a successful business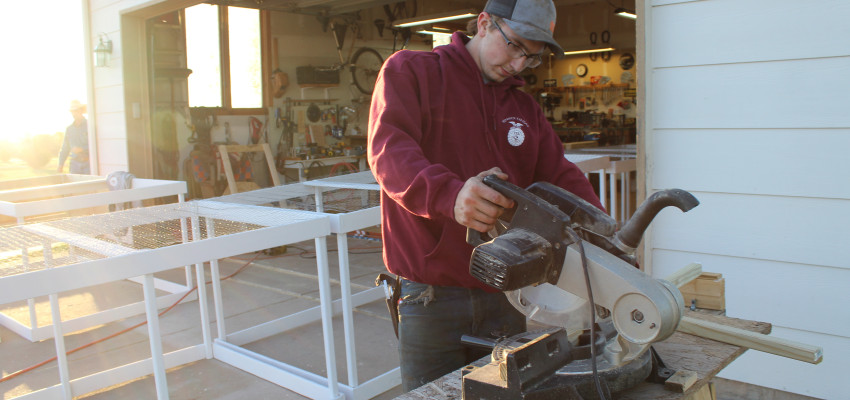 When Austin Simon was 12 years old, he built a rabbit hutch but discovered it was too large. Although it was not the right size for rabbits, it was an appropriate size for chickens, so he listed it on Craigslist as a chicken coop and sold it immediately. He used the profits from the first one to build another one, then another, and now, six years and 200 coops later, this recent high school graduate has a thriving business. Dubbed after his nickname in school (friends often shortened Austin Simon to "A-sime"), the business, Asime's Chicken Coops, is based in rural Andale.
"I didn't start out to build a chicken coop," Simon says. "But that was about the time we were coming out of the bird flu and people wanted to raise their own chickens, so I got busy building coops. Since then I've sold them to people in Nebraska, Kansas, Oklahoma, Missouri and even into Arkansas."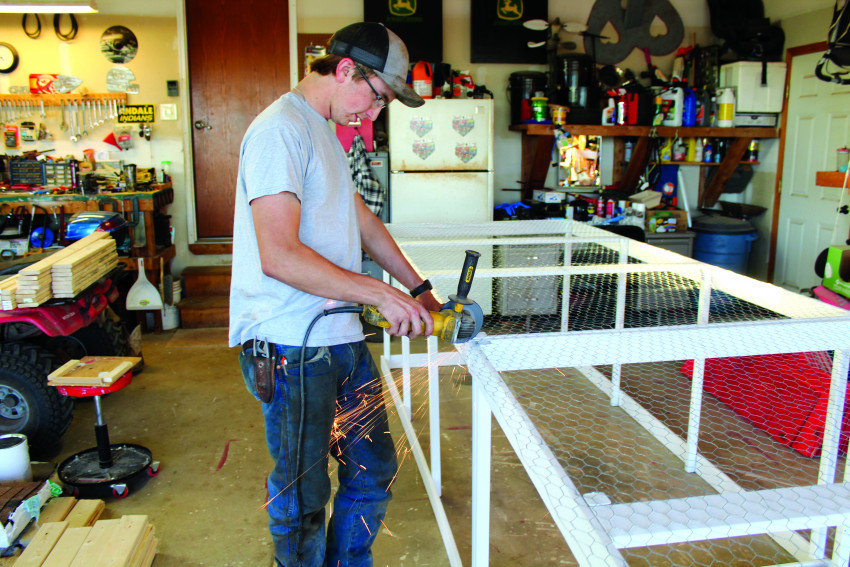 Simon saw another increase in coop sales with the onset of the pandemic in 2020. Empty shelves at grocery stores and shelter-at-home orders caused an uptick in people either raising their own birds for a source of meat and eggs or raising them to sell.
"Almost all of the people who buy my coops live in cities," Simon says. "I hardly ever sell to people living in the country. If my customers want, I will take the coops and set them up. I enjoy meeting the customers and talking to them about chickens. I've been approached by farm and ranch stores about selling them at their place, but then I lose the contact with the customer and I enjoy that."
The popularity of backyard poultry has steadily increased the past few years but spiked significantly during the pandemic, especially in urban areas. Although some cities allow backyard poultry, many do not, so it's wise to check local regulations before you purchase.
"I get orders from people excited to raise chickens for the first time," Simon says. "Then they call a few days later and cancel the order because they found out their city doesn't allow it. They are very disappointed when they call. There's something about raisin chickens that gets people all excited."
While some urban dwellers raise chickens for meat, most begin to raise them for eggs and find they are such delightful pets, they become a source of entertainment, education and companionship. In addition, depending on the number of hens producing eggs, many use their chickens as a supplemental source of income.
Although Simon managed to capture a heightened market interest at the beginning with the bird flu, and then the pandemic, he credits his involvement in FFA with the establishment of Asime's Chicken Coops as a solid business.
"Mrs. Holliday, my FFA instructor, helped me understand how to turn the hobby into a business," Simon says. "I learned a lot from her about how to understand material costs, labor costs, marketing and how to charge the right amount."
Renwick High School hired Cheyenne Holliday to start the agricultural-based FFA program during Simon's sophomore year.
A key component of FFA is the Supervised Agricultural Experience (SAE), a program performed by students outside of scheduled classroom and laboratory time. SAEs provide a method for students to receive realworld career experiences in an area of agriculture in which they are most interested.
Simon was recently awarded the Kansas Star in Agribusiness at the Kansas FFA Convention. The Star in Agribusiness is one of the Kansas FFA Association's top honors.
"Austin was a sophomore when I started the FFA program at Renwick," Holliday says. "A student like Austin is a rarity. He already had a good business growing with the chicken coops, but he was also very involved in a lot of school activities. He signed up for three classes with me the first year and I told him, 'I love having you in class but you're going to have to slow down!' He eventually took seven out of the eight classes I offered and was an FFA officer I could count on anytime to do whatever was needed, especially the jobs no one else wanted to do.
"I worked with him his sophomore year to keep better records of his business," Holliday says. "That year, his SAE was like a lot of other projects students do, but when he came back his junior year and showed me his meticulous record keeping and activity over the summer, I knew I had a potential Star winner on my hands."
Holliday grew up on a commercial chicken operation in Arkansas and was able to help Simon understand the needs of chickens so he could modify his coops to accommodate their habits. She also understood the agribusiness component but had never walked a student through the Star application process.
"The application process for Star is not a simple one," Holliday says. "I learned how to do it to help Austin. There are a variety of local competitions, interviews and writing that is involved. He's naturally a very shy person so the interviews were the most challenging for him, but what we discovered is that the interviewers were so intrigued by his model that they offered him great advice. For example, in one interview they asked him how he determined his mileage rate for delivery, and he admitted he just kind of guessed. Once he left, he found out what normal mileage charges are and  increased them to meet the IRS standard."
The pandemic hit during Simon's senior year and the shutdown of in-person school training made it much more difficult to complete the Star application process. He found out in May that he won the prestigious Kansas FFA Star award,  which qualifies him for the National FFA Star Award.
"We are still working together,  online, to prepare for those next steps," Holliday says. "Austin is still busy building his coops and his business as we go along. I don't think it ever occurred to him that he might be able to make a living out of this once  he got out of high school, but he's doing quite well and still managing a custom hay-cutting business and lawn-mowing business. His work ethic is amazing. I have learned more from Austin than I have ever taught him."
"If it wasn't for Mrs. Holliday, this would never have turned into such a successful business and I never would have applied for the Star award," Simon says. "I used to be really shy but doing these interviews and talking to my customers when I deliver their coops is a lot of fun."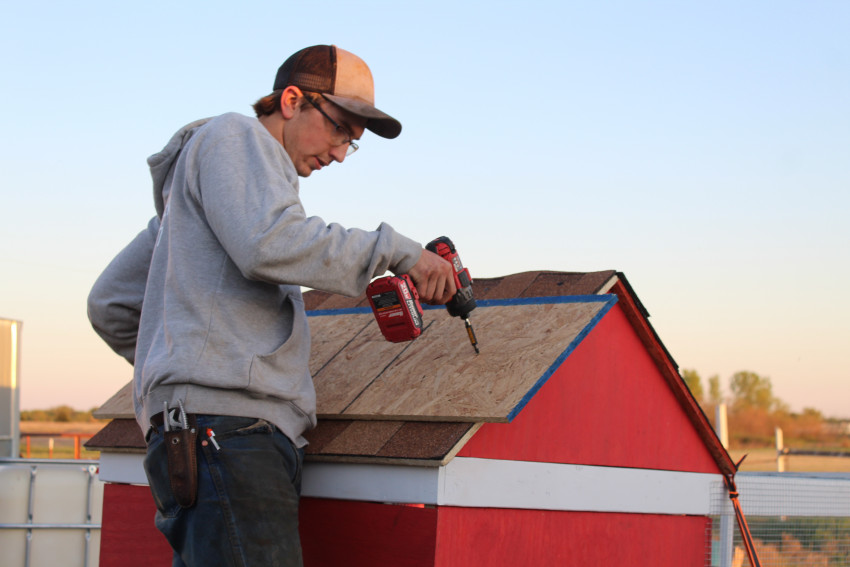 Simon is one of many farm and ranch children who learn agribusiness concepts in practical ways as they raise livestock, crops, or in his case, provide equipment for others to raise animals.
He also represents tens of thousands of both rural and urban students who are impacted by practical, hands-on education through FFA. FFA students are known for their blue jackets, which are not just purchased, but earned. Anyone who has attended an FFA Convention, with thousands of brilliant, blue-jacketed students like Simon might be inclined to go ahead and turn the world over to them tomorrow, if not sooner. They will build us all a brighter future.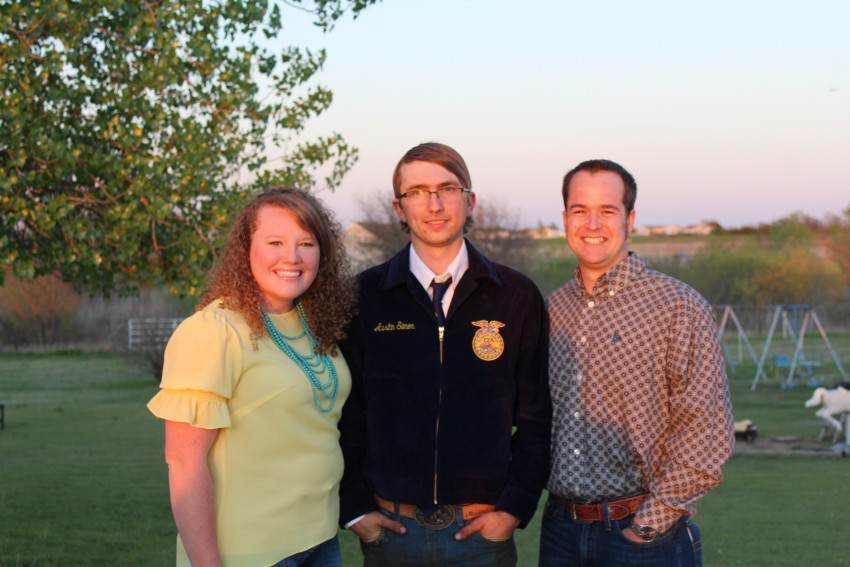 Learn more about FFA at www.ffa.org.
If you are interested in having your own chickens, do your research before you purchase any chicks. Here are some things to know before you decide to raise chickens:
Check your city's laws to see if they are permitted. Some only allow hens.
You don't need a rooster unless you plan on raising baby chicks.
You will need a coop that is weather- and predator-proof. Everything likes the taste of chicken. Hawks, owls, skunks, foxes, dogs, your neighbors.
Research various breeds to see what you want.
Eggs don't need to be washed; learn what a "plume" is.
Eggs don't need to be refrigerated (unless you wash them).
Chickens can live to be 10-12 years old.
Research what you should and should not feed chickens.
Caution: They poop everywhere.
They are destructive and can really tear up a yard or garden.
They eat a lot of bugs and even weed seeds, but they can also eat garden produce you don't want them to eat.
They have great personalities and make wonderful pets.
Online Resources:
---