Kansas gift boxes make the perfect holiday gift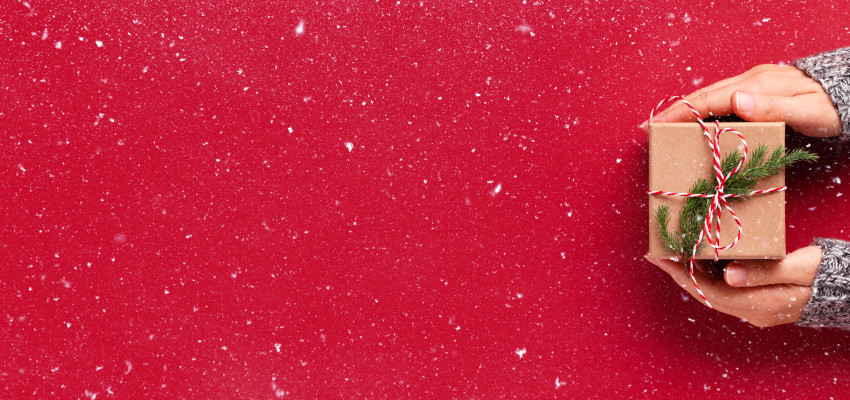 If any positive has come from the COVID-19 pandemic, it's that Americans have had more discussions about where their food comes from. Kansans have shared stories about buying local beef, pork, produce and baked items, which leads to an appreciation of Kansas as a place to shop to stock our fridges, pantries and freezers.
The Kansas Department of Agriculture has a long-standing program to recognize Kansas' labeled food items. The From the Land of Kansas program offers marketing opportunities to those who grow, raise and produce products from the diverse corners of the state.
Janelle Dobbins, the program manager for From the Land of Kansas, says the 40-year-old program began to help farmers, ranchers and agribusinesses market Kansas-made products to grocery stores and consumers. The trademark program has its own logo and a team of state agency marketing staff to develop and promote its members.
"Members and great companies from across Kansas realized what the trademark can do for them," Dobbins says. "They have been vocal advocates for From the Land of Kansas and see it as a way to help launch their company. It has helped the state with export conversations and helped farmers-market vendors launch a storefront."
THE SEASON OF GIVING
From the Land of Kansas launched its gift box program in 2017 to feature several popular products and introduce new food items during the holiday season.
The Ad Astra box, priced at $50, is a mix of ready-to-eat snacks, as well as items that can be added into recipes. The Konza Box, set at $25, also offers popular items.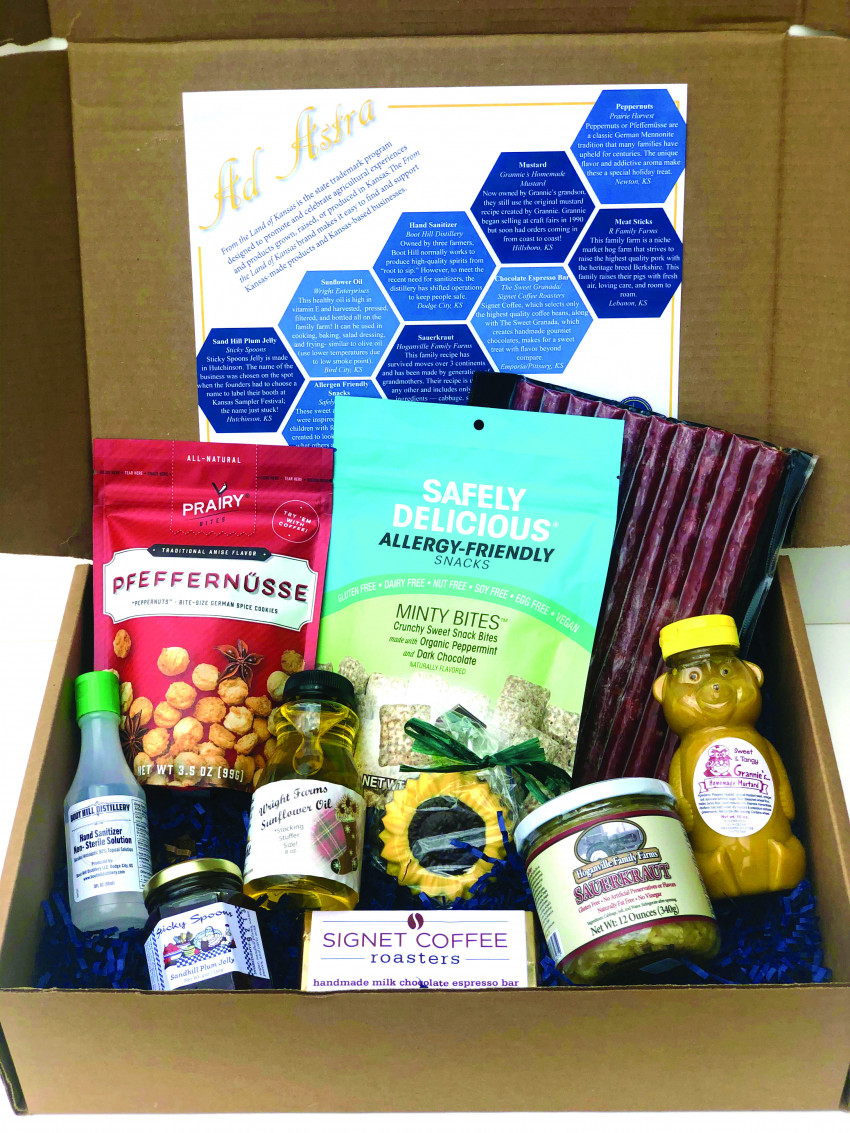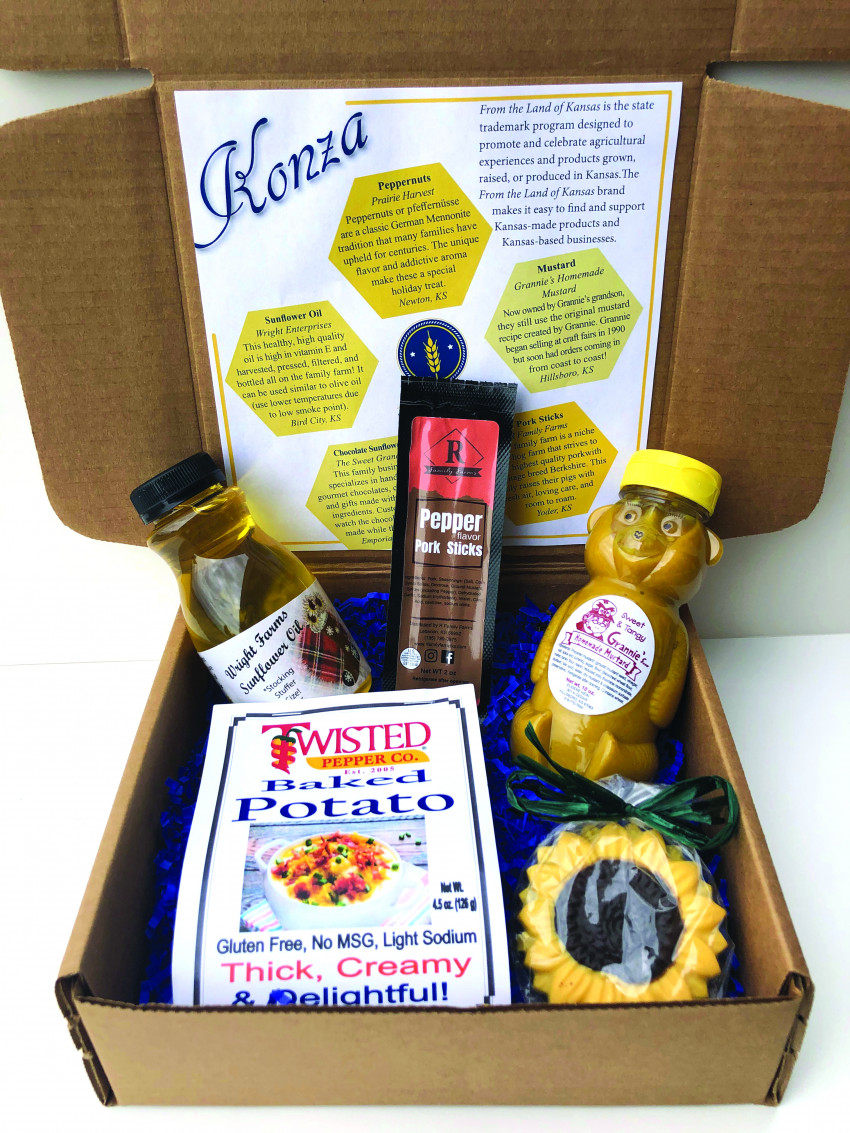 Dobbins says her team takes great care to place a ready-to-eat item at the top, so when the consumer opens the box, they can instantly enjoy a sweet snack. Both boxes contain a few special items like sunflower oil to tempt a consumer into trying a product they might not have before. In the Ad Astra box, a brand-new product added this year is hand sanitizer from Boot Hill Distillery in Dodge City.
"We want them to open the box and it have a 'wow' factor," Dobbins says. "They should enjoy the ready-to-eat snack, try the popular items and discover an appreciation for a cool Kansas product they might not have tried before. One favorite is a chocolate espresso bar that is the product of two of our member-businesses working together."
Each box also includes a personalized, hand-written notecard and a pictorial brochure of the items in the box. When folks open the box, Dobbins hopes they learn more and feel good about Kansas-grown products.
The program partners with Manhattan-based Flint Hills Volunteer Center to package and ship gift boxes. In the three years of the gift box program, boxes have been shipped across Kansas and to all 50 states, including Hawaii.
Food safety is a priority, Dobbins says, and necessary precautions are taken during packaging, including appropriate distance and the use of gloves when putting boxes together.
After the holiday season, Dobbins says she hears from recipients who want to learn more about a particular product. They also receive emails from folks who received a box as a gift and want to buy more. The program has marketed more than 1,500 gift boxes.
Consumers may purchase these gift boxes online at shop.fromthelandofkansas.com. Dobbins says buyers should order boxes by Dec. 10 to ensure Christmas season delivery. 
---