By

Chef Alli

on

March 18, 2020
Tips for Hosting Easter Dinner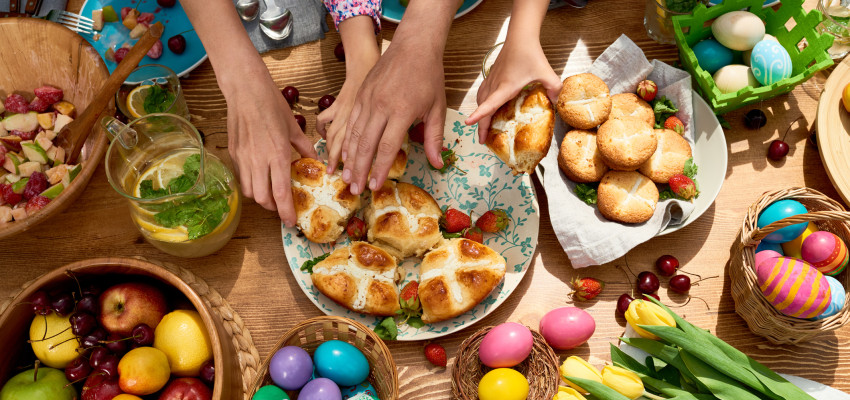 Easter signals Spring and after the long winter months here in the Heartland, we are all very anxious for sunshine and warmer weather - the perfect time to gather friends and family for a meal to celebrate the Easter holiday.  
Below are my top eight tips for making Easter dinner an experience that everyone enjoys, including those of us who are hosting. 
Address the Stress, Then Take Note 
We always say we are NOT going to get stressed out over a dinner gathering, but what often happens? Just the opposite!  
Think back to previous dinners; what specifically caused things to go awry? Addressing the pitfalls of the past can help us plan better for the future.  
Did children attend that you weren't planning on? Did a gluten-free guest show up and only had veggies to eat? Did you run out of oven space and wish you'd requested side dishes that arrived in slow cookers to stay warm? Did someone assigned to a side dish "call in sick" and now you're down a side? 
Individually, these may seem like small inconveniences, but the domino effect begins to play out in our minds. Soon, we can easily begin to feel like one very overwhelmed hostess.  
The biggest problem for me in this area of entertaining is I can't remember from year-to-year what I'd rather not experience or repeat again, so I actually make notes and stash them in my address book.  
Potluck is Perfectly Perfect  
As the hostess, there is absolutely no reason we have to do all the cooking for the Easter meal. It's ok to delegate and you should feel good about doing so.  
Potluck not only helps relieve our stress as the hostess, but it also allows our guests to feel included and special because we are giving them the opportunity to contribute to the Easter celebration. It's also a signal that we truly do appreciate their skills as a cook-- a bigger deal than we often realize.  
Be Specific with Your Requests  
Sometimes we believe we are making things easy for our guests by saying, "Just bring a side dish."  In reality, this vague request makes things more difficult because it lacks direction.  
Your guests are left trying to figure out what to bring and they may also show up with a side dish that's a duplicate of someone else's contribution.  
This can be embarrassing for them, and a struggle for us as the Easter dinner hostess, since we now have 3 broccoli salads and no au gratin potatoes to serve.  
Here are some ideas on how you might phrase your menu requests to get exactly what you need:  
"Can you bring a big batch of mashed potatoes already warmed in your slow cooker?" or "I love your pecan pie. Would you please bring two?" or "A large lettuce salad with croutons and a bottle of ranch dressing would help me so much."  
Play Matchmaker: Dressy Meets Casual 
Nothing says Easter like a freshly ironed fabric tablecloth--it totally sets the dinner table stage, if you will. And, a nice fabric tablecloth provides a great foundation from which to work. All you need to do is add pretty paper plates with coordinating paper napkins and plastic utensils. Your table looks great and it's not an overwhelming task. Plus, cleanup goes much more quickly which is always a bonus.  
Sticky Notes to the Rescue 
This is a brilliant dinner prep hack that saves so much time and stress when you get ready to serve Easter dinner. 
The day before, pull out all your serving dishes and platters. Based on what the menu items are, figure out which dishes will hold what, then label each one with a corresponding sticky note.  
The next day as you're preparing to serve the meal, you will see how much peace of mind this helpful work-ahead technique brings. Now, you won't have the added stress of figuring it out in heat of the moment.  
Let's Talk Little People   
If children are coming to dinner, there are things to consider ahead of time. 
Of course, they will come expecting fun Easter snacks and familiar foods they enjoy, like chicken nuggets with macaroni and cheese. 
Consider feeding the little kids separately before the adults and older children plan to eat dinner. This keeps little people from getting too hungry. 
The Easter Egg Hunt  
Know going in that any little kids (big kids, too, actually) coming to Easter dinner are totally expecting an egg hunt. Yep, it's added work on our part, but it makes for happy memories and big smiles.  
Once the adults are finished eating dinner, ask the adults to help. They will enjoy a stretch and a walk around the yard to hide the eggs for the hunt while the kids are inside and away from the windows. Have the eggs already candy-stuffed and the other treats ready to hide so you can hand them out as the adults are heading out the door.  
Tout Some Table Talk  
Having fun questions and Peter Rabbit trivia to ask at Easter dinner can be a great ice breaker for your guests. If you keep your Easter table decorations inexpensive, you can even award these as prizes for the guests that get the most correct answers or cause the greatest round of laughter.  
Conquer Clean Up  
Often the worst thing about hosting a holiday dinner is the dreaded clean up the hostess faces at the end of the gathering since we are already exhausted from all the cooking.  
Here are five tips for making Easter dinner clean up a bit easier:  
Let yourself feel good about using those pretty paper plates, napkins and plastic eating utensils. Not having to wash dinnerware saves the dishwasher space for other items.  
Speaking of the dishwasher, make sure it's available for the dishes that need washing following the dinner. Nobody wants to face unloading before they reload.  
Have a big sink full of hot soapy water. Your clean-up crew can scrape the leftovers into Tupperware for you, then pop that dirty dish into the sink to begin soaking.  
Pull the trash can out from under the sink and keep it central to where everyone is working--easy access really speeds things up. 
Gladly and cheerfully accept help. I like to clean up immediately following the meal, before serving dessert and coffee, which is always a sweet incentive. Once the clean up is conquered and all put to bed, we can breathe a sigh of relief and say, "See ya next year!" 
You may also like...
---