Garlic Rosemary Roast Leg of Lamb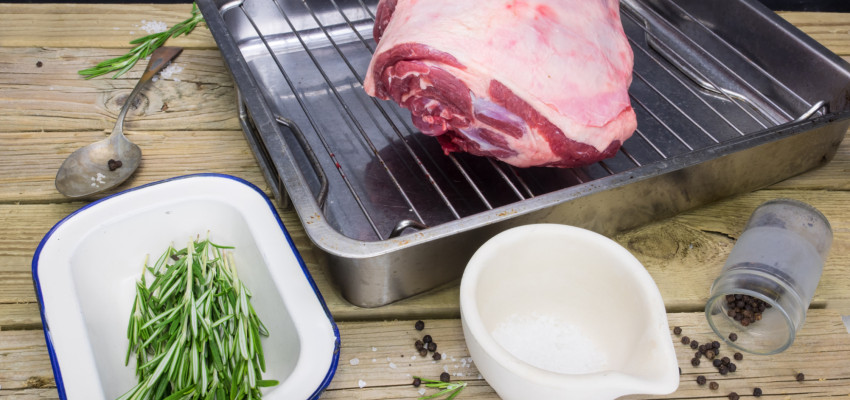 Ingredients
5-7 lbs. bone-in, leg of lamb, trimmed
¼ cup good olive oil
kosher salt and freshly ground black pepper, to taste
8 cloves garlic, minced
4-6 stems fresh rosemary
Instructions
Before you begin, get tips and hints on finding the perfect leg of lamb from Chef Alli. 
Remove lamb from refrigerator one hour before roasting. Preheat broiler to high. Using your fingers, rub lamb with olive oil; place oiled lamb on a greased rack in a roasting pan; season with salt and pepper.
Place lamb beneath broiler, positioning about three to four inches away. Broil for five to seven minutes, or until the top of the lamb is seared and nicely browned. Turn lamb over and place beneath the broiler for an additional five minutes, or until the second side is seared as well. 
Remove lamb from oven, turning off the broiler and preheating oven to 325 degrees F. Combine garlic and rosemary; flip lamb over and rub the top of the lamb with the prepared herb blend. Cover lamb loosely with foil; place roasting pan on center rack of oven and roast lamb for 45 minutes. 
Remove foil and check the internal temperature of the lamb. When internal temperature registers 130 degrees F (rare), remove lamb from oven and cover loosely with foil, allowing lamb to rest while the internal temperature raises another five to 10 degrees to a final internal temperature of 135 degrees F (medium rare). Once leg of lamb has rested for 15 minutes, it is ready to be carved.    
To carve lamb, turn it so the bone lays parallel to the cutting board. Making perpendicular slices to the bone, angle straight down until your knife makes contact with the bone. Now cut the lamb off the bone by turning your knife parallel to the bone, cutting off the slices.
---