A unique dining experience in Sylvan Grove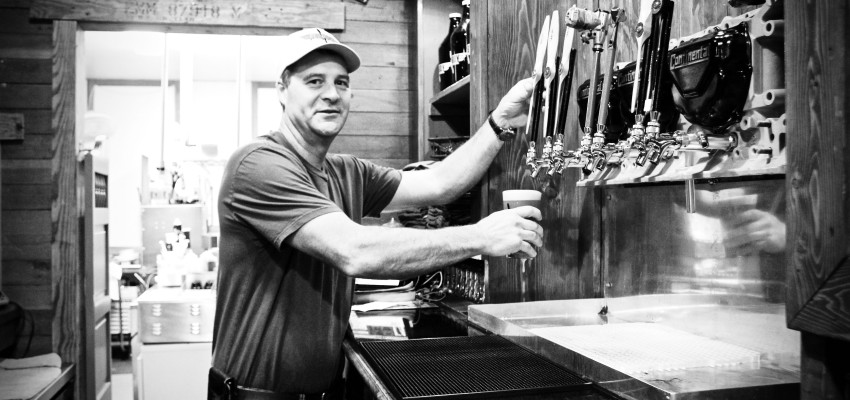 What began as a beermaking kit for Christmas has turned into a restaurant and brewery that provides a terrific atmosphere, great food and drink and 17 jobs in a small town.
Clay and Linda Haring reside in Lincoln County. Clay is an aerial applicator — a pilot who sprays crops to protect against insects and disease — and has sprayed fields and pastures for 26 years. Linda teaches English language arts and business classes at Sylvan-Lucas Unified High School, where she also coaches volleyball, softball and speech.
In 2011, Linda gave Clay a brewing kit and the rest is recent history. The family has plenty of not-so-recent brewing history as well. Clay's great grandfather, Charles Ulrich Haring, brewed in the late 1800s. Ulrich's brewery successfully produced bottled beer until the facility burned to the ground. Then prohibition happened in Kearney, Neb., and Clay says his great grandfather never went back to his brewing business.
The brewing kit Clay received for Christmas gave him a chance to create several recipes that were popular with friends. A few years later, a building in Sylvan Grove, a community of 300, came up for sale. It had been a hardware store for 93 years, then a restaurant and bar. Clay and Linda decided to restore the building and opened Fly Boy Brewery and Eats on Oct. 9, 2014.
"We wanted community members to have a nice restaurant to eat at and we were excited about creating new jobs in our county," Clay says. "The space was wide open, and I brew in a small building in the back. We left the big hardware store doors and windows in the front and it's decorated with aircraft-themed items."
Fly Boy is featured on Facebook, but it doesn't need much in the way of local marketing. With a full menu of steaks, pastas, seafood and burgers, the Harings have created a family-friendly dining experience that also offers numerous microbrews and full bar. It's a packed house during regular hours of Thursday through Saturday nights. The restaurant seats 100 and on many nights, Clay says it's full with a line out the door to get in. The restaurant began offering Sunday brunch three years ago and now features weekly specials, even off-menu items, each Friday and Saturday night. Patrons can follow Fly Boy on Facebook where weekly entrées are posted.
Because Clay is still a full-time ag spray pilot, welder and farmer, and Linda is a teacher, they manage the restaurant with evening and weekend hours.
"We knew we would be tackling something pretty large and time consuming, but we both enjoy challenges," Linda says. "Fly Boy immediately became a lot larger than we anticipated, which is great for our community."
Linda creates the menu with steaks as the specialty. Fly Boy serves prime rib on the first weekend of the month and Clay even has a favorite burger, the P51, which is a hamburger topped with American cheese, barbeque beef brisket, crispy fried onions and jalapeño strings.
Clay also serves seven hand-crafted beers on the pub side, labeled Props and Hops Brewing. Their names are all aircraft themed, from the First Light (a light lager named after the way spray pilots take off in the first light of the day) to a honey, orange, oatmeal and wheat brew named for the ingredients' call letters (Hotel Oscar Whiskey) to the Lomcevak, a stout named after an aerobatic maneuver.
Clay brews with a three-barrel system and keeps the microbrews on tap at all times.
"We use local honey in some of our brews and have used lavender from a Salina farm in a specialty batch," he says. "We just want to feature different types of beer. And airplanes."
The biggest motivator for Linda to open a restaurant and brewery on top of all their other jobs is to have the ability to provide job opportunities to young people in the community. Fly Boy employs many high school students, some of whom Linda teaches.
"Job experience is huge to me," Linda says. "We also employ a lot of mothers who work at Fly Boy as a supplemental income for their families, and that is a fulfilling part of this business."
Owning a restaurant in a small community gives locals a place to be together. However, a large portion of their clientele is from out-of-town. The Harings have been approached numerous times while visiting other cities by people who have heard of Sylvan Grove because of that "great little brewery and restaurant."
"It's cool on a Friday and Saturday night when we're really busy to see Main Street lined with cars," she says. "And know you helped bring those people to town."
The walls at Fly Boy are adorned with pictures of airplanes Clay has owned, restored or flown, including a Stagger wing, a Cessna and an Air Tractor. The tap handles at the bar are made from different propellers and the wainscoting is corrugated tin. The kick areas of the bar, as well as the tap drain, are made from aircraft aluminum.
"It's an atmosphere, not just a bar scene," Clay says. "It's a classy place to go. I think my great grandpa would be proud."
Visit Fly Boy Brewery & Eats on Facebook to see their specials.
---