By

Chef Alli

on

October 30, 2019
Tips for crafting the best meatloaf for your family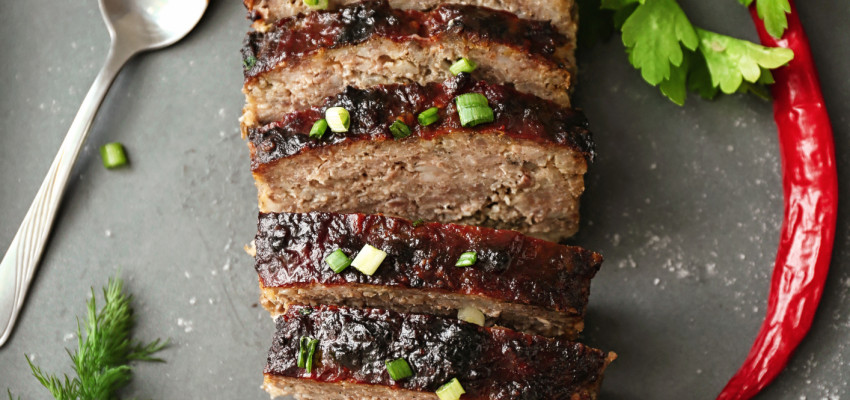 Meatloaf. It's likely your family's favorite comfort food or your most disappointing dinner time creation. How to make meatloaf?  I'm sharing some of my favorite tips for ensuring your meatloaf method is top notch, and I've included one of our very favorite meatloaf recipes, as well. 
Let's Just Be Honest! 
Moist, tender and flavorful meatloaf is made using ground meats with a higher fat content, it's just a fact of life. Yes, you can make meatloaf with super lean ground beef, or even ground turkey or chicken, but lookout! A lean meatloaf is typically one that's typically dry, compressed, tough and chewy. What's the point of making meatloaf if your family doesn't enjoy eating it? I can't even tell you how many meatloaves have gone to the dogs over the years at our house in the name of "let's make it super healthy and LEAN."
Do a Mix-and-Match with Ground Meats 
If you've always used lean ground beef, switch it up and use ground chuck. Or, add some ground pork into the beef to level up on the fat content enhancing the overall texture and flavor of the meatloaf. Another great way to use pork in your meatloaf is by draping uncooked bacon strips over the top of a meatloaf to bake. Once the bacon is browned and crisped on top, glaze it with a bit of BBQ sauce or ketchup for even more flavor. 
Love Me Tender 
Be gentle when mixing the ingredients that comprise your meatloaf mixture. Remember that you should be gently folding or massaging those ingredients in with your fingers (food-safe gloves are the ticket here) ....not frantically stirring. Also, don't pack the meat mixture into the loaf pan - nobody wants to dine on dense, tough meatloaf! 
Get Cheesy 
Pumping your meatloaf with some cheese at the center makes for a fun surprise for the fam, especially when they see how gooey and melty it is when they dig in. We like cheddar cheese, but sometimes we opt for a bit of kick and use pepper jack cheese instead. The sky's the limit here. 
Rethink Those Boring Breadcrumbs
Here's another way to be creative with an important meatloaf ingredient! Swap out plain, boring breadcrumbs for panko breadcrumbs, crushed saltines, French fried onions, or even dry stuffing mix to fold in. Don't think of breadcrumbs as just a filler ingredient - they actually absorb fat and juices that would otherwise seep out, holding them inside to keep the meatloaf moist. 
Flavor Boosters For The Win 
When I have time, I like to sauté vegetables, such as spinach, celery, onions, carrots, mushrooms and even shredded zucchini for adding to my meatloaf mixture. Not only is this is a smart way to sneak in some veggies that fly under the radar with my family, but also adds more moisture and flavor to the meatloaf. Adding wet ingredients such as BBQ sauce, Worcestershire sauce, mustard or soy sauce also bolsters flavor profiles, too. 
Slather On The Glaze 
Who doesn't love a thick, slightly-sweet glaze slathered all over the top of their meatloaf?? You know....the one that gets all caramelized and sticky? At our house, we make extra glaze so we can have a little dipping sauce as we eat our meatloaf, plus it's great for making grilled meatloaf sandwiches the next day. 
Ditch That Loaf Pan, Please 
Mounding your meatloaf mixture into a low-profile slab on a rimmed baking sheet is a brilliant technique. Because there's more flat surface area on top, you can have more of that sticky, caramelized glaze we all know and love. Plus, you can actually build a ridge around the outer edge of the meatloaf slab to make sure the glaze stays in place. Also, when using a baking sheet instead of a loaf pan, you can divide your meatloaf mixture into mini loaves, which are not only pretty dang cute, but also cook much faster, too. 
Opt Out of the Meatloaf Guessing Game
One of the best tools for ensuring that your meatloaf sports a safe internal temperature (and also so it doesn't get over-cooked) is to use an instant-read thermometer. The guessing game of when a meatloaf is done is just a bad idea, all the way around. Instead, here's a much better option:  Insert your instant-read thermometer into the center of the meatloaf periodically throughout the last half of the cooking process. When the meatloaf reaches 155-160 degrees F., get it outta that oven! Next, cover the meatloaf with foil and let it rest for 5-10 minutes before slicing. 
Behold the Beauty Rest 
Meatloaf needs beauty rest before AND after it cooks. Don't use ice cold ground beef straight from the fridge when you're mixing the meatloaf ingredients together. Trying to incorporate the added ingredients into chilled ground beef overworks the meat - this task is much easier if the ground beef has had a chance to rest at room temperature for 20-30 minutes. Also, once you've baked the meatloaf, let it rest for 5-10 minutes before slicing it to serve. This allows the internal juices to re-distribute themselves more evenly throughout the meat so it's nice and moist when you finally get to eat. 
Now that you have these tips for creating marvelous meatloaf, try out the recipes below! 
---