The Farm Bureau way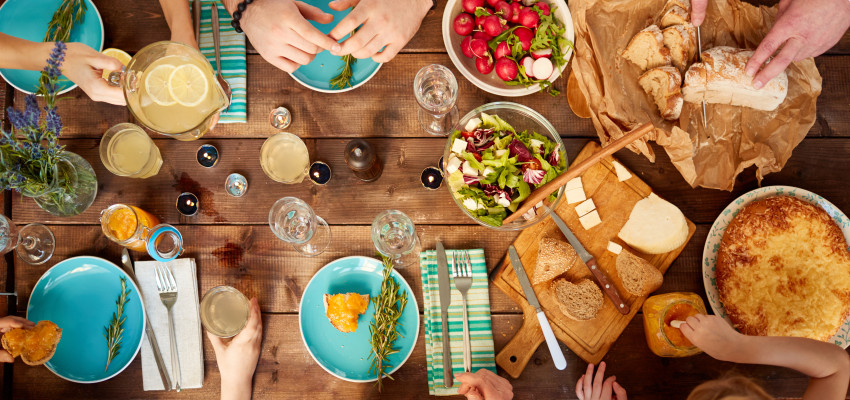 No matter the season, the community, or the event, county Farm Bureaus across the state are putting in extra labor and love to serve the communities where they live and work. Making Kansas communities better is one part of Kansas Farm Bureau's mission. This mission couldn't be completed without members on county Farm Bureau boards, community leaders supportive of Farm Bureau, volunteers who devote their hearts to a cause and the countless families we're here to serve.
Here you'll read about just a few of the great things county Farm Bureaus are doing to improve the lives of Kansans. These four counties exemplify the hard work it takes to keep communities thriving by driving positive economic impacts, creating fun events for families and keeping agriculture strong.
ALLEN COUNTY
There was once a thriving grocery store in Iola, a town in northern Allen County. In 2009, that scene changed and the grocery store closed. Although community members were hopeful someone would come in and open a new grocery store, that didn't happen.
That's when the Allen County Farm Bureau board of directors and Debbie Bearden, the county coordinator, stepped in (cue up the superhero music). There had been a farmers market in the town square previously, but vendors needed an updated place to sell products. They needed a place with good traffic flow, easy access and consistency.
Bearden began researching what it would take to create a sustainable and successful farmers market. She spent hours researching and applying for grants. After collaboration with Thrive Allen County, a nonprofit organization, Bearden and the Allen County Farm Bureau board were successful. While not a grocery store, the market is now in its ninth season and has proven to be a great asset for the community.
"One of the cool things about a farmers market is that it is an enterprise incubator," Bearden says.
Vendors have been able to build up clientele and improve their businesses.
When it began, there was one market on Thursday evenings; today, there are three markets throughout the week. On Tuesday afternoons, the market sets up shop across the street from the Allen County Farm Bureau office, making it a great location to both sell products and inform passersby about the value Farm Bureau brings to the community. Other locations include the city square and in a grocery store parking lot in Humboldt, another Allen County town.
"People now have access to fresh produce," Bearden says.
When Farm Bureau leaders in the community saw a need, they provided an opportunity. As the farmers market grew into a successful project, the Allen County Farm Bureau board decided the most sustainable model going forward was for the market to have its own board of directors and bylaws. However, many individuals on the Farm Bureau board weren't ready to step away completely. The farmers market board elected to create a Farm Bureau board of director liaison.
Then the market needed a market director — someone to manage marketing, market rules and logistics, information distribution and someone to be present from week to week at the market. The manager recruits interested vendors and provides resources to current producers who sell at the market.
Bearden applied for another grant and received $25,000 two years in a row — a great accomplishment — but Bearden dreams that someday the vendor fees and community involvement will be enough to fully support the market.
"Grants are not going to last forever and are only [awarded] on a year-by- year basis," Bearden says.
In addition to the liaison position on the farmers market board, Allen County Farm Bureau also remains a sponsor of the market.
The organization knows how important farmers markets are to providing positive opportunities for members of the community — both as buyers and sellers.
"There is a real need for healthy food," Bearden says. "What we're trying to help people see is you can get healthy food affordably at the farmers market."
If you live in the area, don't miss the open-air market on Thursdays from 5:30 p.m. to 7 p.m. from April through October.
DOUGLAS COUNTY
George Hunsinger, Douglas County Farm Bureau's membership chair, loves to think of the memories he shared with his children at the county's Farm Bureau Fun Night, an event that faded away some time ago. In reminiscing about his daughters' love of the event, George and other board members developed a plan to bring a similar event back to the county so future generations could enjoy creating memories like he had with his daughters.
"We met around our kitchen table and sort of brought it back to life," Hunsinger says. 
More than 100 Farm Bureau members in Douglas County now enjoy a gathering of live music, family games, agriculture education, a car show and an antique tractor show each summer.
The antique tractor show is a big to-do in the county. The Orscheln Farm & Home store in Lawrence is one of many stores throughout the U.S. that sets up antique tractor displays. This was an opportunity for Douglas County Farm Bureau to team up with the Orscheln store to gather members to travel back in time while enjoying the present.
Not only can members take part in the event, but those in the community who aren't members (yet) can attend. This creates an avenue for members to share the value of belonging to their county Farm Bureau. Each attendee can take resources home about local and state membership benefits.
"It gives community members a place to ask questions about membership," Jacqui Folks, Douglas County coordinator, says. "It has quickly become our members' favorite event that we do."
"We just like giving back to the community," Hunsinger says. "There is nothing better than sitting around, visiting, eating and listening to good music."
Douglas County Farm Bureau members give back to the community through various service projects throughout the year. In 2018, members will collect pop- can tabs for the Ronald McDonald house.
If you want to join in on the fun in Douglas County, join them on July 14 this year. For more information, call 785-856-3276.
SHERIDAN COUNTY
The Sheridan County Farm Bureau board meets each month. Around the table, stories are shared, business is done and together as a team, they work to strengthen the lives of community members.
When Farm Bureau members shared an interest in a farmers market, the board came up with a plan. Lori Cressler, the Sheridan County coordinator, set to work applying for grants and getting other members of the community on board. Once they received a grant, they hit the ground running.
"I don't think it ever would have gotten off the ground without the grant," Carol Farber, a vendor at the market and the market treasurer, says. "We have to give a lot of credit to Lori."
"I wanted people to shop local," Cressler says. "I wanted there to be a local venue for people to sell their products and I wanted to keep the money in Sheridan County."
Throughout the first year, there were approximately 45 vendors. The market's vendors aren't limited to locally raised items.
"The more vendors, the more stuff there is to sell, and the more patrons," Rachel Farber, market director, says.
Steve Seegmiller, Sheridan County Farm Bureau board member and one of the founding members of the farmers market board, says the market is also a social event. The market gives community members a place to come together, forge friendships and learn more about their neighbors. Now there are people who faithfully come each week.
The market has also given businesses the opportunity to increase clientele and expand business. The Farbers used to only make jams and jellies for friends and families, but now they make 12 varieties harvested within Sheridan County and sell farm-fresh eggs and baked goods. And although the market is inclusive of more than just locally raised products, one of the perks of visiting the market is the opportunity to talk with the people who made the product.
"It's about knowing what you're getting and where it came from," Ryan Stevenson, Sheridan County Farm Bureau member, says.
Getting to know the person who put in the labor for that jar of strawberry jelly or those fresh eggs makes buying homegrown products that much sweeter.
The Sheridan County farmers market opens each year in May and goes through the end of September. Find baked goods, eggs, veggies, crafts and more each Saturday from 9 a.m. to noon. The market is held at the People's State Bank parking lot at the intersection of Highway 23 and Highway 24.
BUTLER COUNTY
"All the world's problems are solved around a kitchen table," Tiya Tonn- Oppold, Butler County Farm Bureau coordinator, says.
In Butler County, that sentiment is quite literal. Gathering around a member's table is exactly how Butler County Farm Bureau connects with an urban audience. Since Butler County is home to both rural and urban residents, the Farm Bureau board in the county saw an opportunity for rural and urban voices to come together and begin a conversation about where food comes from.
"Let's invite [urban residents] into a conversation around our kitchen table and we can begin to humanize farmers as the soccer coach for your kid's team, the gal who sits beside you in church, or your son's teacher," Tonn-Oppold says. "If we start humanizing these farm and ranch families, then we will be working together better."
The idea for the Butler County Farm to Fork event was born. The event gives consumers an opportunity to step on a farm or ranch and ask questions. They can see firsthand how local food is being raised and grown. After a day of touring local agricultural businesses, the Farm to Fork event ends with a meal made with locally produced ingredients from every corner of the county. The goal is to showcase the agricultural diversity of the county.
The Farm to Fork tour has become an important addition to the agenda of annual events that the county board of directors plans and executes.
"It is truly a labor of love of all those involved," Tonn-Oppold says. "Look around your community because there are a lot of unique stories — you may know them, but others may not."
Butler County has a story to tell, and the Farm Bureau board is doing its part to start the conversation.
The first year, they had nearly 30 community members come on the tour and 50 joined for the dinner. By year two, the word was out about how great the event was. The board had to rent two charter busses for nearly 150 tour participants — a very good problem to have. The dinner was prepared by the Butler Community College Culinary and Hospitality Institute and its executive chef.
In 2017, the board took community members to a dairy, winery, traditional farming operation, working cattle ranch, grain elevator, produce greenhouses and an agritourism destination. All Butler County commissioners, many legislators and even U.S. Congressman Ron Estes enjoyed the tour last year.
In 2018, they are planning on visiting a peach and apple orchard, a haying business, an elementary school that incorporates agriculture into the curriculum, a livestock auction and a scenic Flint Hills ranch.
To be part of the exciting day on July 12, contact Butler County Farm Bureau at 316-320-3166 or butlerfb@kfb.org.
"You don't have to fill tour busses and have all-day and evening events," Tonn-Oppold says. "We need to start putting the faces and stories together, and that can be done one-on- one or with a Farm to Fork tour."
If you're looking for fun things to do or ways to give back in your community this summer, search out your county Farm Bureau. There's one in every Kansas county and each have wonderful community events you can enjoy. You can rest assured each county in Kansas puts in extra labor and love to make the place you live better. 
---