At New Horizon Ranch, horses open hearts and change lives in remarkable ways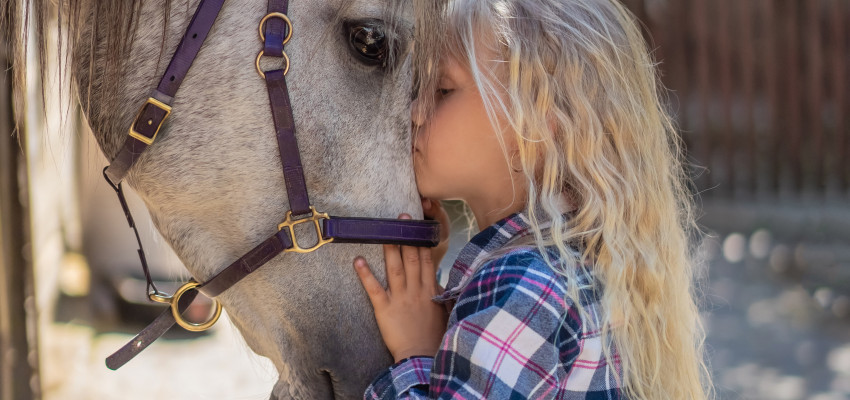 Often, all it takes is one. One moment can change a life forever. One story can shift a life path. One encounter can provide deep encouragement. One donation can impact the future. And at New Horizon Ranch in Rantoul, one evening with one horse could give you hope.
At New Horizon Ranch, one couple has poured their hearts and souls into giving families the rest they need, a positive environment for growth and the chance to have a new life.
Brian and Joy Miller are the founders and serve as president and vice president, respectively, of this lifechanging venture.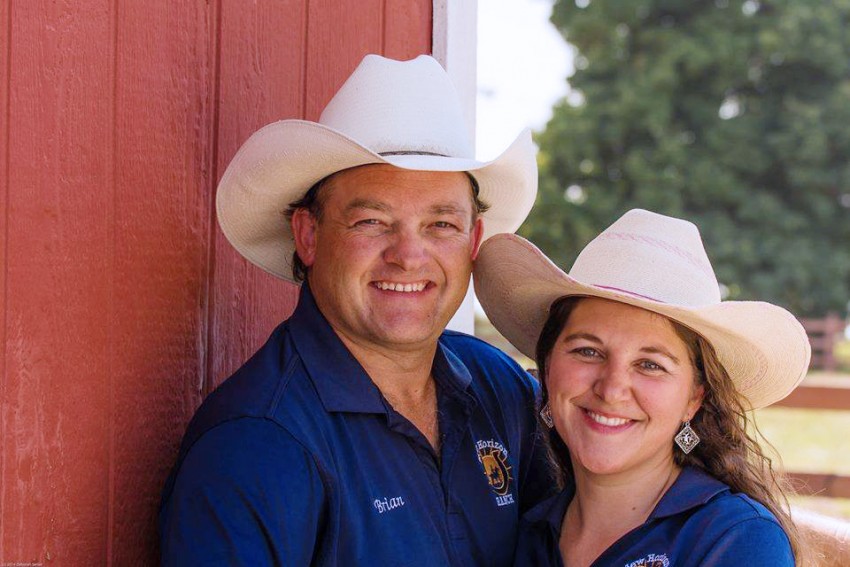 New Horizon Ranch, Inc., is a therapeutic horseback riding center that provides lessons and programs to individuals of all ages with physical, cognitive, social, emotional and learning disabilities.
On a weekly basis, New Horizon serves 20-25 people through therapeutic riding programs. Add in those who come with residential facility programs and summer camps, and in one year, the ranch sees nearly 300 riders.
"It's been our goal to put ourselves in a position to be able to take any issue or concern that someone is facing and find a creative way to partner them with a horse to help them through their struggle," Joy says.
MORE THAN ONE SIGN
After college, Joy and Brian wanted to be missionaries abroad. But when a piece of land in Rantoul was put on the market, they felt a need to buy it. Other missionary families encouraged them to purchase the land so they would always have a place to come home to.
For Joy, a weekend at Equifest, a three-day exposition in Kansas for horse owners, changed the trajectory of her life and made that piece of land so much more than a home.
During the exposition, Joy saw a riding demonstration from another therapeutic riding center.
"I just happened to be standing in a place where I got to hear a volunteer talking about the little girl who was riding," Joy recalls.
The girl she saw riding was told she would never walk again, and yet, here she was on this giant draft horse doing vaulting-type exercises.
"We had horses, and it felt like if Jesus were here and had what we had, this is what he would be doing," Joy says.
It wasn't until months later, when a neighbor asked him to volunteer his time, that Brian shared the same vision as Joy.
Brian was asked to help lead horses around for kids to ride. A girl named Amy was one of those kids. She changed Brian's life forever.
Amy was wearing great big sunglasses and making extreme gestures and loud noises. Brian thought they were crazy for wanting to put her in a saddle because he was afraid she would spook the horse. But then something amazing happened.
They put Amy on the horse and in that instant, she was calm. She leaned over the saddle horn to pet the horse's neck as tears streamed down her face.
Brian remembered thinking, "I don't know what just happened, but I want to do something that powerful. That was my moment."
"So, we started working with individuals with physical and cognitive disabilities," Joy says.
That little piece of land in Rantoul has become so much more than the Millers had imagined. It's become a "new horizon" for families looking for loving arms and a new start.
"If there is anything people need to know about this place, it's that it is about family, bonding and strong relationships," Brian says. "It's about stretching out your arms and loving somebody when they are hurting."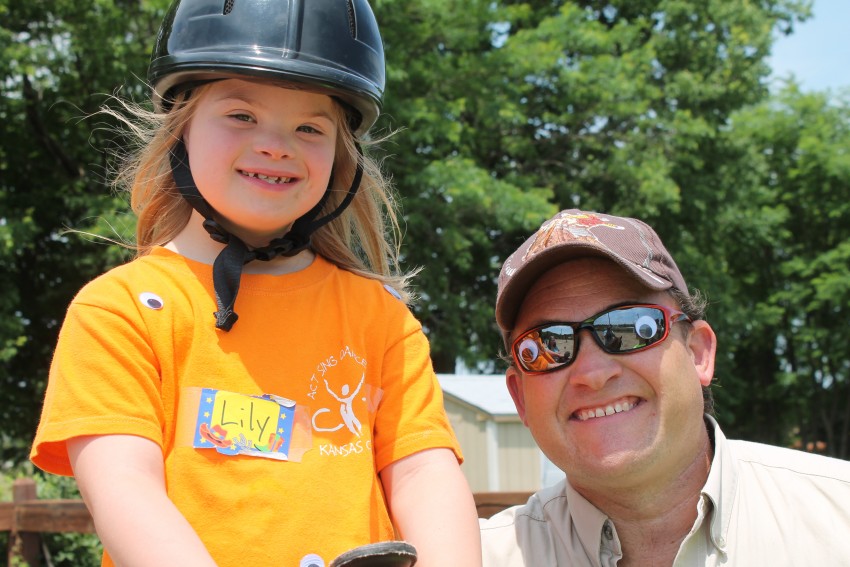 ONE FAMILY
The process to open New Horizon Ranch was not a journey without heartbreak, setbacks and challenges, but together, Brian and Joy opened the ranch in 2006 after seven years of dreaming, planning and training.
The Millers kept waiting for the time to be right to start their own ranch. In that time, life gave them a different blessing, but also heartbreak just days later.
Two days after Joy and Brian welcomed their daughter into the world, Joy's brother died in a car accident.
"We had been through a storm in life and a dark time, but when we were ready to open New Horizon, it was like we made it to the other side," Brian says. "It was like a sunrise over the horizon and that is what we wanted to offer to other people — the light of a new day."
That light comes in different forms for different families.
When one of the program's 12-yearold riders was told by the physical therapist he would never have the fine motor skills needed to tie his own shoes, Brian and Joy didn't give up on him. Each week, they worked with him as they saddled the horses and helped the rider put on his helmet, but only when they knew to step in.
"We want every rider to get to their most independent and capable point," Joy says. "If we are always doing things for them, then those become our successes — but if we let them struggle and figure it out, although it might be a little messy, they get to have that success on their own."
Through the fine-motor skills he learned as he saddled the horse and put on his helmet, the boy learned to tie his own shoes.
"I still remember the day he came running in the barn yelling, 'Mr. Brian, Mr. Brian, watch!'" Joy says.
His mom had bought him lace-up tennis shoes and he stood in the barn tying his own shoes in front of Brian. There wasn't a dry eye in the barn.
For two brothers with traumatic backgrounds, the light looked a little different. It looked like patience as they overcame fear of rejection.
For three weeks the brothers had one task when they stepped on the ranch — to catch and lead a horse in the arena.
"It was just about them building their confidence back and learning to problem solve again," Joy says.
For weeks, the boys couldn't catch a horse, but with the guidance of Joy and a licensed counselor, they learned to keep trying. Eventually, one of the boys was able to catch one of the horses. Although the halter and lead rope weren't on correctly, he was still able to lead the horse around.
"I explained to the boys, maybe there is more than one way to do things," Joy says. "We worked with them for about two years, and after every lesson, one boy would say at least once, 'It's OK, because there is more than one way to do things.'"
The love those boys received at the ranch helped them gain confidence and taught them what it felt like to be accepted, even if life doesn't always go as planned.
"Horses survive on non-verbal communication in the wild, so they are very perceptive," Joy says. "Which is what makes them incredibly good with individuals who visit the ranch — it's almost like they know what they need to do to bring emotions out into the open."
Currently, the ranch is home to 26 horses.
THE RIGHT PROGRAM
New Horizon Ranch understands the importance of connecting horses to people and offering programs that help a variety of health obstacles.
Hippotherapy helps improve coordination, balance and strength in a fun, creative, safe and effective atmosphere of a riding arena.
"The movement of the horse is a close simulation to our walking gait," Joy says. "For kids who haven't started walking yet, or who are in a chair, or have any kind of asymmetrical gait, it provides that movement through their body and stimulation in their brain.
"We've had riders who can't speak or have limited speech ability come to us and after a few lessons, they make significant improvements," Joy says.
Therapeutic riding is for riders of varying abilities. Riders can achieve appropriate levels of independence in their personal horsemanship and equestrian riding skills under the direct supervision of a Professional Association of Therapeutic Horsemanship International (PATH Intl.) certified riding instructor. PATH Intl. is a global authority, resource and advocate for equine-assisted activities and therapies. The Millers hold this certification and employ certified instructors.
Soon after opening New Horizon Ranch, the Millers began offering Equine Assisted Psychotherapy. Brian and Joy work with licensed mental health professionals to provide this program. Experiential learning and interactions with horses allows the client to express themselves on their own time frame to handle any mental health problems, concerns or issues they may be facing.
Summer Horse Camp is an integrated experience designed to provide campers with special needs and campers with typical needs the chance to have fun side-by-side and bond over their common love of horses and their desire to learn more.
"Just because someone has a disability, doesn't mean they can't do everything," Joy says. "It just means they might need a little help. The instructors and campers talk about how to work together on things. What is simple to one person, can be lifealtering to others."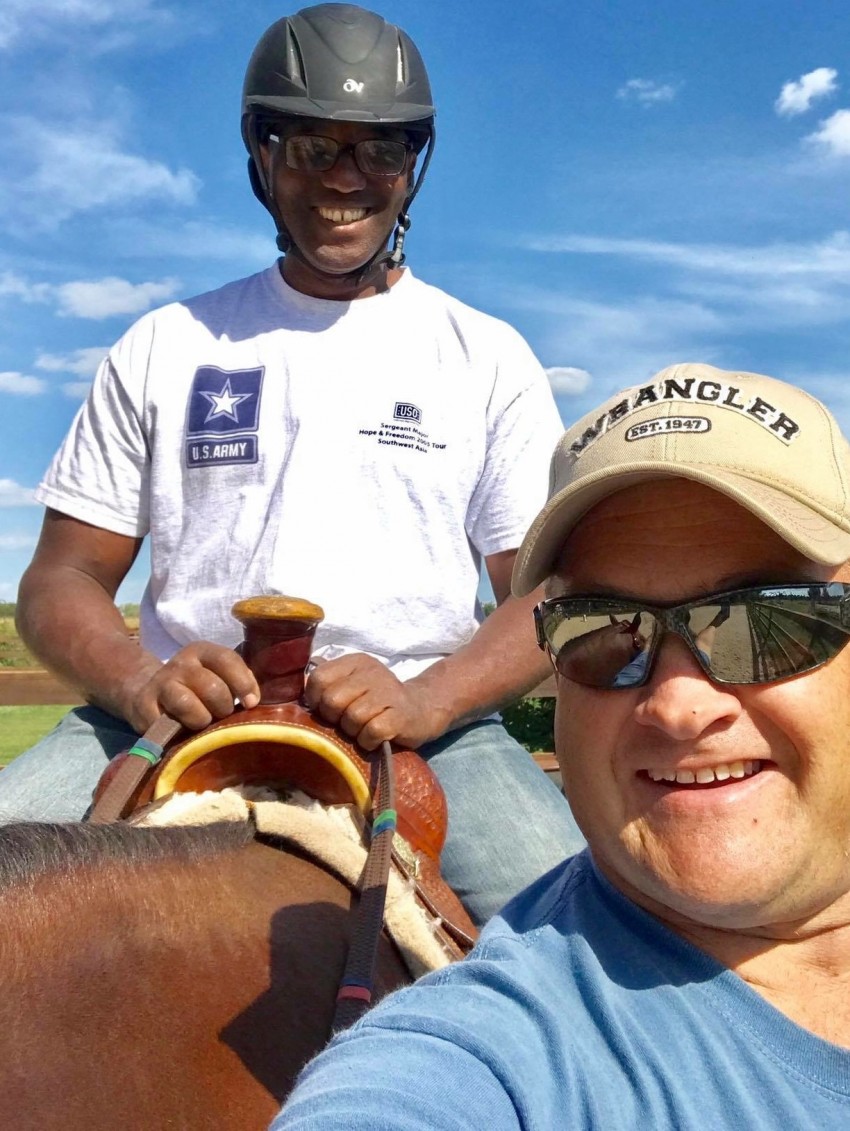 New Horizon Ranch also offers programs for veterans and senior adults. You can learn more about their programs at
www.newhorizonranch.org
.
ONE AT A TIME
"We're only limited by what we can think of," Brian says. "I like dreaming big and crazy."
One day, Brian and Joy dream they will be able to eliminate the inconsistency that weather causes by building an indoor riding facility at New Horizon Ranch. Consistency is key to successful outcomes for many of their riders. Patterns are important, and to some riders, a couple weeks off can derail the process. An indoor arena would provide consistency, room for growth in their programs and additional safety. Brian and Joy are raising funds to make that next dream become a reality.
"We believe the horses can help you through any obstacle or challenge you are facing," Joy said. "We want to help people through horses. One at a time."
You might like this recipe:
---