Tips for Family Meal Planning Success
Make the most of family mealtime with these easy-to-implement tips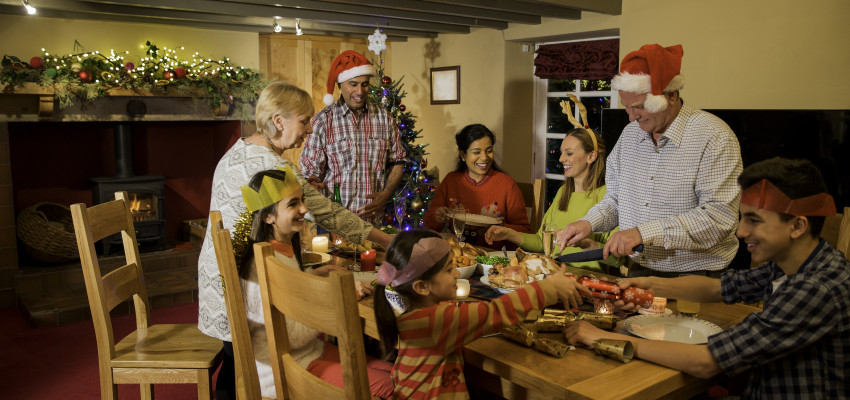 I remember the wicker-backed chairs, some of which were torn; the large dining room table, which was scratched in places; and the full plates, which did not match. Family dinner happened often in the house I grew up in — sometimes at that scratched dining room table, sometimes in front of the TV. Either way, it was a time with family that I still hold dear.
My mom, a retired teacher, is a wonderful cook. And a prompt one at that. I hardly remember a time dinner wasn't ready at 5 p.m. sharp. She believed in color — more color meant a more nutritious meal. She believed in creativity too, which sometimes, especially in the case of spinach in lasagna, wasn't my favorite. But she brought our family together because she planned for that time every day.
Having a family meal plan is essential not only to creating a healthful meal, but also to spending time with your family. Use these tips from Karen Hanson, dietitian for the Johnson County Department of Health and Environment, to make the most out of your family meals.
HIT ME WITH YOUR BEST TIPS
"If you're organized and know ahead of time what you're going to make, you'll have more time to enjoy with your family and less dread about what to fix," Hanson says. "I encourage a weekly family meal-planning meeting — the slower pace of the weekend works really well."
Here are some tips for a well-organized menu plan:
Most of the time, we're all together for evening meals. And whether you call it dinner or supper, writing down the menu items for each evening of the week will help you stay on track.
Post the menu so everyone can look forward to the delicious meals you'll have throughout the week.
"Posting the menu keeps everyone in the know," Hanson says. "This also encourages others who are able to help with meal prep ahead of time, so dinner runs smoothly."
Consider what days you can utilize your slow cooker.
"I love to plan two or three meals from one slow-cooker day. For example, cooking a roast on Monday could translate into delicious wraps the next day, or a one-skillet meal for either a lunch or a second dinner that week."
Prepare a grocery list for the items you'll need throughout the week.
"While you're at it, it's a good idea to remember to list breakfast and lunch options so you're able to make just one trip to the store and are set for the week."
WE BUILT THIS DINNER
Making meal plans will help you stress less, eat healthier, shop more efficiently and save money.
"When you sit down to make a meal plan, you're likely to be more conscious of the choices you're making," Hanson says. "Writing down healthy meals and following through on the grocery list you made will encourage you to avoid unhealthy choices. You also won't eat at restaurants as much, saving you calories and cash."
On shopping more efficiently. 
"You know how it goes when you don't have a set list of items to get from the grocery store. You tend to reach for easier items, quick meals and unhealthy cravings, especially if you shop hungry. It's fine to treat yourself, but remember: everything in moderation."
You also save time in the store by getting the items you need and crossing them off your list.
"If you know your grocery store's layout, write down the items needed in order of where they are in the store," Hanson suggests. "That way, you're not backtracking for items further down your list."
Planning your meals allows you to shop around for the best price. If you're fortunate to have more than one grocery store in your town, check out the print and online ads for the stores. Many stores are now offering phone apps that have additional specials and coupons.
COME TOGETHER - WITHOUT PHONES
It's hard to get time with our family without distractions these days. Make all the time you spend planning the week's meals worth it by eliminating screen time during dinner. We are quick to blame younger generations for being on their phones and other electronic devices too much, but parents and adults are guilty as well. Whether it's work emails, a Facebook notification or a game we can't seem to put down, phones and tablets take our attention away from the world and our loved ones.
"I know it's difficult in our fast-paced world, but making dinner time screen-free is a great way to connect with your loved ones," Hanson says. "Gather phones before you sit down together and put them on silent in another room. Out of sight, out of mind."
Even if you don't have children, it's a great way to dedicate just 30 minutes or so to having a conversation with a significant other or even to reflect by yourself.
Taking a few minutes each week to plan your meals will benefit you through the next five or six busy days, helping you with peace of mind, a healthier lifestyle and more money in your wallet — all while enjoying time with your family at the dinner table.
For meal planning ideas and tips, follow Kansas Farm Bureau on Pinterest at www.pinterest.com/ksfarmbureau.
---