Enjoying a 'Taste of Kansas'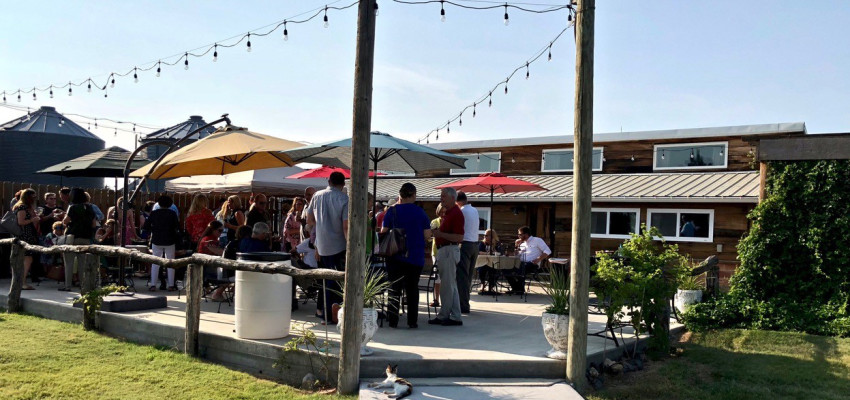 It was a hot, breezy evening when I joined approximately 80 other guests at the Shiloh Vineyards and Winery in WaKeeney for the "Taste of Kansas" dinner. Though it was a long drive from my home in Topeka, it was worth every mile to enjoy a meal of foods grown and made in Kansas. The night served as a showcase for From the Land of Kansas members since the program was celebrating 40 years of promoting agriculture experiences and products grown, raised or produced in Kansas.
The tasting room offered some air-conditioned comfort from the heat. It's a beautiful, intimate space – dark, cozy and perfect for exploring Shiloh's different wines. You can schedule a wine tasting through their website.
Wines and beers from various Kansas wineries and breweries were offered on the patio, along with appetizers—bruschetta with vibrant tomatoes, a lettuce-wrapped pork "taco" and savory meatballs. Country singer Lucas Maddy provided music from the near-by gazebo.
The main meal was served inside Shiloh's lovely refurbished barn. It was hard to imagine where we were sitting down to dinner had a dirt floor just a few years ago. The large downstairs room was rustic but elegant. The tables were set with gold-toned runners and floral centerpieces in autumn colors.  
Chef Ean Mong, who has created wine dinners many times for the winery, was in charge of the menu. He studied at the Culinary Institute of Las Vegas and has worked with noted chefs Alain Ducasse, Thomas Keller and Anthony Bourdain—who he reminded me of with his confident, edgy style. As he introduced the meal about to be served, he noted that even though the evening was called A Taste of Kansas, "People assume they will get just a little taste of each dish, but that's not how I work."
Chef Ean wasn't joking. Each course was a plentiful serving of tasty fare. The meal started with a scotch egg, which is a traditional English dish where ground meat surrounds a hard-boiled egg. Yoder Meats provided the ground buffalo. I'd always wanted to try one, and it didn't disappoint. I'm not a fan of hardboiled eggs, but this was tasty with the meat around it and the salad greens topped with a nice vinaigrette to lighten the somewhat heavy dish.
The cocktail served with the scotch egg featured whiskey from Boot Hill Distillery. I loved it so much, I had to get the list of ingredients so I could make it myself. They were cranapple juice, mango puree, lemonade, triple sec and the whiskey.
The main course was a garlic-crusted rack of lamb served with sorghum risotto. Honestly, I've never been a fan of lamb chops, but these changed my mind. They were tender and flavorful, and the wine pairing of Shiloh Vineyard's Old Barn red wine was perfect. The risotto was different from any other I've had since it was made with sorghum from Nu Life Market, an allergy-free sorghum processing facility in Scott City instead of rice. That gave it a chewier, somewhat nutty texture. The flavor was rich and comforting. It's another recipe I need to track down.
Dessert was a deconstructed sunflower cake served with Shiloh's Aroma wine. A small orange cake was topped with a dark chocolate dome. Inside was a luscious white chocolate mousse, and the entire concoction was surrounded by candied puffed sorghum. A fresh strawberry puree balanced out the chocolate's sweetness.
Yoder Meats provided some of their product for the meal. I have them on my places-to-visit list. Who wouldn't want to check out somewhere you could get buffalo, lamb and elk, plus a bakery?
Hildebrand Dairy provided the dairy products for the dinner. You can find their milk in most grocery stores. I love their chocolate milk and the eggnog at Christmas time.
Each guest got a woven wheat decoration handwoven by Marian Vavra of Wichita and a From the Land of Kansas pin as mementos from a tasty evening.
If your interest is piqued in learning more about From the Land of Kansas or purchasing some of the products I mentioned, go here. They are already talking about having another one of these dinners next year. Put me on the list.
---