5 Must Have Grilling Tools
Plus 3 Maybe-Haves and 1 Don't Bother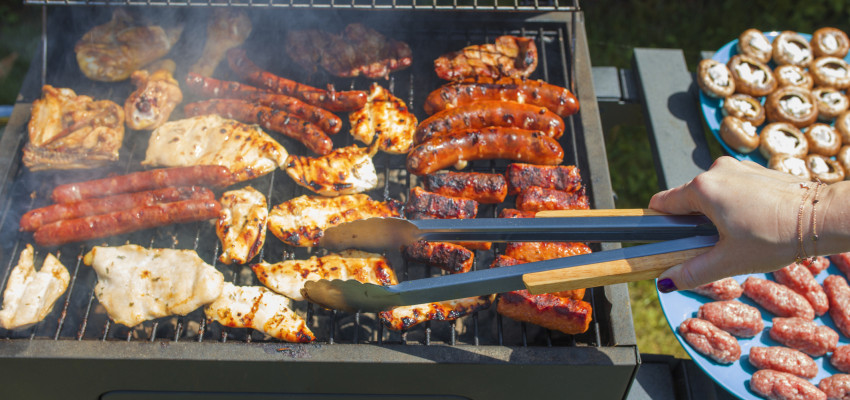 What better way to spend a summer day than to gather around the relaxed atmosphere of the grill, enjoying a cold beverage while the grill's "master" prepares the meal. If you wish to be the king or queen of your backyard grill, there are five essential tools you'll need to make the job easier:
Tongs
Long, spring-loaded tongs are the multi-purpose tool for the grill. You can use it not only for turning food over the fire, but to also maneuver hot charcoal
Wire grill brush
No need to soak the grill grate in the sink to get it clean. This tool does the job for you. Before using the grill, get the grate hot and then brush it clean. (After which you brush it with oil.) Once the food is done, heat the grill on high for a few minutes then brush off the grates until clean.
Instant-read thermometer
The best way to ensure your meat is cooked to the correct temp. Insert the thermometer at the thickest part of the meat without touching bone.
Long-handled spatula
Lets you flip burgers, fish or other foods without getting your hands too far over the heat.
Skewers
Available in metal or bamboo, skewers are perfect for grilling small meats (like shrimp) or veggies without them falling through the grates. If using bamboo, be sure to soak them in water for at least 30 minutes first so they don't burn up on the grill.
These tools are nice to have, especially if you have a charcoal grill, but not necessary:
Long-handled basting brush
Allows you to baste food without burning your hand over the heat.
Charcoal chimney
This is used for starting charcoal without lighter fluid.
Heat-resistant mitt
To protect your hand while moving a grate, putting more coals on the fire, etc.
What is the one tool you absolutely do not need and should avoid, even though it comes in almost every grill kit? The grill fork. Poking a fork into meat is a sure-fire way of releasing all of its lovely juices, resulting in a dry burger, steak, chicken thigh, etc. Skip the fork and stick with the tongs instead.
---