Aunt Faye's Community Kitchen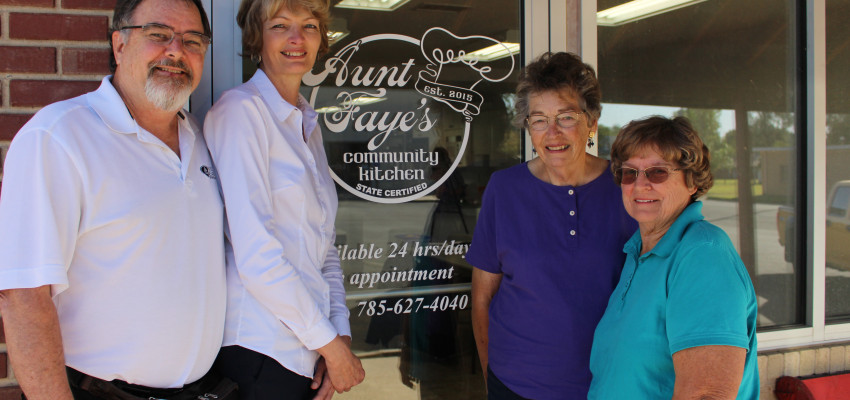 Nothing beats good food for bringing people together. In the little town of Morland, population 100, the place to make such culinary fare is Aunt Faye's Community Kitchen.
Little more than a year old, this kitchen allows local residents the opportunity to bake, cook, can, pickle, dry or candy certain foods for sale to the public. Food items made in the community kitchen often include: cinnamon rolls, beef jerky, pickled beets, canned fruits and vegetables, jams, jellies, barbecue sauces, dips and spreads, chocolate fudge and other tasty treats.
Located at 504 Main Street in Morland, Aunt Faye's is state  licensed. The proof hangs on the kitchen wall. Faye Minium, a long-time northwestern Kansan, dedicated her life to the Morland community. Among her many contributions, she worked tirelessly to bring back the town's grocery store and laid the groundwork for the community kitchen next door.
Aunt Faye died in July 2015 before the community kitchen opened. Mrs. Minium wanted everyone in the region to have access to healthy food and believed homemade foods were best. As she liked to say when reminiscing about her contemporaries from northwestern Kansas, "Here the ladies cooked and created the foods of their dreams."
One of the kitchen's regulars who's doing just that is Angela Bates of Nicodemus. In this community kitchen, Bates mixes up Ernestine's Bar-B-Q sauce, made famous by her aunt, Ernestine VanDuvall of Nicodemus. Some call the sauce "as good, or better" than any sauce made in Kansas City. Local organizations, like Friends of Cottonwood Ranch and other civic groups, utilize Aunt Faye's to prepare meals for community events. Future plans include food preparation classes and possible distribution of Meals on Wheels or other charitable food distribution events.  
AUNT FAYE'S VISION
Funds from the Dane G. Hansen Foundation helped build and equip the community kitchen. Once it opened in October 2015, Aunt Faye's received many requests for its use.
"It seems like the kitchen stays busy at least two days out of each week," says Alex Leslie, Morland resident and advocate for Aunt Faye's. "Most of the people who use the kitchen come from
a 20-mile radius." That's exactly what Mrs. Minium and the other founders envisioned for the community kitchen a few years ago.
Aunt Faye's Community Kitchen embodies the idea of keeping an independent, rural sense of community alive by providing services and products for residents of Morland, Studley, Tasco and Penokee. The community kitchen also paves a way to preserve and honor cooking from scratch, using garden-grown ingredients to prepare food with love, care and the spirit of sharing. 
Aunt Faye's Community Kitchen can be rented for $10 per hour. It's available 24 hours a day by appointment. The kitchen provides a conventional oven, vacuum-packager, proofer, commercial mixer, 50-square feet of counter space, a five-burner
range and 40- and 30-quart canners.
Morland residents like Donna Leslie, niece of Mrs. Minium, says people who live here remain grateful for Aunt Faye's dedication and leadership. They know how important the community kitchen is. "She relieved anything was possible," Leslie says. "She was a leader and blessed with the unique talent for finding the right people for any job that needed doing."
While she also served as president of the Citizen's State Bank in Morland,  Mrs. Minium found ways to bring people to the little northwestern Kansas community. She championed small business and wanted anyone and everyone to have an opportunity to start their own.
Another long-time Morland resident, Marilyn Rowlison, says it's been a group effort to keep food cooking in Aunt Faye's Community Kitchen. They continually champion the facility. In addition to word-of mouth news about Aunt Faye's, Nex-Tech films its cooking show on location at the community kitchen. Locals who use the facility are often featured on the regional television show.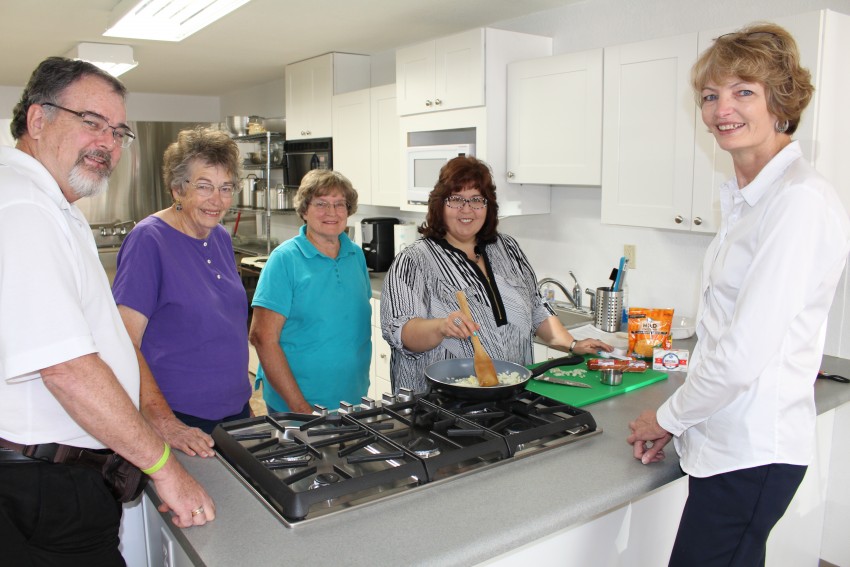 LIFE IN MORLAND
The hearty folks who continue to call Morland home embrace the pioneer spirit that settled this region of Kansas in the late 19th century. Residents take pride in their bright children and nearly nonexistent crime rate.
They relish their customs, like bacon and eggs for breakfast and panfried chicken at the Prairie Junction Café for dinner. They love the traffic free roads, hunting deer and Ring-neck pheasants, and fishing in Antelope Lake. Just as important — and something few of them ever miss — is church on Sunday. Visiting with friends, family and neighbors after the service is a staple in their everyday lives.
The gently rolling prairie and pastures around Morland are secured by telephone lines and barbed wire. Outcroppings of sandy shale paint the landscape yellow. Every two or three miles along Graham County's packed dirt roads stands an empty farmhouse, its weathered walls void of paint.
Occasionally the view is broken by a rusty oil tank and drilling gear or the iron bones of a half-century-old tractor. The roads, some paved, wear shifting layers of shale dust. Communities like Morland do their best to remain alive and vibrant on the windy, high plains of northwestern Kansas. They each cling to their local beauty shop, the grain elevator, restaurant and on occasion, new additions like Aunt Faye's community Kitchen.
"We love living here," Rowlison says. "It's a beautiful place. The only thing we constantly battle is making enough money to stay here. We're thankful for Aunt Faye's Community Kitchen."
Check out the other community kitchens in Kansas
---