These tips will help you feed your family healthy and tasty meals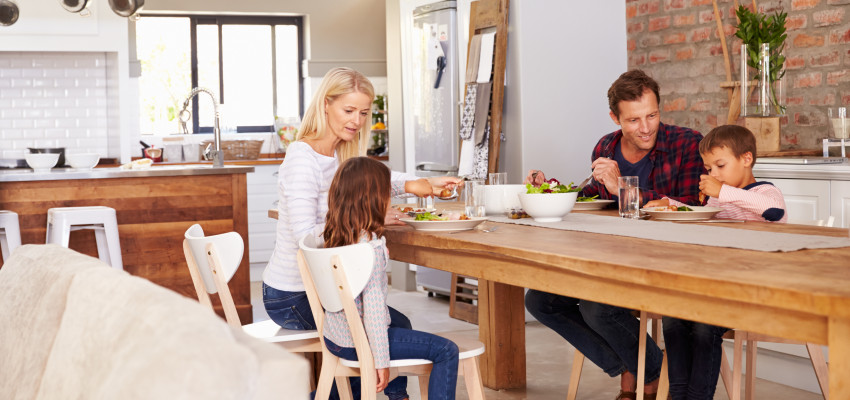 Everyone has a packed schedule these days which often translates into less time devoted to cooking meals at home. Rather than resort to the convenience of the drive-through window or carry-out options, I've got tips that will help you prep your kitchen to make cooking at home easier than ever.
It must start with a plan.
Read on for tips and strategies I use with clients and families who face the same time crunch you do at the dinner table. A small investment of time or equipment up front can help immensely. You don't have to sacrifice your health or good taste.
Investing TIME wisely
Calendar coordination 
This is one of the first steps for any successful meal planning strategy. After school activities, work schedules and other events constantly tug at our time, so it's essential to see what we're contending with. Set aside at least a few minutes to compare calendars with your spouse or family members and clearly communicate when you will be home. Identify the days you will have available time to cook, and plan the rest of your week's shopping or cooking schedule around that.
Inventory
It you're not on board with shopping from a list now, it's time to start. Take inventory of what you already have on hand before heading to the store. Not only will you avoid repetitive buying, it will encourage you to use what you have, which will help avoid food waste. Food waste = wasted dollars. You'll also skip multiple trips across the store looking for that one needed item you remembered at the last minute.
Find your family favorites 
If you can develop a short list of standout recipes your family trusts and loves, you can stock your kitchen accordingly to make sure you always have what you need on hand. #TacoTuesday anyone? Designate a few select recipes and you'll never be at a loss of what to make for dinner when you're short on time.
The rights TOOLS for the job
Kitchen Essentials
Home meals don't need to be fancy – and the equipment needed to put dinner on the table is about as simple as it comes. Create a checklist of essentials and replace or purchase what you need to ensure you always have the tools available. To start, here's a list of my kitchen-all stars:
Cutting board, chef's knife and paring knife
1 stockpot, 1 skillet, 1 saucepan
1 baking sheet or roasting pan
Hot mitts and hot pads or trivets
Spatula, slotted spoon, ladle and tongs
There's always a new and improved kitchen gadget. Appliances and tools can speed up the process or help you cut corners, but this short list provides the bare necessities that can help you deliver a meal in a matter of minutes, with minimal mess and clean-up.
Food storage 
Remember the Tupperware parties of days past? Well, they might have been on to something. Investing in the proper storage containers can make storing and reheating leftovers so much easier. I recommend glass containers when possible, but regardless of the material, you want to look for lids that seal tightly to prevent spills and leaks. Brands like Glad, Zip-Loc, Rubbermaid and Pampered Chef have a variety of sizes and prices that can fit any budget. Take your efforts one step further by placing a small storage basket in the same drawer or cabinet where you stack your containers. No more time wasted searching for the matching lid.
Wrap it up 
Meal prepping and batch cooking means some dishes or ingredients will inevitably wind up in the freezer. But nothing is worse than reaching for something to thaw for dinner to discover that it's become freezer burnt and unappetizing. Prevent this from happening by using freezer bags, plastic wrap or freezer paper to make sure you don't end your efforts with it going in the trash. 
Looking for a few more tips and tricks?
Delegate: Reign in the troops by delegating tasks to your spouse, children or other family members. It doesn't have to be cooking either – ask for help taking out the trash, putting groceries away or setting or clearing the table for meals.
Remember food safety: There's always that one container that gets shoved to the back of the fridge and forgotten. While it may be tempting to push the best-used-by-date on your leftovers, three to five days is usually the maximum. Not only does quality and flavor start to fade, but it's simply not worth the risk of consuming potentially contaminated food. When in doubt, throw it out.
No-excuse nutrition: If all else fails and you're reaching for the canned soup or a frozen dinner, don't stress. There's plenty of room for improvement by adding your own toppings, garnishes or extra veggies. Add a handful of spinach or greens to wilt as your soup is heating. Add frozen veggies to the microwave at the same time. And while you have the can opener out, why not open a can of fruit, too?
Get inspired: Talk to friends, family or others in your network and learn what works for them. There's no right or wrong way so get creative and think outside the box. The internet can also inspire, whether it's through Pinterest, blogs or Facebook groups that share and support.
At the end of the day, we don't need to strive for perfection in our diets. Life happens and the reality is sometimes the dinner-time scramble leads to less than stellar food choices. But I encourage you to try a few of these strategies and see for yourself how they can reduce stress in the kitchen. A prepped kitchen and prepped meals can be yours with a few small changes.
You might also enjoy
---