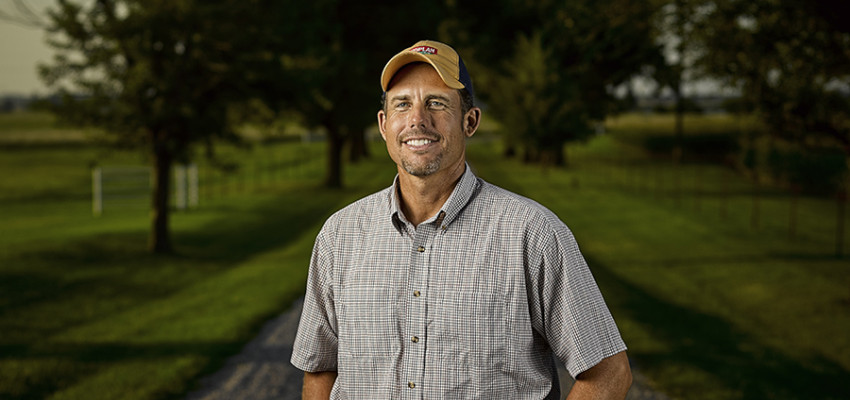 The son of a rural ironworker, Brent Mathes knew about the country life and working hard. He grew up around farms, drove past them every day and always dreamed of having one to call his own.
However, in the farm crisis of the 1980s, just keeping an existing farm afloat, let alone starting one from scratch, was hard enough. Despite farm economies collapsing across the Midwest, Brent knew he just needed a chance.
As Brent drove by signs advertising farm sales and machinery auctions, he also noticed a seemingly forgettable piece of and that was for rent. Brent described the land as a section that had been "farmed to death, was full of weeds, had poor soil health and nobody wanted it."
This humble section of land was his chance. Fortunately, a local bank took a chance on Brent and loaned him enough money to purchase some seed, rent some equipment and give his farming career a try.
With his first 40 acres rented and nothing to lose, Brent approached his land as part physician and part physical therapist. He diagnosed deficiencies and prescribed corrective measures with the goal of slowly bringing the land back to healthy productivity.
He planted crops that were known to improve the soil structure. He contacted the local dairy and offered to haul their manure away, provided he could add the natural fertilizer to the land. 
A newlywed to his wife, Jennifer, Brent needed to harvest his crops. Taking care of the land was a noble pursuit, but he had to make money while doing it in order to sustain a livelihood. He didn't have any equipment to harvest his crops. He didn't know a phone call to an established farmer would change his future.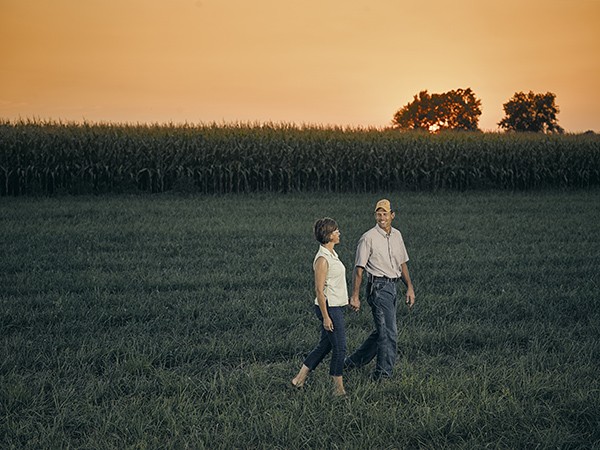 Stan, a well-respected farmer in town, just purchased a new combine and kept his old machine in the shed. After a brief phone call, Stan agreed to rent the combine to Brent that summer. With the combine returned after a summer harvest, Stan called Brent this time to ask if he would be willing to work building fence for a few weeks.
Weeks turned into months and Brent was paid regularly, but like most jobs, the first paycheck was the most memorable. In addition to the agreed upon wages for the fence line, Stan handed over the check Brent signed to rent the original farm equipment.
The wise farmer had been holding on to the payment, planning the exchange for months. Over the years, Stan has been a friend, mentor and confidant for Brent.
"Stan is by far my biggest help," Brent says.
Still renting land and doing the best he could for his growing family, Brent and Jennifer received a familiar visitor during the
Thanksgiving holiday. It was Stan and his wife, and they wanted to talk. Stan had kept a watchful eye on Brent and his family for more than a decade. Stan needed a capable farmer with the skill and commitment to the land to carry on his legacy. Brent needed another chance to begin his own.
"We're going to sell the farm. We would like you to purchase it," Stan said.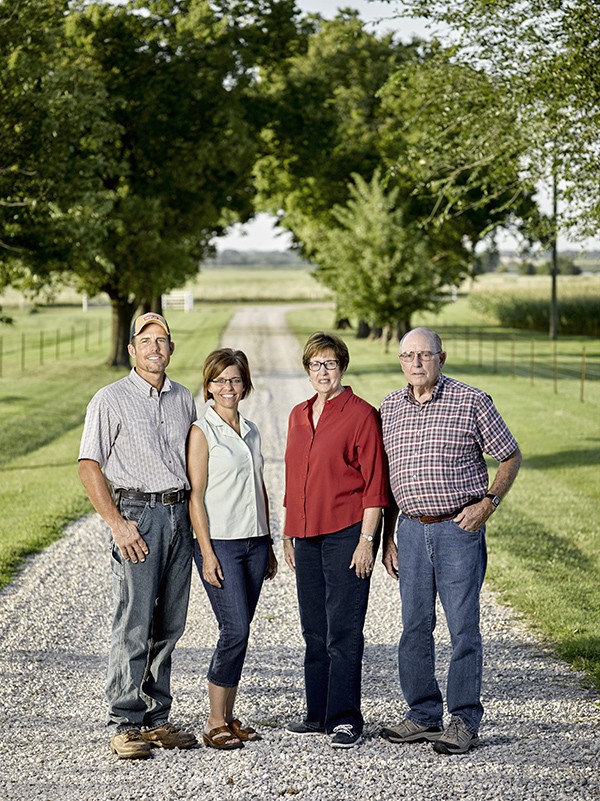 For those not deeply rooted in agriculture, this might seem like a simple sales pitch. But a farm isn't a commodity. It is part of a farmer's heart and soul that usually spans generations. It is timeless. If a farmer decides to sell their legacy, a suitor is sought carefully, wisely and judiciously. Asking someone to purchase your farm is giving testimony to their worth as a farmer, the character of their heart and their dedication to the land. 
Asking Brent to purchase the farm was Stan's highest declaration of praise. Stan had his suitor. Brent had his chance.
Years later, Brent has worked hard to be worthy of Stan's vote of confidence.
"I promised myself when Stan offered to let me buy his land that I would take care of it," Brent says. "I've taken care of every piece of land I've rented like it was my own. I've rented land from Stan, and that land has now become my own."
Brent and his family continue to farm that land, and this first-generation farmer is still dedicated to improving every acre
under his care.
He's still a hard worker.
He's still a wise farmer.
And Stan is still looking on, quietly nodding in approval for a man fit to carry on his legacy.
This story is part of Scott Stebner's "Kansas Farmer" coffee-table book featuring the folks who grow our food, fuel and fiber. To learn more about the project, go here. 
---