Donkeys on this southeast Kansas farm protect the cow herd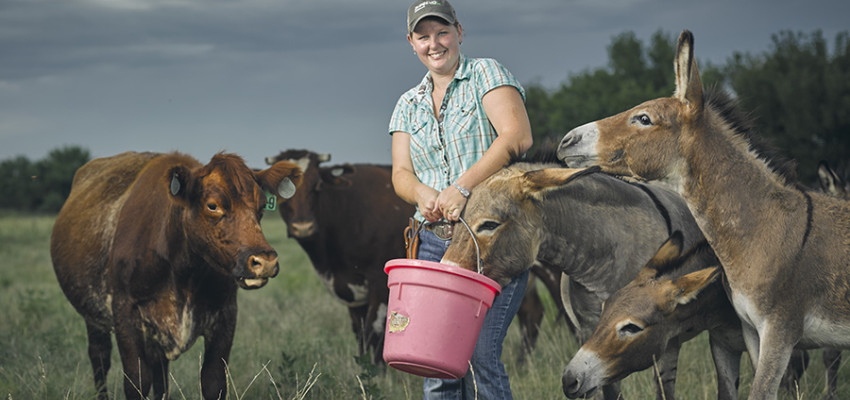 For Amanda and Oran Taylor, cattle ranching was something they were meant to do.
"For me, it's a way of life. It's in my blood. It's my identity, I guess," Amanda says. "I never want to find out what life is like without my cattle. They are what make our home ours."
The young couple are trying to build a first-generation cattle ranch in Kansas that currently runs approximately 40 head of cow-calf pairs. If you look out over their grasslands closely enough or keep a keen ear to the pasture, you will also notice something different among the cows. A loud and boisterous braying rings through the humid air of their southeast Kansas farm.
"Those are the donkeys," Amanda says. "When we first got married, my husband said no horses and no puppies. So I thought 'OK, I'll show him. I'm just going to get some donkeys.' The next day, he showed up at the house with three of them.  I think it was his plan all along."
Although rather cute in an endearing type of way and incredibly friendly to Amanda and Oran, the donkeys aren't pets. The donkeys are kept with the cattle as guard animals.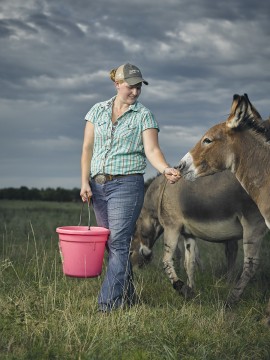 "They're easy keepers," Amanda says. "They go where the cows go and eat what the cows eat. They get along really well with the cows."
It may not seem like animals as large as cows need protection from coyotes or roaming dogs, but their calves do. Donkeys are excellent guard animals, and since introducing them into the cow herd more than seven years ago, the Taylors have only lost one calf to coyotes.
The donkeys excel at their job of protecting the herd while Amanda and Oran go to their primary jobs.
Like many first-generation ranchers, Amanda and Oran work separate, full-time jobs while they are trying to build their ranch to a point where it can be their sole endeavor.
"We'd like this to be our livelihood instead of something we just do," Amanda says. "While we both enjoy our day jobs, I hope I can retire from it one day to focus on the ranch. It can be stressful to be away from the ranch and the calves during the day."
But while Amanda and Oran work hard to make their dream of owning their ranch a reality, they are fortunate to have help along the way. That help comes in the form of an ever-ready, cute and quite stubborn donkey that is protecting the herd while they are gone. 
This story is part of Scott Stebner's "Kansas Farmer" coffee-table book featuring the folks who grow our food, fuel and fiber. To learn more about the project, go here. 
---