White-Chocolate Strawberry Poke Cake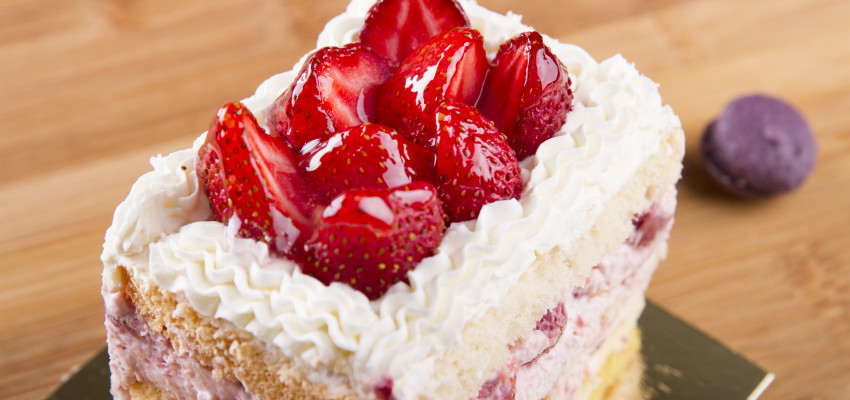 Ingredients
1 box white cake mix, mixed and baked in a 9 x 13 pan, according to package directions 
White-Chocolate Strawberry Mixture
14 oz. can sweetened condensed milk
3/4 cup white chocolate chips 
3 oz. pkg. Jello strawberry flavored gelatin, may use sugar-free strawberry flavored gelatin, if desired 
1/4 cup very warm water
Whipped Cream 
2 cups heavy cream or whipping cream, I love to use Hildebrand Farms Whipping Cream! 
1/4 cup granulated sugar
1 tsp. vanilla extract
1 lb. fresh strawberries, stems removed, diced
2 cans, 21 oz. each, strawberry pie filling
Instructions
Let baked cake cool for at least 20-30 minutes after removing it from the oven. Using the tip of the wooden spoon or spatula handle, poke holes all over the cake.
Meanwhile, in a medium glass bowl, combine the sweetened condensed milk with the white chocolate chips; heat in the microwave in 30 second increments on full power until chocolate is melted, whisking after each one until the mixture is smooth and shiny. 
In a separate small bowl, place the very warm water, stirring in the strawberry jello, whisking well so that the jello dissolves completely; add the strawberry jello mixture to the white-chocolate mixture, stirring to combine. 
Once the cake has cooled for at least 20-30 minutes, pour the prepared white-chocolate strawberry mixture over the top of the cake, using a rubber spatula to spread it evenly into the holes and around the edges of the cake. Let the cake cool completely, then refrigerate for 1 hour. 
Top the cake with both cans of strawberry pie filling. 
In a large mixing bowl, using an electric mixer, beat the whipping cream with the granulated sugar and vanilla extract until stiff peaks form. Spread the prepared whipped cream mixture evenly over the top of the strawberry pie filling. 
Top the whipped cream layer with the diced fresh strawberries. 
Refrigerate the cake for a solid 6-8 hours before serving to allow all the layers to co-mingle and get super chilled. 
---