Very Berry Refrigerator Cake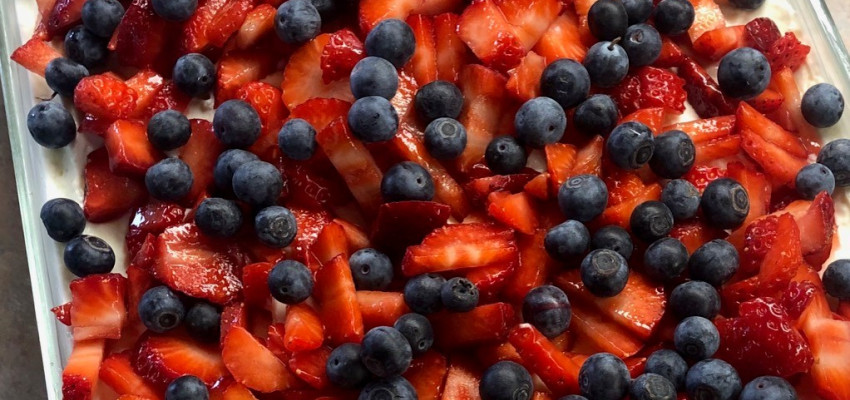 Ingredients
24 full size graham crackers (3 packages graham crackers from a 15 oz. box) 
3 cups whipping cream
12 oz. cream cheese, very softened, cut into chunks 
1 cup granulated sugar 
1 Tbs. vanilla
2 lbs. strawberries, stems removed, diced 
1 pint blueberries 
1/4 cup semi-sweet chocolate chips, melted 
Canned whipped topping, such as Redi-Whip 
Instructions
Pour the heavy cream, sugar and vanilla into a large mixing bowl. Using an electric mixer (or your stand mixer), beat the whipping cream mixture until stiff peaks begin to form. Add the softened cream cheese chunks, beating again just until the mixture is smooth and combined. 
Cover the bottom of a 9x13-inch baking dish with graham crackers. Spread 1/3 of the prepared whipped cream mixture over the graham cracker base; sprinkle with 1/3 of the diced strawberries. Repeat twice more, ending with the final layer of strawberries on top. Lastly, sprinkle the blueberries over the top. Cover and chill for at least 3-4 hours before serving. 
To serve, top each piece with whipped cream, then drizzle with warm chocolate. Eat at once! 
---