Tomato Salad with Pecan-Crusted Mozzarella Rounds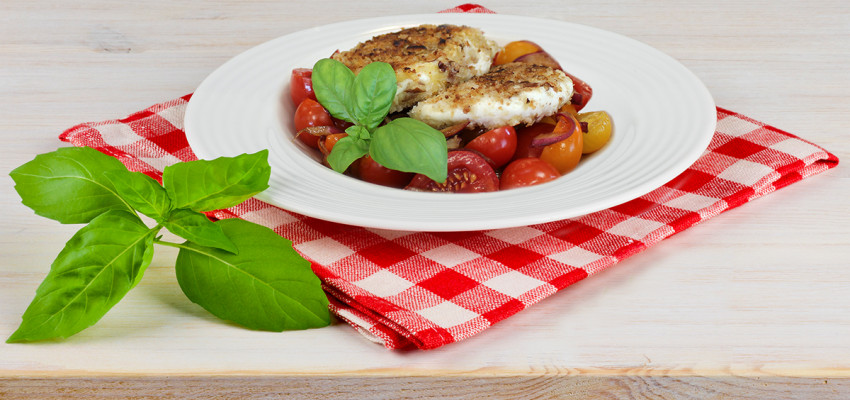 Ingredients
1/3 cup pecan halves, chopped very fine 
1 oz. Parmesan cheese, grated fine 
16 oz. log fresh mozzarella cheese, sliced into 1/4-inch rounds 
1 Tbsp. all-purpose flour 
1 egg, beaten 
1/3 cup panko crumbs 
2 tsp. olive oil 
1 lb. assorted tomatoes, all colors and sizes, large ones sliced and small ones halved 
2 Tbsp. balsamic vinegar (good quality) 
1 small red onion, sliced very thin (use as much as you prefer) 
1/4 cup olive oil (good quality) 
Zest of 1 lemon 
1 clove garlic, crushed 
Kosher salt and freshly ground black pepper, to taste 
Instructions
Pecan-Crusted Mozzarella
Slice mozzarella into eight rounds.
In a small bowl, combine pecans, cheese and panko crumbs. In another bowl, place flour; into a third bowl, place beaten egg. Lightly dredge each mozzarella round in flour, shaking off excess; dip into egg mixture, and then into the prepared pecan mixture, coating evenly, pressing mixture into cheese slightly to make sure it sticks well. 
Using a large skillet over medium high heat, add oil; when oil is shimmering, brown prepared mozzarella rounds two to four minutes or until coating is golden brown and cheese softens slightly around the edges, turning once. Don't overcook or the cheese will ooze out. 
Salad
In a small bowl, toss red onion slices with balsamic vinegar; set aside. 
In a small skillet, combine olive oil, lemon and garlic until nicely warmed. 
Divide tomatoes between four serving plates; scatter vinegar and onions over tomatoes on each plate; season with salt and pepper, to taste, then drizzle each plate with warm dressing. Top each plate with prepared mozzarella rounds and serve. 
---