The Geeky-Greek Scrambled Egg Skillet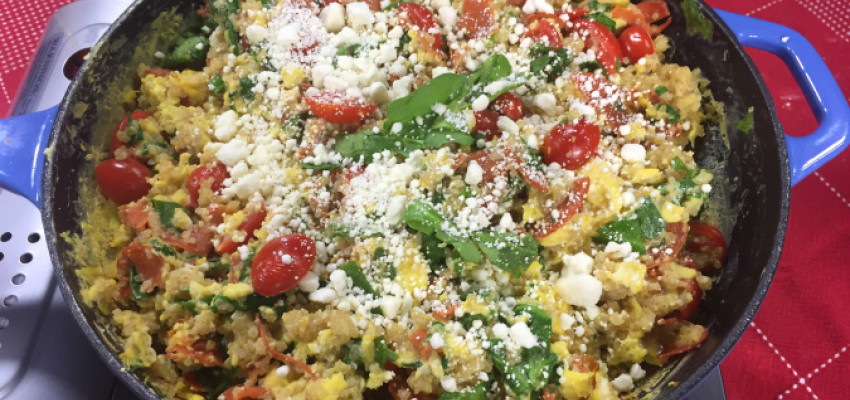 Ingredients
12 eggs, beaten
1/2 cup plain Greek
1 tsp. granulated onion
2 cloves minced garlic
Kosher salt and freshly ground black pepper, to taste
1 cup pepperoni slices, sliced
3 cups baby spinach, roughly chopped
1 pint grape tomatoes, halved
2 cups cooked quinoa
1 cup Feta cheese crumbles
1/2 cup chopped fresh basil leaves
Instructions
In a large bowl whisk together eggs, greek yogurt, onion powder, and garlic; season to taste with salt and pepper, then set aside.
Meanwhile, in a large skillet over medium heat, add a bit of olive oil. When oil is hot, add pepperoni to skillet and cook until pepperoni is beginning to brown.
Add prepared egg mixture to the pepperoni in the skillet, cooking until eggs are nearly set; stir in tomatoes, spinach, and quinoa, cooking just until heated through.  Top with feta and basil and serve.
See the recipe made here
---