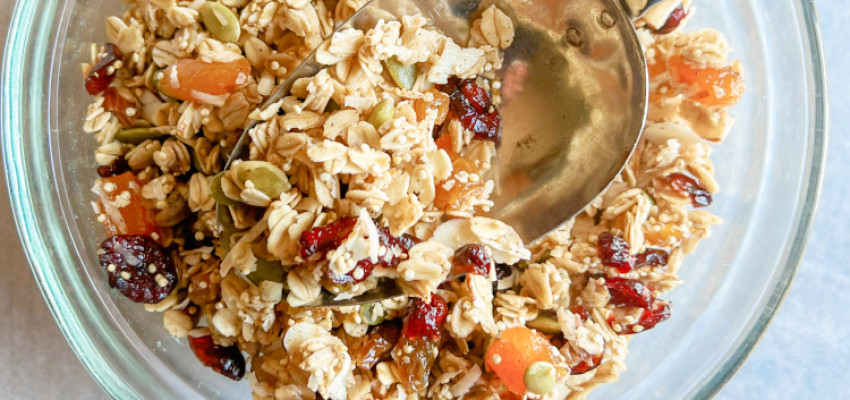 Ingredients
Pure maple syrup
Egg whites
Vegetable or canola oil
Vanilla extract
Cinnamon
Kosher salt
Fresh orange zest
Dried fruits, any combination of your favorites
Old fashioned (whole) oats
Flax seeds
Pepitas (pumpkin seeds)
Quinoa
Sliced or slivered almonds
Instructions
Preheat the oven to 275 degrees F.
Place the maple syrup, egg whites, oil, vanilla, cinnamon, salt, and orange zest into a saucepan, whisking to combine over medium heat for a few minutes, just until warm. Pour 1/2 cup of the prepared syrup over the dried fruit; toss to combine.
In a large mixing bowl, combine the oats, flax seeds, pepitas, quinoa, coconut, and almonds.  Pour the remaining warm syrup mixture from the sauce pan over the oat mixture; quickly and gently toss the granola to combine.
Line a rimmed baking sheet with a large sheet of heavy-duty aluminum foil; spray with nonstick cooking spray.  Pile the prepared granola mixture put (no fruit added yet) onto the prepared baking sheet.
Spread the granola mixture out over the foil in a single layer; bake the granola, uncovered, for 30 minutes.
After the granola has baked for 30 minutes, remove it from the oven and gently stir in the prepared dried fruit, spreading the granola back out into a single layer once again, taking care to leave some of the granola in clumps.
Continue to bake the granola, uncovered, for another 20 minutes, tossing the granola half way through the baking time, taking care to leave some clumps of granola here and there.
Let the granola cool completely, then store in air-tight containers in the fridge or freezer. 
**Granola must be stored in refrigeration due to egg whites as an ingredient. 
Feel free to customize the dry ingredients as desired – substitute different nuts and/or fruits. Whatever you wish.
---